Italian Army making better use of its M113A3 Gavins than U.S. Army is!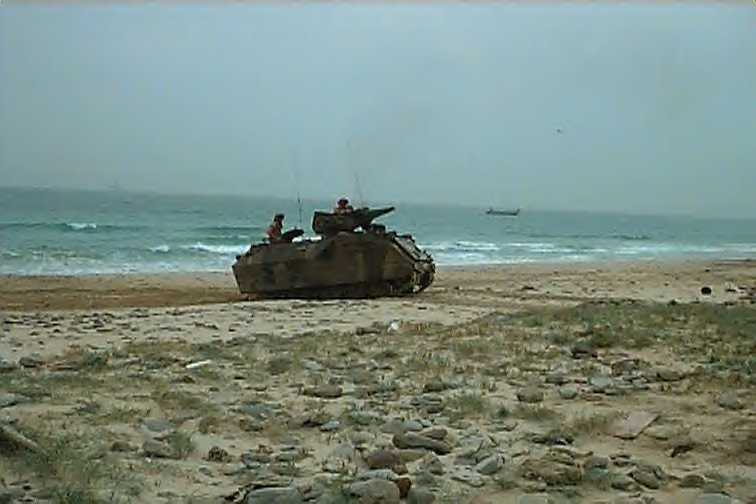 An Army Warrant Officer writes in:
"Just a note to thank you for publishing this good info.
I'm a Signal CWO3, 250 Network Switching systems/instructor, but in my past life I was a Scout, Ranger and 18E SF commo puke. So when Commo training gets boring, and it does. I have the troops perform a hasty defense or plan a ambush. Just wanted to know if you have any pictures of the Italian IFV which is a M113A2/3 dirvitive with more floor and rear ramp armor, a Italian tweaked motor with 170 more HP than the A3, and a Cadillac-Gage 20mm turrent.
I do not dislike the LAV within certain operational constraints, but a up armored, high horsepower, and well armed M113 is what our mech infantry really needs. And it could be had a a fraction of the cost of new vehicles.
If you have photos of this vehicle and others (Marder, Hagglands, and Warrior) I'd appreciate if you would post them up".
OUR REPLY:
Amazing what you can do when you TRY, huh? The U.S. Army claims it has to buy a brand-new $2,900,000 19-24 ton wheeled LAV-III armored car to have a C-130 air-transportable contingency force, that is actually 3-8 tons to heavy to fly by C-130s and is extremely vulnerable to enemy small-arms, RPG and ATGM fires, while the Italians build the M113 under license and make it better with more armor mobility and power?
A military expert from Spain writes in:
"Participating in an Spaniard forum I knew your webpage. The same discussion wheels vs tracks is being held in many armies outside the USA, following the lastest changes in military doctrine, obviously leaded by Americans.
I followed the link about Italian's M113. The pictures show a VCC-1 from the "Bataglione San Marco", not a VCC-80 "Dardo", as the information below says. (The "San Marco" was the only Italian marine unit, now expanded to Brigade size)
To compare the VCC-1 and VCC-89 take a look at:
http://fas.org/man/dod-101/sys/land/row/vcc-1.htm
http://fas.org/man/dod-101/sys/land/row/dardo.htm
I have enclosed three pictures of the Italian intervention in Somalia Operation "Ibis".
Otobreda Infantry Armored Fighting Vehicle VCC-1
An Italian VCC-1 in Mogadishu streets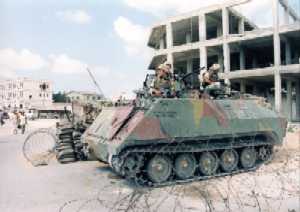 Another applique' armor reinforced Italian M113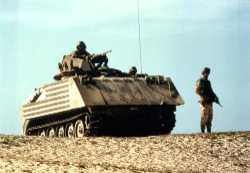 Italian VCC-1 variant M113A3 meets the other workhorse of the desert!
Anyway you were completely right: outside the USA some countries (sometimes due to lack of funds) are giving a new life to the M113, far beyond what their main user (U.S. Army) ever could imagine!"
Yours sincerely
XXXXXX XXXXXX (Spain)
www.nasog.net/armour/apc/Iveco_Otobreda_VCC_80_Ifv.htm
IVECO / OTOBREDA VCC-80 IFV
Country Of Origin: Italy
Designation: Infantry Fighting Vehicle
Manufacturer: Consortium IVECO / OTOBREDA, Italy
Crew: 3 + 7
Armament:
1 x 25mm cannon
1 x 7.62mm MMG (coaxial)
1 x 7.62mm MMG (anti-aircraft)
2 x 3 smoke grenade dischargers
Length: 6.705 m
Width: 3.00 m
Height (Overall): 2.70 m
Power To Weight Ratio: 24 hp/ton
Ground Clearance: 0.4 m
Weight (Combat): 21.700 kg
Weight (Empty): 20,200 kg
Engine: IVECO 8260 V-6 turbocharged, inter-cooled diesel developing 520 bhp at 2,300 rpm
Maximum Road Speed: 70 km / hr
Maximum Road Range: 500 km
Fuel Capacity: Not available
Fording: 1.5 m
Vertical Obstacle 0.85 m
Trench: 2.5 m
Gradient 60 %
Side Slope: 40 %
Armour: Classified
Armour Type: Aluminium / Steel
NBC System: Yes
Night Vision: Yes (passive for commander, gunner & driver)
---
FEEDBACK!