UPDATED 14 September 2009

A BAND OF BROTHERS?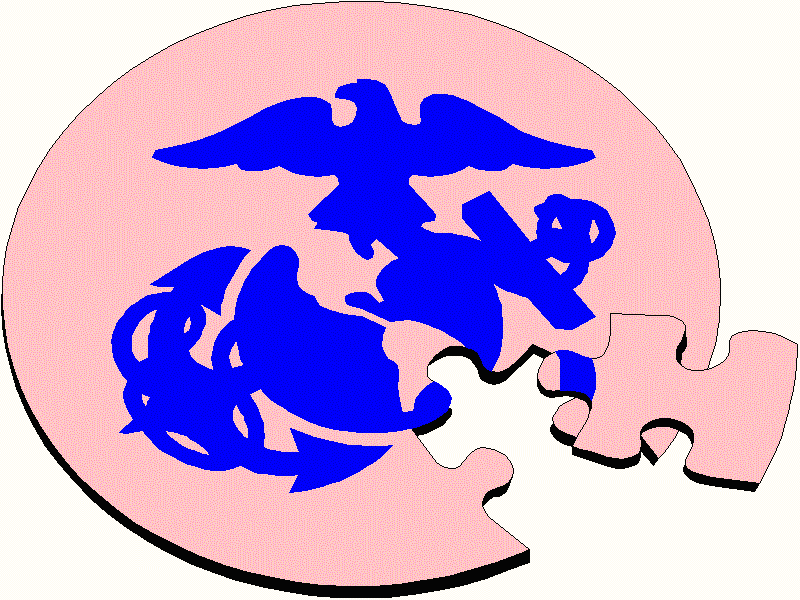 The following proposal comes from the files of 1st Tactical Studies Group (Airborne) Director, Mike Sparks from his time in the USMC at the Officer's Basic School or "TBS". Unfortunately this is not a TV network nor a "reality show" where people cut each other down, and do behind the scenes "voting" of who is off the island, its supposed to be where young marine officers learn how to lead others successfully into battle. Sadly, 16 years of hindsight is truly 20-20; what he was describing below is classic "zero sum thinking" the false idea that for someone to "win", others have to "lose". Whenever people play this institutionalized game of "lifeboat" its not played by merits its played by who is popular and who is part or not part of another's scheme. The people who are "voted out" are the ones who dared to be different, dared to be original, dared to give a damn, dared to tell the truth and not go along with the groupthink ie; THE AMERICANS. Its funny how the "land of the free" and the "home of the brave" has degenerated to political correctness in not only its military institutions but regular civilian life as well. That "reality" TV shows are so popular exposes the sick moral depravity of current Americans who have forgotten to STAND ON PRINCIPLE NO MATTER WHAT and not cater to pleasing the crowd. That's what a real American does. We are not talking about running roughshod over other people's feelings, we are talking about not basing your entire life on pleasing the crowd whichever way it goes. That's a lack of a moral compass, and mobocracy.
With every human being on a collision course with death, that anyone would turn the brief time we have here on earth into a "rat race" of someone who temporarily plays the role of "king", is a charade of fools. Life is NOT a "reality" TV show. If you fight amongst yourselves your group will be weak and may die as America's current inability to embrace virtue and get rid of corruption in order to defeat sub-national terror groups shows. That Army Ranger school and USMC TBS play this sick game of the "spear" eval should answer anyone's questions why the latter is incompetent when it comes to warfighting, and the former is just a career check-the-block school and the actual Ranger unit is composed primarily of those who have not necessarily graduated from the course.
Mike writes:
"I remember the day when I realized that what we know as 'zero-sum thinking' was wrong. It came when a woman I was in love with, asked me, "WHY do you have to constantly cut other people down? Have they done anything to hurt you? Why can't both you and they be good??'. Thanks to LOVE I actually listened and considered what she had asked. This got me to thinking.
She was right.
I had picked up that find-fault-with-everything-and-everyone outlook from the snobby marine corps. Who says that other people have to be found lacking at all? I eventually 'connected-the-dots' with this snobby outlook as the foundational madness of the 'bell curve' and A, B, C, D, F grades in school when studying educational theory in college. Why couldn't everybody win? And then I discovered mastery learning and criterion-based educational theories that were not zero-sum with someone "losing" could and do work. You simply set the goal of what you want to achieve in detail and everyone pulls together to achieve it. This was the 'Gung Ho!' of Carlson's USMC Raiders that inspired me to keep trying in the corps to make a difference".
However, Mike learned the hard way that zero-sum snobbery is indeed the USMC way and it was not any kind of "Band of Brothers" whenever the marine egotism kicks in that thinks it better than all the other services to hide its insecurities. His old buddy, marine sergeant Jon Schweikart had it all figured out in 1985: "they think their shit doesn't stink". His immortal words encapsulate the very essence of human snobbery and its absurd lie.
We have learned of late that the marine corps is mortally afraid of the U.S. Army, somehow pissing it off in some way and gobbling it up. We cannot understand for all of the chest-beating the typical marine does, why he would be afraid of the U.S. Army taking away the existence of the marine corps? If anything, nobody wants to sit on a ship for 6 months at a time, America would just drop the whole idea of packing men like sardines on ship easily targeted by submarines, anti-ship missiles, torpedoes and aircraft. Maybe its all a macho act? While at Officer's Candidate School, Sparks found the 14 Leadership Traits as a vestige of morality that remained in the USMC years after Carlson left the scene, and thought to "infiltrate" virtue into TBS via their "spear eval" form, as the article below proposed. Of course, the weak narcissistic co-dependents that populate the USMC would have none of that! Their whole reason to be in the corps is to prop up weak egos at the expense of others, not because it was an outfit with a cool way of fighting.
Clearly, if America is to survive, we need to start over and create a new military composed of STRONG, THINKING, ADULTS who only do warrior things because they like to do them, not weak, narcissistic, existentialists trying to fill an inner void that should have been filled when they were born.
September 1989: PROPOSED NEW PEER EVALUATION FORM FOR THE OFFICER'S BASIC SCHOOL
"WE FEW, WE HAPPY FEW...
WE BAND OF BROTHERS;
FOR HE TODAY THAT SHEDS
HIS BLOOD WITH ME, SHALL
BE MY BROTHER....."
-HENRY IV
The above is the working philosophy of the marine corps, yet why does one hear gossip and backbiting between marines who have endured many months of hardship together at the Basic School or on duty in the fleet marine force? It could be said that like any organization, human nature will always be in effect so backbiting should be somewhat understandable-but the United States Marine Corps is not just "any organization"-it is a "Band of Brothers" who share a higher purpose and a responsibility to rise above human frailties as we defend our great nation.
The problem begins with the peer evaluation form ("Spear" eval) first seen at the Basic School. This is the first time, gung-ho, newly commissioned officers begin to depart from the leadership traits/teamwork stressed at OCS (Officers Candidate School) and are given the opportunity to directly attack a fellow peer by a low platoon ranking. This is the initial source of the back-biting and "pecking orders" that are created in lieu of team spirit both during the Basic School and continuing long afterwards. (See enclosed copy of current peer evaluation form)
THE USMC TBS PEER EVALUATION FORM A.K.A.: "SPEAR" EVAL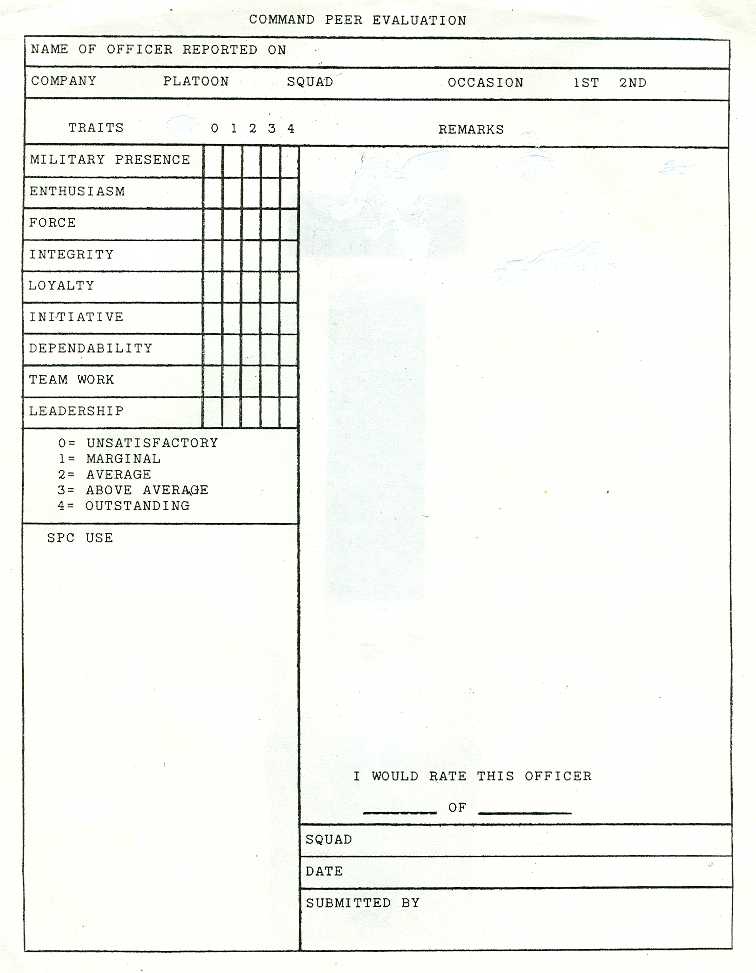 The problem can be quickly solved by modifying the form slightly so Lieutenants focus in on the leadership traits only, and are not given the opportunity to "spear" a fellow brother marine with a low ranking. Lts. would then concentrate on being team players and any criticisms would have to be justified and written in a constructive manner so that the officer would be able to take corrective action and improve. Everyone would win in the process-the marine corps in general would have Lts. that could then look back on TBS as a happy time of brotherhood instead of a time of internal jockeying to be number one. (See enclosed proposal for a peer evaluation form without rankings but based on the 14 Leadership traits)
PROPOSED EVALUATION FORM BASED ON 14 LEADERSHIP TRAITS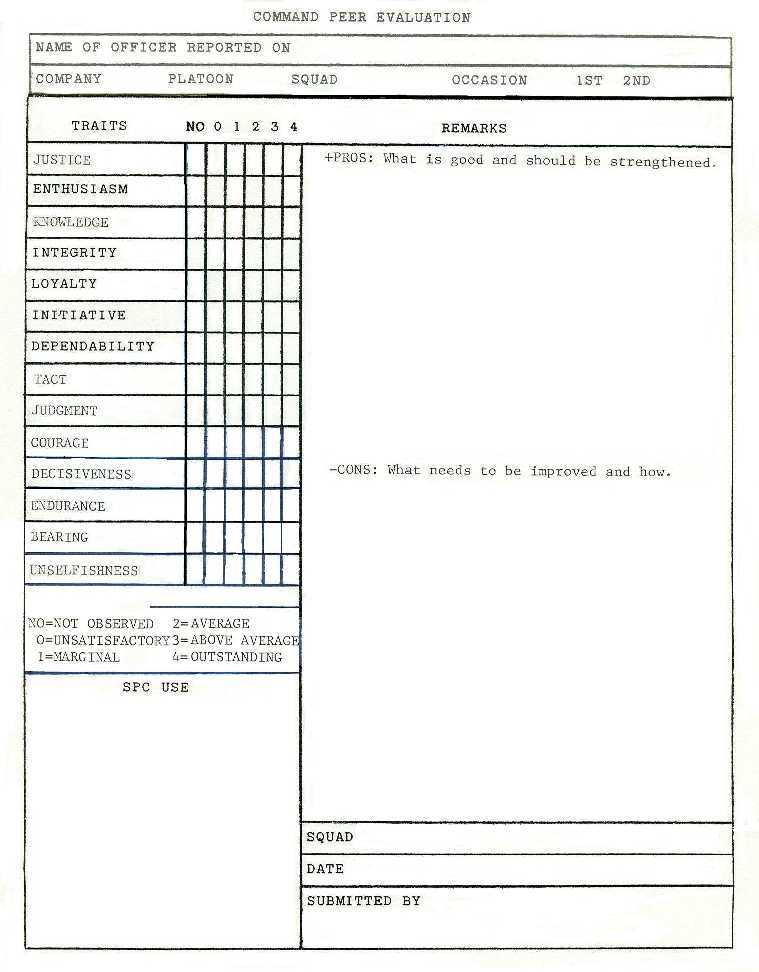 The proposed form would have boxes for the grader to score the Lt. he is grading according to the 14 Leadership traits (Justice, Judgement, Decisiveness, Initiative, Dependability Tact, Integrity, Endurance, Bearing, Unselfishness, Loyalty and Enthusiasm-See enclosed copy of the USMC Leadership Guide). If the trait is not observed, this can be stated without harming the individual being graded. These numbers could then be totaled and quantified for rankings associated with MOS selection. This would greatly simplify the job of the SPC (Staff Platoon Commander)who must with the current form try to tabulate the number of top 3 or bottom 3 rankings each Lt. receives.
Relying on the Leadership Trait scores would also free Lts. from having to rank somebody at the bottom when in reality there may be no one who deserves to be there. It is often the case that most Lts. are pretty much equal when one offsets their strengths and weaknesses, but the form demands that someone be branded as a loser when in fact everyone may in fact be "winners". The concept that someone must be on the bottom runs counter to what exists in reality and is in conflict with marine corps leadership principles.
Traditionally, the strength of TBS has been its excellent hands-on education, not necessarily the quality of team spirit created. The current competition for reduced manpower slots will not go away, but we can avoid the bitter jockeying for MOSes that occurs at TBS to the detriment of team spirit by using these personal concerns as a catalyst for greater teamwork through a peer evaluation form that will not allow personal attacks, but instead rewards teamwork.
Lts. leaving TBS would then have in their minds a strong vision of how a platoon should work together along with the experience of actually assuming the various roles billets in a platoon. The creation of a strong team spirit is the natural outcome of our extensive leadership efforts and a logical step in the continued tradition of excellence at The Basic School.
---
FEEDBACK!
---
Private Murphy's View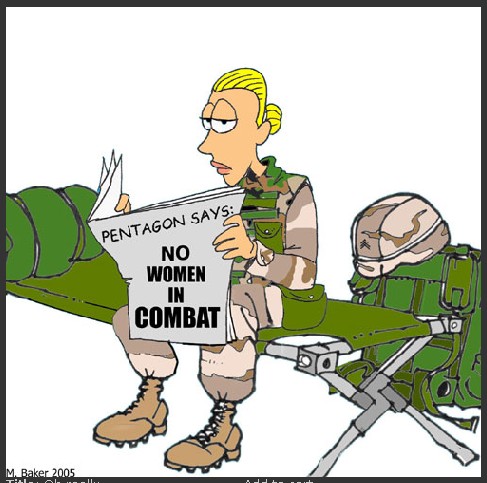 Want Murphy in Your Pocket?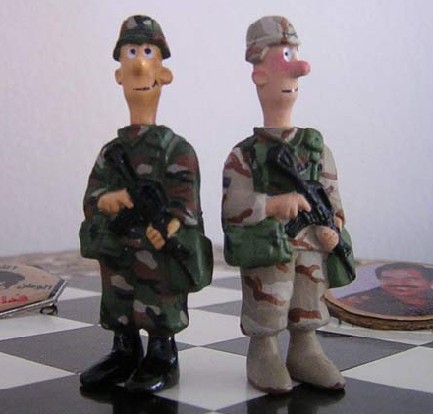 On your desk?
---

RETURN TO AES HOME PAGE