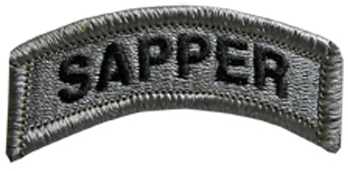 SAPPERS FORWARD!
---
*****COMBAT ENGINEER PROFESSIONAL UNDERSTANDING*****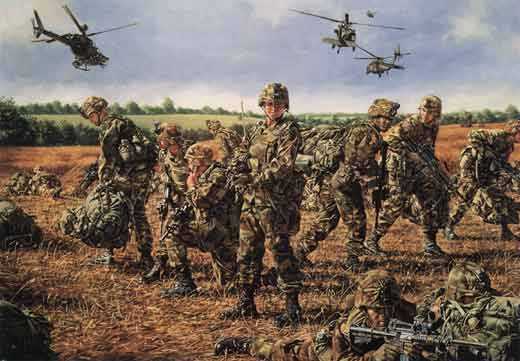 www4.army.mil/news/article.php?story=6220
Sapper tab authorized for uniform wear

By Bernard Tate

August 3, 2004

WASHINGTON (Army News Service, Aug. 3, 2004) -- A new Sapper tab for combat engineers is now authorized for wear by qualified Soldiers on their left shoulder.

Until this summer, only the Special Forces tab and the Ranger tab were authorized for wear above the unit patch on the left shoulder.

Army Chief of Staff Gen. Peter Schoomaker approved the Sapper tab June 28 for award and wear by engineer Soldiers who complete the Sapper Leader Course. The course is part of the U.S. Army Engineer School at Fort Leonard Wood, Mo. This award is retroactive back to the graduates of the first SLC on June 14, 1985.

The tab will be worn below the Special Forces or Ranger tab, if a Soldier has either of those. Other details concerning the wear of the Sapper tab will be released through official G-1/Human Resources Command channels sometime in the next 90 days, officials said.

Sappers are combat engineers who advance with the front-line infantry, and they have fought in every war in American history. For example, they played a vital role in securing Omaha Beach on D-Day, and that incident is faithfully re-created in Saving Private Ryan.

The invading Soldiers were unable to advance through the beach obstacles, and were pinned down by the German machine guns. A group of combat engineers crawled forward under heavy fire. Despite their casualties, they assembled a bangalore torpedo (a long tube filled with explosives), slid it under a barbed wire obstacle, and blew the obstacle apart. The Soldiers behind the engineers then fought their way through the gap, took the German defenses, and won the battle.

The Sapper Leader Course is a fast-paced 28-day course designed to train joint-service leaders in small unit tactics, leadership skills, and warfighter tactics required to perform as part of a combined arms team in a contemporary operating environment. The SLC is open to enlisted Soldiers in the grades of specialist (promotable) and above, and engineer officers captain and below.

Phase I of the course lasts 14 days and covers general subjects including medical techniques, land navigation, demolitions (conventional and expedient), air and water operations, mountaineering, expedient antennas, knots and rigging, and land mines used by enemy forces.

Phase II is also 14 days. It covers basic patrolling techniques and battle drills that emphasize leadership. The subjects include urban operations, breaching, patrol organization and movement, and recon/raid/ambush tactics.

The second phase of the SLC concludes with a three-day situation training exercise, and five-day field training exercise. Training missions conducted during the STX/FTX are a 60/40 mix of engineer and infantry missions. Engineer missions include bridge reconnaissance and demolition, covert obstacle breaching, road cratering, minefields, and field expedient demolition.

Leadership is emphasized throughout the SLC, engineer officials said. During Phase I the leadership positions are rotated daily. During Phase II, the position of squad leader is rotated daily, and the patrol leader and assistant patrol leader after each phase of the mission. Each Soldier will be evaluated at least twice on leadership during patrolling.

The results of the Sapper Leader Course are Soldiers who are worthy to wear the new Sapper tab, officials said, adding that they are hardened combat engineers who are qualified to fight and lead on today's battlefields.

(Editor's note: Bernard Tate is a public affairs staff member of the headquarters, U.S. Army Corps of Engineers.)
---
Sappers
By Rudyard Kipling, British Army
When the Waters were dried an' the Earth did appear,
("It's all one," says the Sapper),
The Lord He created the Engineer,
Her Majesty's Royal Engineer,
With the rank and pay of a Sapper!
When the Flood come along for an extra monsoon,
'Twas Noah constructed the first pontoon
To the plans of Her Majesty's, etc.
But after fatigue in the wet an' the sun,
Old Noah got drunk, which he wouldn't ha' done
If he'd trained with, etc.
When the Tower o' Babel had mixed up men's bat,
Some clever civilian was managing that,
An' none of, etc.
When the Jews had a fight at the foot of a hill,
Young Joshua ordered the sun to stand still,
For he was a Captain of Engineers, etc.
When the Children of Israel made bricks without straw,
They were learnin' the regular work of our Corps,
The work of, etc.
For ever since then, if a war they would wage,
Behold us a-shinin' on history's page --
First page for, etc.
We lay down their sidings an' help 'em entrain,
An' we sweep up their mess through the bloomin' campaign,
In the style of, etc.
They send us in front with a fuse an' a mine
To blow up the gates that are rushed by the Line,
But bent by, etc.
They send us behind with a pick an' a spade,
To dig for the guns of a bullock-brigade
Which has asked for, etc.
We work under escort in trousers and shirt,
An' the heathen they plug us tail-up in the dirt,
Annoying, etc.
We blast out the rock an' we shovel the mud,
We make 'em good roads an' -- they roll down the khud,
Reporting, etc.
We make 'em their bridges, their wells, an' their huts,
An' the telegraph-wire the enemy cuts,
An' it's blamed on, etc.
An' when we return, an' from war we would cease,
They grudge us adornin' the billets of peace,
Which are kept for, etc.
We build 'em nice barracks -- they swear they are bad,
That our Colonels are Methodist, married or mad,
Insultin', etc.
They haven't no manners nor gratitude too,
For the more that we help 'em, the less will they do,
But mock at, etc.
Now the Line's but a man with a gun in his hand,
An' Cavalry's only what horses can stand,
When helped by, etc.
Artillery moves by the leave o' the ground,
But we are the men that do something all round,
For we are, etc.
I have stated it plain, an' my argument's thus
("It's all one," says the Sapper),
There's only one Corps which is perfect -- that's us;
An' they call us Her Majesty's Engineers,
Her Majesty's Royal Engineers,
With the rank and pay of a Sapper!
---
Wrong Sapper Ethos? where are the combat engineer tanks?

Proposal to transform U.S. Army Combat Engineers to meet 21st Century Battlefield Demands

Amphibious Sappers: engineers must lead the way ashore for 2D forces!

M113A3 ocean-swim capable AmphiGavins

Greatest Combat Engineer Leader: General Percy Hobart

Hobart's Funnies pave way on D-Day

Airborne Sappers: engineers lead the way for 3D forces!

Eban Emael: Engineer Lieutenant defeats a Belgian fortress via glider assault

Operation THURSDAY: U.S. Army Engineers lead the way into Burma jungles by glider

900th Combat Engineers (Airborne)
879th Combat Engineers (Airborne)

Light Mechanized Sapper Company (Airborne)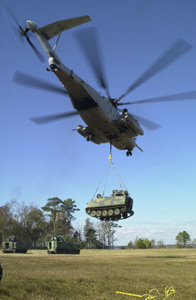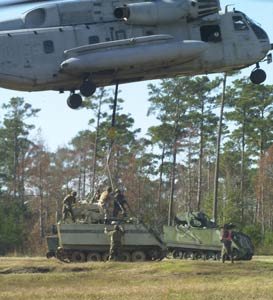 M113 Gavin ESVs victorious in Iraq, a Sapper Company Commander's M113 Gavin Combat Report from Iraq: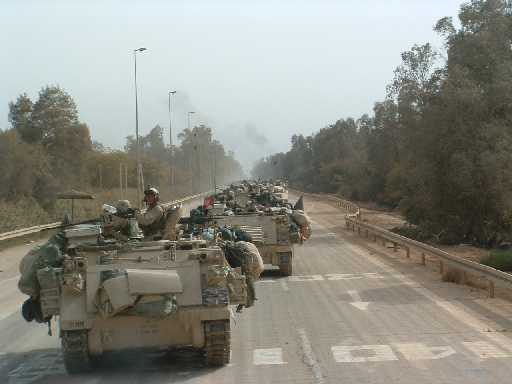 "My company attacked with the TF in every major battle with TF 1-64 Armor.We were either 2nd or 3rd in the OOM for every battle but one in which we were 4th. I'm not sure of this but I'd say my 113's ate more RPGs and small arms than any other deployed to Iraq to date. We made several modifications that I'm convinced saved the lives of 5-10 Sappers because we were able to 'absorb' RPGs in a very unconventional manner. M113s took direct hits from RPGs that survived because of the "baffling" we added to our M113s. We basically made our M113's mobile fighting positions which had a lot of pros and some cons. As it was all we had 6 WIAs, 4 shot by AK-47 and two Mortar wounds, pretty good all things considered."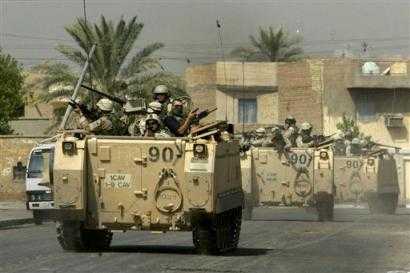 Which vehicle best for urban combat says 3rd ID?
From Chapter 7 at:
www.globalsecurity.org/military/library/report/2004/onpoint
"As the Army fields Stryker Brigades and continues transformation, the OIF experience will influence combat development. Tanks and Bradleys performed brilliantly in OIF, but they did not meet all of the operational requirements. Despite their advantages in armor, tanks and Bradleys evinced a number of disadvantages --they could not elevate their weapons far enough to fire at the upper floors of buildings from close range. But as 3rd ID discovered, the lowly M113, full of engineers armed to the teeth, could engage the second and third stories."
A Special Forces Soldier in Baghdad now adds:
"You betcha. Brads are great for rolling around like a turtle and knowing nothing can touch you, but the problem with the insurgents here is that every time they take a shot at you and no one shoots back, they get bolder.
Now, take my boys in 91st engineers. We roll around with a gun in the tub, the back top open and guys hanging out with ARs and optics.
Go ahead, step out from behind that building against riflemen who are excellent snap shooters.....and can engage 360 degrees and up and down almost 180 degrees.....pretty much wherever they can point the rifle.
In a M113, this is almost everywhere.
Just my firsthand experience day after day in Gazalea and Abu Graib."
3rd ID's Sappers Get M113A3 "Super Gavins"
Meet the M113A3 Super Gavin in Iraq! Far Better Protected and Mobile than Stryker trucks!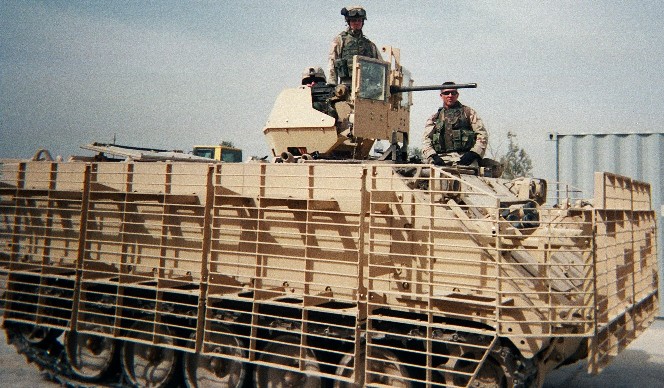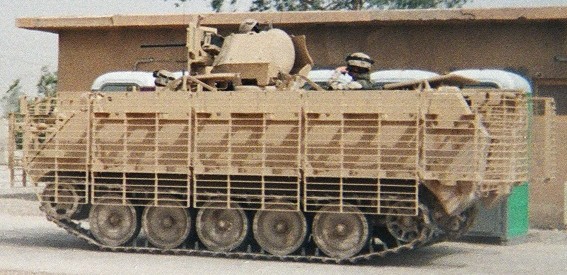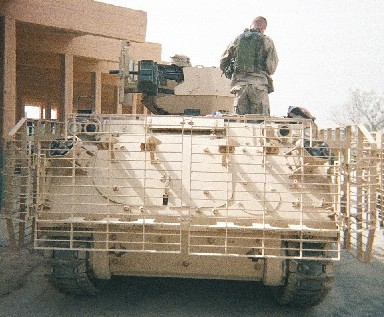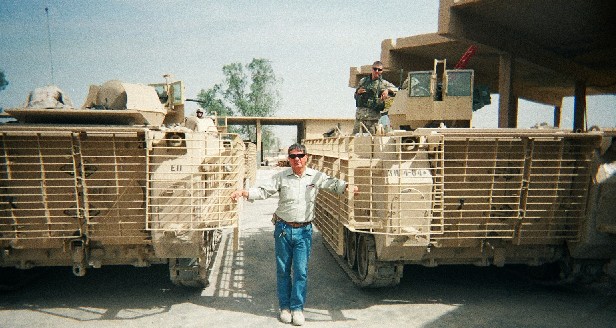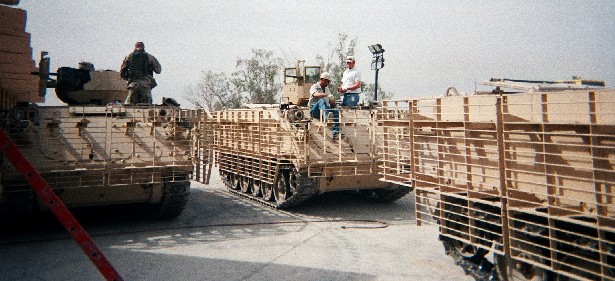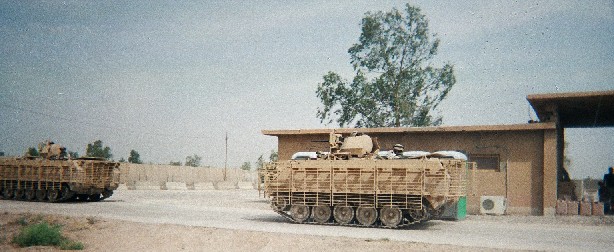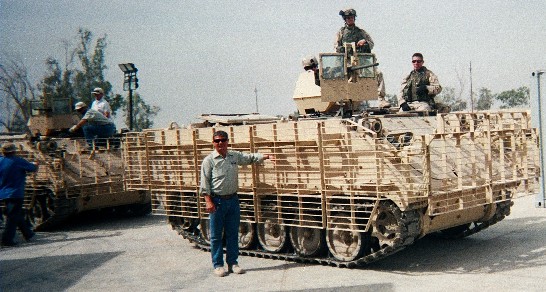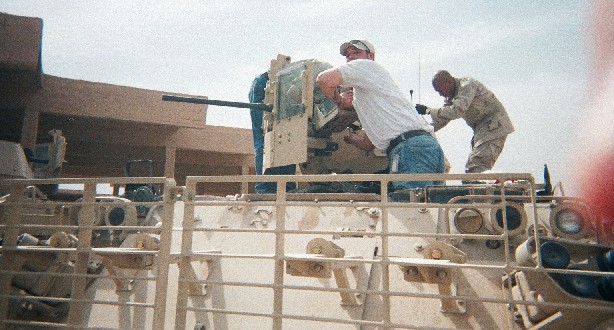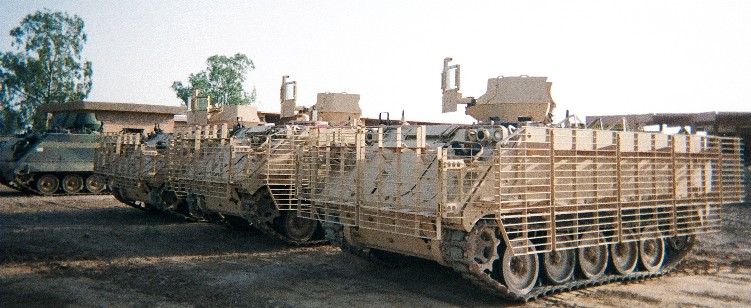 * RPG pre-det bird cage all around but yet not so wide so Super Gavin can still roll-on/off USAF aircraft for 3D maneuver warfare capabilities, you can't do this in a Stryker truck!

* High Hard Steel belts on sides, front, rear to increase roadside bomb and bullet protection to beyond 14.5mm HMG protection

* Underbelly armor to defeat land mines

* Extra spall liner inside

* TAGS see-thru gunshields to protect and see enemy first to shoot & kill him

* Ability to stow troop gear, sandbags on outside beneath hull and bird cage to increase ballistic protection levels

* Rolls on tracks that are cross-country mobile and do not puncture and burn like Stryker truck tires

Notice that more Soldiers have died in 300 Strykers in only a few months of Iraq duty with all kinds of armor slapped onto them at the cost of millions of dollars than the few who have died in over 1,700 "vanilla" applique' armor-neglected M113 Gavins already in combat in Iraq for over 2 years!. Now with the situation desperate and the Army having wasted $BILLIONS and years of preparation time on inadequate Strykers and Humvees, the American Soldier turns to the greatest armored fighting vehicle of all time, ever--the M113 Gavin to save the day and bring him and his buddies home alive to be living--not dead heroes. See the first pictures of the "Super Gavin" above!

We still have a long, long way to go to fully adapt the U.S. Army to the non-linear battlefield..our light units need M113 Gavins starting with Delta Weapons companies and supply & transportation units with XM1108 cargo carrying variants...we still have thousands of M113 Gavins in storage that need to be put into service....but it was at this moment that the tide finally turned against the wheeled madness threatening to destroy the U.S. Army and our Soldiers... American Iraq War Casualties

www.reocities.com/militaryincompetence/americaniraqwarcasualties.htm

HOW TO GET FULL ACAV & TAGS GUNSHIELDS FOR YOUR GAVIN ESVs:

Stack sandbags around your M113 Gavin ESV top hatches until you get these shields.

NSNs Track Commander's Cupola Shield Kit, Machine Gun / 2510-00-121-8990 Shield, Protective / 2510-01-006-4587

TC's cupola gunshields + side gunshields for the two troop hatch MGs

The NSN number for the complete Gun Shield Kit including the cargo hatch side shields is NSN 2590-00-121-8990. AMDF price is $11,708.00. Check the Army supply system for availability(?) REVELATION! IS YOUR LIFE WORTH $375? SARCO Inc. of New Jersey offers a M113 Gavin gunshield with cradle assembly and ammo can holder for just $375! If I were in Iraq and my life were on the line I'd order this ASAP. I would also use my own money to cut through the Army BS to make it happen. If you die NOTHING FOLLOWS.

Part # MNT010
SARCO Inc
323 Union Street
POB 98
Stirling, NJ 07980
(908) 647-3800
FAX: -9413 www: www.sarcoinc.com
email: info@sarcoinc.com

If the "system" doesn't have the shields (likely) the DSC bids for someone to make them like they did in 1999: 25 - SOL:SHIELD KIT, MACHINE GUN (10/29/99) http://www.fbodaily.com/cbd/archive/1999/10(October)/29-Oct-1999/25sol001.htm COMMERCE BUSINESS DAILY ISSUE OF OCTOBER 29,1999 PSA#2465 Defense Supply Center Columbus, PO Box 16595, DSCC-PBAB, Columbus, OH 43216-6595 25 -- SHIELD KIT, MACHINE GUN SOL SP075000R2737 DUE 121799 POC For Information Only, Point of Contact -- Carol Black Phone:614-692-1346 Fax: 614-692-1577 NSN: 2590-00-121-8990, YPC99201000244. Shield Kit, Machine Gun. Made in accordance with Army drawing 11660854 and all current related data. Full and open competition applies. Quantity is 52 each to be delivered within 150 days after date of award to Richmond, Va. All responsible sources may submit an offer which shall be considered. See note(s) 12 and 26. Copies of this solicitation are available at the address above or by faxing 614-692-2262 or e-mailing: incoord @ dscc.dla.mil and will not be available until 15 days after this notice is published in the CBD. Requests should include the company name, address and solicitation number(s). The small business size standard is 750 employees. Technical drawings/bid sets are available from DSCC-VTCD via one of the following medias: internet at http://abiweb.disc.dla.mil; facsimile at 614-692-2344; e-mail at drawings @ dscc.dla.mil or by mail at Defense Supply Center Columbus, ATTN: DSCC-VTCD, P O Box 3990, Columbus, OH. 43216-5000. Requests should include theRFP number, opening/closing date, NSN, Purchase Request number (e.g. YPC), Buyer's name and your complete name and address. FEDERAL, MILITARY AND COMMERCIAL SPECIFICATIONS CANNOT BE PROVIDED BY DSCC. Proposed procurement contains a 100% option for increase quantities. This is an unrestricted acquisition. While price may be a significant factor in the evaluation of offers, the final award decision will be based upon a combination of price, delivery, past performance and other evaluation factors as described in the solicitation. Estimated issue date is 18 Nov 99. Posted 10/27/99 (W-SN395719). (0300) Loren Data Corp. http://www.ld.com (SYN# 0194 19991029\25-0001.SOL) -------------------------------------------------------------------------------

25 - Vehicular Equipment Components Index Page However if you don't want to waste months playing with DSC because your men are getting shot at in places like Iraq/Afghanistan, United Defense, the maker of the M113 Gavin can deliver 44 kits in 20-22 weeks. Their price would be around $8,000 per kit, saving you about 4K per kit. Understand that cost does not come into play when we are talking about the safety of our troops but $176,000 buys a hell of a lot of beans and bullets...or better yet more gunshields!

POC: Mr. Tom Reuter
United Defense
M113 Field Service & Spares
(800) 235-0015 Ext: 825
cell @ 256-453-7049

DEUCE II

: Airborne Light Infantry Sappers need a C-130 airdroppable ARMORED Bulldozer

MARGINAL DEUCE I: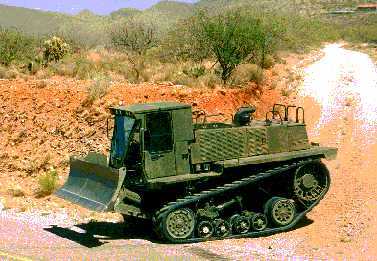 OUTSTANDING DEUCE II: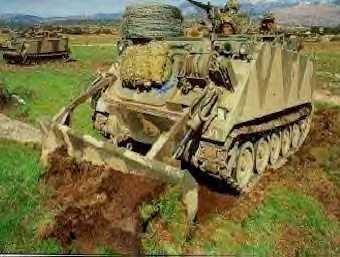 U.S. Army Airborne and Light infantry units now have a 1-man band-tracked bulldozer that is UNARMORED and UNARMED yet weighs 17.25 tons! Can the "DEUCE" be parachute airdropped on a Type V airdrop platform with honeycomb, cargo parachutes from a C-130 with a LVAD limit of 42, 000 pounds? Only by removing the driver's cab--which means a lot of difficult heavy drop rigging. The DEUCE I does nothing for M/CM/S maneuver support operations of Airborne/Light infantry if it can't get to the fight because its too heavy to airdrop or sling-load by CH-47D/F helicopter or can't survive enemy ambush during ground movements. DEUCE doesn't transport any Sappers along the way nor is it able to launch rocket line charges to rapidly breach through minefields. For survivability tasks, as a mini-bulldozer, the DEUCE I will not dig berms high enough to dig in a tactical operations center (TOC)--you need a SEE bucket loader to assist, which is yet another soft-skin vulnerable vehicle like the DEUCE I that puts our Combat Engineers Soldiers at risk of death and maiming. DEUCE 1s have also had many hydraulic problems in field use. How do you begin repairing a forward landing site (FLS) inside an airhead under enemy fire when the DEUCE 1 has no armor protection? It can be quickly knocked out of action, putting the entire airhead at risk without an assault zone landing strip. Clearly, we need an ARMORED DEUCE II, and the good news is we can have it immediately.
Many countries around the world attach a dozer blade to the 10.5 ton M113 Gavin light tracked ARMORED fighting vehicle to get a maneuver support engineer means which has been successful for many years without any hydraulic or size-of-berm problems. The Canadian Army nearby has such variants not far from TACOM in Michigan that can be examined. The M113 Gavin by being under 11 tons is easily parachute-airdropped or airlanded by C-130s without any concerns of exceeding landing or ramp exit weights/heights or reducing fuel/range. Gavins can be sling-loaded by CH-47D/F Chinooks and heavier lift helicopters. There is armored space in back of the Gavin unlike DEUCE I to carry a Sapper squad that can deploy from the back rear ramp or door to breach or establish obstacles and minefields as needed. Unlike the unarmed DEUCE I, moving along the non-linear battlefield, with maintenance-free band tracks the Gavin can go much faster at 50+ mph than the DEUCE I's 30 mph. Sappers in M113 Gavins can face out in 360 degrees behind transparent armored gunshields (TAGS) gunshields to fire rifles and machine guns when alert eyes spot any sign of an ambush threat. The M113 Gavin as a "DEUCE II" can swim across lakes and rivers to secure the far side for bridging operations when the DEUCE I cannot swim at all. The bulldozer blade acts a trim vane when in the water. Fitted with a detachable nose section and waterjets, the M113 Gavin "DEUCE II" can even swim from ship-to-shore in oceans from Army prepositioned ships to speed logistics over the shore engineering and shuttle vital supplies ashore. Because the M113 Gavin DEUCE has an armored hull, it can fire rocket line charges safely which Army Light, Airborne and Air Assault units cannot do now on foot or with flimsy Humvee, FMTV trucks.
The Army is hurting for money due to wasting $BILLIONS on road-bound, vulnerable Stryker trucks and mental RMA "mother may I?" gadgets; however, introducing the M113 Gavin DEUCE II would be very low-cost because there are over 2, 000 in storage ready to be converted and they share the same parts/logistics commonality of the other 14, 655 M113 Gavins already in Army use. Engineers in heavy units already own and operate M113 Gavin Engineer Squad Vehicles (ESVs). Estimate conversion cost of a M113A2 into a M113A3 with a bulldozer blade would be just $200K each. Army spent $56 MILLION of our tax dollars for 184 DEUCE 1s which comes out to $304, 343 each. Another option would be to lengthen the hull to MTVL 6-roadwheel configuration to transport up to 15 men at a time and possibly use hybrid-electric drive to make a tremendous amount of electricity available to operate engineering devices/attachments like a back hoe digger so dismounted infantry can have instant fighting positions that they only need to fine-tune with firing stakes and overhead cover. The front bulldozer blade enables the DEUCE II Gavin to create hull-down berm fighting positions for other vehicles in the supported unit so they can fight more effectively with surprise, camouflage and protection.
We suggest that the Army Airborne, Light and Air Assault units replace their Humvee truck in Delta Weapons companies, AT platoons, Mortar, Scout sections and Supply & Transportation platoons with M113 Gavin light armored tracks to give A, B, C riflemen armored cross-country and amphibious mobility as needed without bogging them down with vehicle care. We suggest that a platoon of 4 Engineer M113 Gavin DEUCE IIs be co-located with the Delta Weapons companies and AT platoons to create a natural synergism of having mobility/counter-mobility/survivability means organic to those elements leading vehicular movements of the main body and to do their heavy weapons tasks better with a burrowing and obstacle/minefield clearing capability. We could even call this platoon an "Engineer Cavalry" or "ECAV" unit which would fit nicely after the Delta company with "E" an easy-to-recognize as "Engineer". The ECAVs would be a truly fighting engineer unit with their gunshielded TAGS and dismounted combat capabilities; not an engineer construction piece of equipment needing armed and armored escort.
The following performance comparison matrix shows why the M113 Gavin is clearly needed as the DEUCE II.
M113 Gavin DEUCE II compared to DEUCE I
Weight

Armored

Armed

Speed

Swim

C-130

CH-47

Rocket Line

Charges

Carry Sappers

Infantry

Cost

Support

M113 Gavin

DEUCE II

12 tons

YES

YES

50+ mph

YES

YES

YES

YES

YES

9 A3

15 A4

$200K

14, 655 M113s already in Army system

DEUCE I

17.25

tons

NO

NO

30 mph

NO

Maybe

Weight cuts into fuel &

range

NO

NO

NO

$304

Low

Density system less than 200 in service
Summary/Conclusion
The M113 Gavin as a "DEUCE II" can be heavily up-armored with RPG pre-det bird cages, Explosive Reactive Armor (ERA) tiles, spaced armor and even Spirit of America earth-filled blast wall sections to withstand bomb blasts up to 24, 000 pounds. Gavins can even have their hulls V-shaped to deflect mine and bomb blasts. The DEUCE I does not have this up-armoring growth potential and simply is not survivable on the non-linear battlefield where the enemy can attack in any direction at any time. If Army Light, Airborne and Air Assault Sappers are to contribute effectively to the non-linear fight they need the M113 Gavin DEUCE II now.
NOTES
1.www.globalsecurity.org/military/systems/ground/deuce.htm
2. www.findarticles.com/p/articles/mi_m0FDF/is_3_30/ai_65350719
TACOM Sets the DEUCE Loose
Engineer: The Professional Bulletin for Army Engineers, July, 2000 by Rae Higgins
The U.S. Army Tank-automotive and Armaments Command has given some of the Army's elite, "high-speed" engineers something to say "hooah" about -- a new, and equally high-speed, high-tech dozer. The deployable universal combat earthmover (DEUCE) is a state-of-the art dozer that promises to set the combat-engineer community on its ear, as it represents a new concept in equipment use, crew comfort, training, and maintenance.
Light infantry units headquartered at Fort Drum, New York, and airborne units at Fort Bragg, North Carolina, were the first to be equipped with the new dozers last summer. Although the DEUCE is not yet slated for Armywide fielding, units at Fort Lewis, Washington, will receive a few DEUCEs to test in support of the initial brigade combat teams, as the Army marches forward on its plan for transformation.
The DEUCE enables light infantry and airborne engineers to prepare airstrips, roads, and protective positions, while keeping pace with the ground forces. The great thing about this dozer is that it doesn't have to be loaded and hauled from one combat construction site to the next. All the operator has to do is flip a dashboard switch to shift the dozer from the earthmoving mode into the self-deploy mode. And, to the delight of combat engineers everywhere, the DEUCE features an enclosed cab with heat and air conditioning.
The Army's DEUCE program began in late 1992. According to TACOM's DEUCE system acquisition manager, the combat developer (the U.S. Army Engineer School) established the mission need for the DEUCE in an operational-requirements document (ORD). The DEUCE ORD states that "Engineers, as part of the light combined-arms team (organic or task-oriented to light divisions), need a light-weight earthmoving capability that does not require a prime mover and trailer for operational and tactical movement and is strategically deployable by air. The DEUCE must travel rapidly between job sites and travel across and on paved airfields and highways without damaging the surface."
TACOM's DEUCE team played a critical role in making the dozer a reality for engineers. When a combat developer expresses a need for a piece of equipment, TACOM's materiel developers procure equipment that can meet that need.
The 35,500-pound DEUCE is manufactured by Caterpillar (R). TACOM wanted to capitalize on existing commercial components rather than introducing unique parts and achieved this goal by the nondevelopmental item integration of Caterpillar (R) commercial components. This resulted in only about 20 percent of the parts being DEUCE unique.
Features
Three important features of the DEUCE are the--
* Ability to self-deploy.
* Six-way (power, angle, and tilt) blade.
* Electronically controlled engine/ transmission combination.
The DEUCE, which can be ready to dig in less than a minute, replaces the D5 dozer in the light engineer forces. Its ability to switch into the self-deploy mode is a radical departure from dozers used in the past. It saves the time and manpower it used to take to load, haul, and unload dozers like the D5B, which was at least a two-person job. This self-deployability was a key operational factor. A lone DEUCE operator can move right into battle, complete his mission, and redeploy to the rear without relying on anyone or anything else to get him and the vehicle there and back.
In the earthmoving mode, an operator drives the DEUCE with standard power-shift transmission. This allows for the slow, high-torque drive required for dozing. Conversely, once he switches to the self-deploy mode, a six-speed automatic transmission kicks in, which enables the DEUCE to reach road speeds of 30 to 35 mph.
The DEUCE's hydraulic blade is different from "regular" dozer blades. It not only goes up and down but also can tilt left and right for "V-cuts" and can angle left and right. This flexibility gives an operator a variety of dozing options, depending on the task at hand. Moreover, hydraulic blades can significantly improve dozing times.
The DEUCE also sports rubber track. Steel track, which is the norm for most construction equipment, can damage roads by chewing up the asphalt.
The DEUCE was designed with the soldier-operator in mind. The enclosed, climate-controlled cab sets the stage for optimal operator performance--meaning the soldier at the wheel is less likely to become fatigued due to extreme weather conditions like oppressive heat and humidity or frigid cold. In addition, the vehicle features a seat that adjusts to the operator's height and weight, a hook-up for hydraulic tools, and a communication connection for radio and global positioning systems.
The DEUCE is also different from other dozers in that its controls are ergonomically designed, so operator-training requirements are kept to a minimum. Simply put, the DEUCE has a steering wheel, an accelerator, and brakes--much like a car. This is a big change from older tracked construction equipment that combat engineers use.
Maintenance
Dozer mechanics have reason to give the DEUCE high marks because of a new electronically controlled diagnostics system. The soldiers' portable on-systems repair tool (SPORT) signals a maintenance specialist of mechanical problems. The SPORT is a separate piece of equipment and is the Army's only authorized "ruggedized" laptop. Using the SPORT, a mechanic can simply plug in a standard tester to zero in on a problem. He doesn't have to crawl around the DEUCE to pinpoint maintenance issues.
The DEUCE is also compatible to hookup with the small emplacement excavator's hydraulic tools, including the pavement breaker, hammer drill, chain saw, impact wrench, and hose assembly.
Response to the new dozer has been positive. In November 1999, the Engineer School trained several soldiers, both operators and maintainers, from the 5th Engineer Battalion, who recently tried out two DEUCES at the National Training Center (NTC) at Fort Irwin, California. Their positive comments centered on ease of operation, plentiful power, ride comfort, and user-friendly maintainability at the operator level.
According to the experiment projects NCO at the Maneuver Support Battle Lab at Fort Leonard Wood, Missouri, the NTC's fearsome, fabled, and famous opposing force thought the DEUCE's mobility was good, but the digging time was slower than they would have liked. The operators realized that their lack of experience on the equipment was a factor in the slower digging time but, with more experience, digging times would improve.
The DEUCE performed well on reliability, mobility, and durability, but some modifications, such as a wider blade, will enhance its ability to perform required missions faster. However, a wider blade does not fit the transportability requirements.
Troops aren't the only ones who are becoming more familiar with the DEUCE's derring-do. When Secretary of the Army Louis Caldera came to Fort Leonard Wood last December, he visited Training Area 244, where operators from all services learn to run heavy-construction equipment. Secretary Caldera climbed into the driver's seat of a DEUCE, revved it up, and took it for a spin. He returned with a big smile on his face and said that he considered this chance to drive the DEUCE an early Christmas present.
Program Success
TACOM's dedication to making the DEUCE the best possible state-of-the-art piece of Army engineer construction equipment has, without a doubt, greatly added to the success of the program. In meeting the deployability (C-130 drive on/off, low velocity air-droppable) and mobility requirements (30-plus mph), the DEUCE has significantly enhanced capabilities that will shape the battlefield in its combat-engineer mission for Army XXI. The "creature-comfort" improvements, along with its operational features, make the DEUCE a unique piece of engineer equipment that is highly universal.
TACOM is currently on contract for 130 DEUCEs, but the system acquisition manager anticipates procuring a total of about 200 for the Active and Reserve Components. DEUCE fieldings will continue as scheduled through December 2001.
Ms. Higgins is a public affairs specialist assigned to Headquarters, U.S. Army Tank-automotive and Armaments Command, Warren, Michigan. She holds a bachelor's degree in communication from Oakland University, Rochester, Michigan, and is a graduate the Defense Information School Public Affairs Officer Course. She is also a member of the Public Relations Society of America
3. M113 Gavin Data
www.combatreform.org/m113combat.htm
www.reocities.com/armysappersforward
www.reocities.com/armysappersforward/amphigavins.htm
www.combatreform.org/itmaneuverabattalion.htm
www.reocities.com/lightmechsappers
What Sappers need today: Air-transportable M113A4 MTVL Gavin Engineer Squad Vehicles (ESVs)

SIGN PETITION TO NAME M113 AFTER U.S. ARMY HERO, GENERAL JAMES M. GAVIN

NEW!

How Hybrid-Electric drive M113A4 Gavin ESVs can be roadside-bomb and landmine resistant (click-on picture)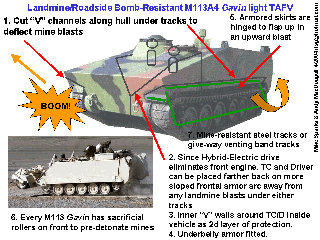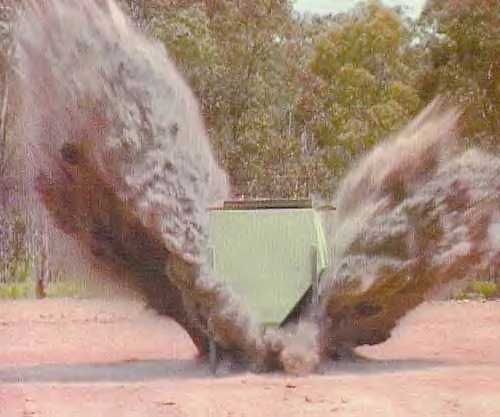 Other features:

* Foot rests and seats bolted to the roof with shock absorbers

* Floor spall liner

* Multi-frequency mine remote pre-detonator radio transmitter ("ECM")

* Increased ground clearance

An Army countermine expert writes:

"This is an interesting concept. There are a couple of issues with v-hulls for tracked vehicles. First, they are lower to the ground and will require a flatter angle. Second, the road wheels will act as a blast trap (cause acceleration injuries). Third, this will require a close look at the suspension because the moment arm (longitudinal torque) on the torsion bars will increase significantly. The hinged armored skirt will function as a blast trap as well (again causing/aggravating acceleration type injuries), given the mass involved, it would probably be better to design it with shear pins that allow it to break away. On the band tracks, the limited information that I have seen indicates that they do very poorly against mines (m-kill is the typical result), the mine resistant track and suspension design is probably feasible, but I am uncertain what levels can be achieved in a M113 class vehicle. Previous work in this area focused on an M60 MBT. The "inner 'V' walls": a spaced armor arrangement that allows the hull to flex in the event of a mine strike is key to limiting hull deflection injuries to lower extremities but it need not include a "V" shape. The "V" is advantageous because of the blast dynamics. Finally, on the rollers, this wide flanged expendable rollers may be better than nothing but have been badly oversold. No one has published performance data on them. My suspension is that this is because of the relatively low probability of detonating a pressure fuzed AT mine. One key design feature to include is the hanging of seats (equipped with state-of -the-art restraint systems with quick disconnects for combat) from the roof whenever possible. This "decouples" the occupant from the hull in the event of a mine blast and will significantly reduce acceleration injuries. Many of these things can be designed for, some I am not sure. Good luck, I hope this is of some help."

Engineers need to be landmine and roadside bomb protected; Gavins have external fuel tanks, Bradleys do not. With 500 horsepower hybrid-electric power Gavins can have several tons of additional armor fitted without losing cross-country mobility, Bradleys and Strykers cannot.

Engineers need to be able to swim across lakes, rivers and from oceans; light tracked Gavins CAN; Bradleys and Stryker trucks cannot.

How Amphibious Sappers in M113A3 Amphibious Gavins can lead the way for the rest of the U.S. Army ashore despite enemy seaport access denial!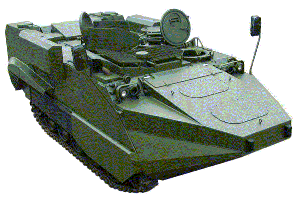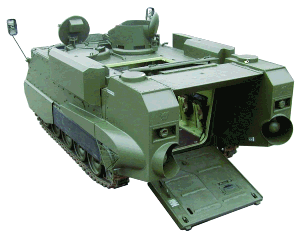 The MIGHTY M113 GAVIN CAN BE MADE OCEAN-SWIM MOBILE: LAV3STRYKERS AND BRADLEYS CANNOT EVEN SWIM! REAL "TRANSFORMATION" COMES FROM APPLYING OUR BEST TECHNOLOGIES TO WINNING, COMBAT-PROVEN M113 GAVIN PLATFORMS NOT LOSER JUNK ARMORED CARS. OCEAN SWIM KITS FOR GAVINS BY ITALIAN FIRM ARIS SPA GIVES NATO NEW RAPID DEPLOYMENT CAPABILITIES!
The M113A3 AmphiGavin: triple threat by air, land and sea!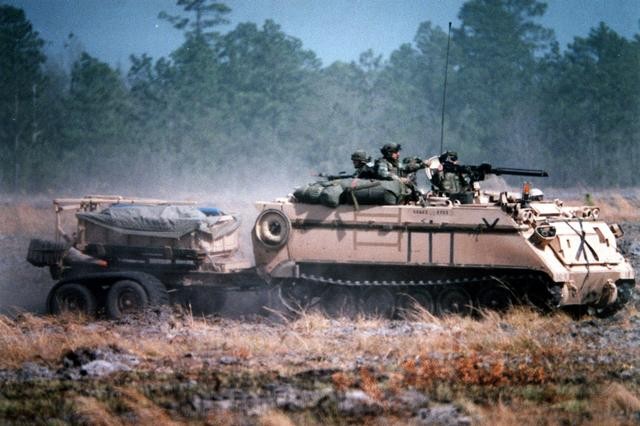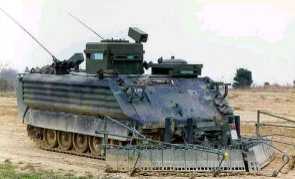 NEW!
Germany-based, innovative Combat Engineer Officer comes up with optimal internal/external storage for M113A3 Gavin ESVs.
We are trying to get more info on his innovations, it appears the outside racks need external armor mounting bolts available to A3 models. The internal storage rack/seats should work if you have A2 model Gavins. We will post more info as we find out.
www.130thengineers.army.mil/publications/Professionalarticles/54M113modifications0103.htm
Equipping the combat engineer squad: Making the most out of the M113

By CPT Mark E. Wilson

View Photos

Mechanized combat engineer squads have long been plagued with the problem of how to safely carry, in combat configuration, all of their assigned personnel, equipment, and supplies. This problem is best illustrated in Steve Ressler's print The Combat Engineer, which portrays an M113 bursting at the seams with personnel and equipment coming out of every nook and cranny of the vehicle. Although humorous, the safety and operational issues surrounding the problem are no laughing matter.

Combat engineer squads have always had a bad reputation at Combat Training Centers (CTC) for their poor load plans. Most squad M113s have boxes of equipment and supplies haphazardly stacked inside and rarely secured. Some units have removed their seats and replaced them with long boxes, of various constructions, to hold all of their equipment. Seatbelts are often removed along with the seats. In a rollover accident Soldiers, equipment, and supplies can be thrown together inside of the M113 potentially causing serious injury and even death.

Several solutions, or work-a-rounds, have been used in the past to avoid the problem, but are not viable in a real-world deployment. Units often leave behind squad and platoon carpenter and pioneer tool kits when going to a CTC for a high intensity conflict (HIC) rotation. To remain a versatile and viable force, engineers must always be prepared to perform any mission a commander might request. Leaving equipment behind is simply not an option.

Although the assigned M105 trailer, which attaches to the M113 to carry equipment that wont fit in the personnel carrier, does have considerable haul capability, our countermobility missions often call for it to be emptied to haul ammunition and construction materials. During OPERATION DESERT STORM, most combat engineer squads were ordered to drop the trailers to increase the speed, maneuverability, and range of their M113s. In my experience supporting maneuver units, I have also found the trailer to significantly limit speed and mobility. This limitation would further manifest itself during operations in an urban environment.

Work began on resolving this issue in the 54th Engineer Battalion (C)(M), 130th Engineer Brigade about two years ago. Several officers and NCOs had seen or used storage boxes that doubled as troop seats in previous units. The search for these boxes and their associated stock numbers in the Army Supply System was begun. Tank-automotive and Armament Command (TACOM), Logistic Support Activities (LOGSA) Preventative Maintenance Monthly (PS) Magazine, and a M113 fleet representative at the Engineer School were all contacted. We discovered that these storage boxes were no longer available in the Army supply system. Concerns over storage box construction, latch and lid strength, and mounting methods had halted the supply. There was no real problem with the M113 itself so TACOMs liability concerns prevented them from working the issue. This obviously was not the answer we sought.

We decided to start the process of finding a safe, viable solution on our own. We began the developmental process by sketching out ideas on a dry erase board with several squad leaders and platoon sergeants. We came up with a system of racks for the exterior of the track and storage boxes for the interior. The exterior racks would carry squad rucksacks, picket pounders, breach marking material and enough wire and pickets to emplace an eleven row wire obstacle, 40 meters of triple strand concertina fence, or a hasty containment fence for prisoners of war. The interior storage boxes would carry squad engineer and maintenance tools, and other miscellaneous gear.

Realizing that it is hard for anyone to truly appreciate the situation through an e-mail message or concept drawing, the decision was made to build a prototype. Many factors played into the system design and manufacturing process. The first were all of the issues and concerns raised by TACOM and the Engineer School, with safety being the most important. We learned early on that our chances of success were greatest if we did not alter the vehicle in any way. There were big concerns over the vehicle being able to be returned to its original configuration or 10/20 standards. Mission requirements, unit basic loads (UBLs), operational environments, assigned squad equipment, deployability, and individual Soldier gear were all considered in the design. Above all else, reducing the cost of production would increase our probability of success.

It was decided early on to go with a commercial contractor for the prototyping phase of our project. Experience, skill, availability of tools and materials, quality of workmanship, and ability to eventually produce a large quantity of systems led us to this decision. We began talking over our ideas with Oliver Zeitner, the president of OWR GmbH Bamberg, a company with a great deal of experience in vehicle refurbishment and one that has worked with the U.S. Army for well over 10 years. The prototyping process was streamlined by bringing the professionals in early on. Knowledge of materials and techniques of manufacture were critical in making the system cost effective and easy to quickly manufacture. We also found that brainstorming with the professionals spawned even more ideas. A welder working for one of Mr. Zeitners subcontractors is credited with the design for the wire rack.

Once the initial prototype was built we took along our TACOM Logistics Assistance Representative (LAR), Mr. Stan Matheny, to discuss the design and identify issues of concerns from a TACOM point of view. Mr. Matheny was impressed with our product and gained clearer insight for what we were trying to accomplish. He made additional design recommendations and soon fired off messages throughout TACOM soliciting support for our idea. He also suggested we submit the idea through the U.S. Army Combined Arms Support Commands (CASCOM) Supply and Maintenance Assessment and Review Team (SMART). The organizations Project SMART examines, streamlines and improves unit-level logistics support.

Once we were satisfied with the initial prototype design, one M113 was completely outfitted for evaluation by a combat engineer squad. The prototype exterior racks can be mounted in less than 20 minutes using the existing add-on armor thread wells. They carry the squads loaded rucksacks, all of their marking materials, and enough wire and pickets for the planned wire obstacles with additional space for food rations or other cargo. There was also a brush guard added to the leading edge of the baskets to prevent small trees from damaging rucks or the racks themselves. The racks are interchangeable from one side to the other and will easily fit inside the M113 crew compartment for deployment. The storage boxes for the interior are built under the existing seats and seat-mounts and use the original folding seats as lids. The existing floor bolts are used to secure the boxes to the floor. The only modification required on the inside entails riveting latches to the seat front to secure the closed lids. Steel is used for everything. It was much cheaper than aluminum, stronger than any alternative, and will accept chemical agent resistant coating (CARC) paint.

Our initial testing resulted in only minor changes. Our squad leaders and their Soldiers loved them. Safety is greatly enhanced because every Soldier now has a seatbelt and loads are properly secured. We have also eliminated the pioneer toolbox strapped to the roof of our vehicles. This allows crew-served weapons to be utilized for flank and rear security during halts with full 1800 fields of fire and minimal gunner exposure. Our operational benefits are also great. Squads are now more versatile and prepared to quickly transition from one mission to another.

Squads were recently tasked to develop two load plans during a take everything deployment exercise. One load plan was for shipment and the other was for combat configuration. Our squads equipped with the rack and storage system, were able to rapidly transition from one to the next. The storage boxes and cargo area behind their blast panels remain in the same configuration with only the racks needing to be mounted and loaded. With supplies on hand, it took less than an hour for a squad to make the full transition to load the rack. This quickly gives the commander a squad that is ready to execute any mission.

Support has grown for the system throughout the 130th Engineer Brigade and V Corps. Building the prototype and setting up displays or demonstrations was critical in the process. Pictures and e-mails do not do justice to the system. Our greatest supporters have been those who are familiar with the safety issues due to prior experience, or those who have actually put hands on the system and talked with the Soldiers using it. Providing Soldiers all of the tools at our disposal for ensuring their effectiveness and safety is a key leadership responsibility. This initiative is clearly a step in the right direction.

CPT Mark Wilson is the commander of "C" Company, 54th Engineer Battalion, in Bamberg, Germany. Wilson has previously served with mechanized combat engineer units in 2nd and 4th Infantry Divisions. He graduated from Wofford College and has attended the Engineer Officer Basic Course and the Armor Officer Advanced Course.
Swiss Army M113 Ruag Light Mine Clearing Tank
BREAKING NEWS!
Norwegian and Canadian Armies sending upgraded M113 Gavin MTVLs with band-tracks to Afghanistan!
Details:
www.combatreform.org/bandtracks.htm
Another thing Stryker trucks can't do: M113 Gavins with dozer blades can self-entrench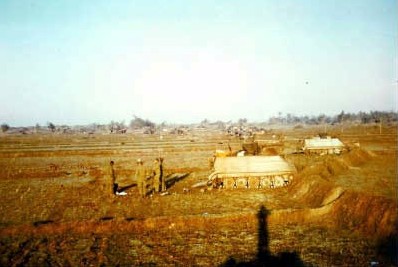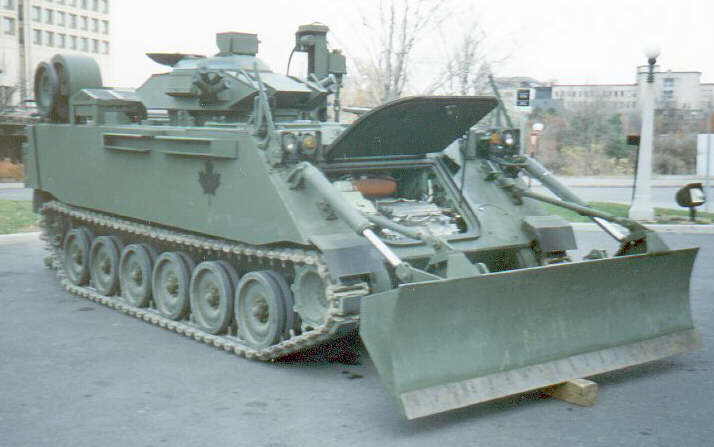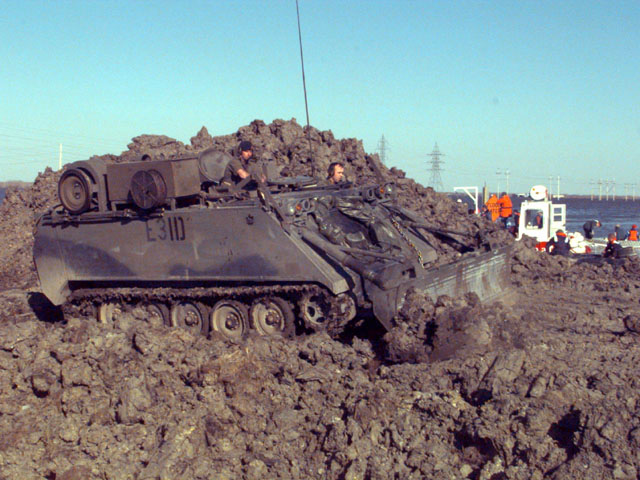 Andy MacDougall writes:
"I'd thought I'd share with the group a pic I've had in my personal M113 picture collection that I don't remember where on the web it came from, but I remember it wasn't anyplace that explained this nice little mod much if at all.
The above Norwegian M113 (their found absolutely everywhere!) has a nice mineplow that seems 'articulatable' between strait and vee. I've long lusted - yes lusted - for something like this for it improves both functionality and mobility of your average M113. Rather than wait around for scarce engineer M113s one of these should be issued to every M113 in a future light armor formation so that every M113 can:
* Dig vehicular, artillery and individual fighting positions (strait dozer blade mode)
* Clear wood, wire and most any field expedient obstacle, boobytrap or road side bomb/mine (straight mode again)
* Clear a possibly mined route or known minefield, either for a convoy it's leading or just for it's self (vee dozer blade mode)
* Used as a battering ram to poke mouse holes into the side of buildings for alternate - safer - entry for it's dismounts (vee mode again)
Also can be used for basic earth-moving and construction projects when way-to-busy specialized engineers are not around. If Norway makes these we need to use divested Stryker truck money to buy huge quantities from them. Finally I envision about whizzing down roads in urban areas - Mogadishu comes to mind - with the MP on vee and "clearing a path" of anything that gets in my way as I speed off to the objective. Any opposition will get a face full of lead and a body full of appetizer dozer blade followed by a full course of tracks. M113 will have a large bumper sticker that says 'I STOP FOR NOTHING!' on the upper front glacis in both english and the local language."
Ken Nelson adds:
Same as yours but in the dirt:
Playing in the woods:
One with wheel roller on front:
And what must be an eng utilities version with straight blade and auger drill attached:
Secret www weapon of Combat Engineers
Time for DA to approve the SAPPER TAB!
U.S. Army SAPPER Leader's Course
Questions to answer after MANGUDAI
Society of Military Engineers (SAME)
U.S. Army Engineer Association
Taming the Land Mine by Peter Stiff
U.S. Army Corps of Engineers web site
U.S. Army Combat Engineer Center/School
---
*****MOBILITY******

Have a 3D Force structure that can fly over/around enemy defenses

Air-Mech-Strike warfighting concept

3D force airfield/LZ/DZ clearance/construction

Enter the Assault Drop/Airlanding Zone!

2D Route clearance/construction

Obstacle/Urban rubble clearance

Creating simulated Satchel demolitions charges for training

Vehicle-Emplaced Bangalore torpedoes?

Bridging

Counter-mine

Militaryapplications of Forward Looking InfaRed (FLIR)

Breach kits and Launched Grappling Hooks (LGHs) made by local units

War Dogs: America's secret weapon

Desert Storm combat: Iraqi minefields and our attempts to clear them: not what you may think

Somalia: Vehicles and mine survival

Our steps to creating simulated Satchel demolitions charges for training

FM 21-16 Unexploded Ordnance Disposal

Breach Kit: History of mines, probes, how-to-use LGH, glint tape, no-power thermal tape, marker flags, wire cutters

Non-metallic mine probe (plastic)

NSN for the older Non-Metallic Mine Probe is 6665-01-371-4874.

Non-magnetic mine probe (titanium)

NSN 6665-01-432-6213
Probe, Mine 5 Piece (TA-1)$79.40

This is a collapsible titanium mine probe that has greater durability than the plastic probes. While it is titanium, it will not disrupt magnetic signature-fuzed land mines. It comes with a compact ballistic nylon sheath. It has been recently adopted by the U.S. Army Engineer School for issue to each MOS 12B and two per AN/PSS-12 Mine Detector in Airborne, Air-Assault, and Light Engineer Battalions and supporting equipment Companies and Corps Battalions. They are available from:

Mission Knives & Tools, Inc.
13805 Alton Parkway Suite D
Irvine, CA 92618

Another source:

TA-1 (3pc) 3 piece plain 16.625" NSN 6665-01-432-6213
TA-1 (5pc) 5 piece plain 27.875" NSN 6665-01-432-6213
TA-2 (5pc) 5 piece knurled 27.875" NSN 6665-01-444-1083
---
ISSUE IN FOCUS: MAGNETIC MINES

Some marine engineers wrote us recently saying that its not necessary to use non-metallic mine probes; its ok to probe with metal bayonets for mines like they did when the marine had his foot blown off in Afghanistan. They told us that the enemy was a bunch of dumb "ragheads" and only employs simple devices. A couple days later, an IDF heavy tank was blown up by a magnetic mine.

A Hollowed Magnetic Charge and Mine Blew up Chariot-3 Tank in Palestinian Ambush in Gaza Strip Thursday Night

Sources other than DEBKafile:

Washington POST
Jerusalem POST

DEBKAfile:

"15 February: An Israeli tank was blown up for the first time Thursday night, killing three Soldiers. A huge explosion ripped off its turret and split the 65-ton Merkava (Chariot) 3 in two as it charged up the Karni-Netzarim route in the Gaza Strip to reach a civilian bus under Palestinian gunfire. DEBKAfile 's military sources advance the theory that a hollow, multi-stage - probably magnetic - charge was used, possibly in combination with a powerful magnetic mine or mines. This form of sabotage has never been seen before in the Middle East. The charge may have fixed under the turret along the seams of its joins to the tank body and activated by remote control or radio signal. This would explain how the turret was ripped off. As the tank approached the distressed bus, the smaller charge would have been detonated, releasing a shower of magnetic explosive particles, which adhered to the body of the tank and produced a blast more damaging than an anti-tank missile, especially in combination with a mine exploding underneath the tank. The Israeli Merkava was designed primarily for crew survivability under fire. The charges must have been expertly planted at the best points for penetrating its special "spaced armor"

This was the precisely the method employed by Osama Bin Laden's mujaheddin in the 1980s to sabotage Soviet T-72 tanks in Afghanistan, a technique taught them by their American instructors. Over the years, the method was passed on to al Qaeda terrorists in bin Laden's training camps, for turning against American tanks when the time came".

Its clear that its time that we start taking the enemy seriously and start using the proper equipment for demining before more limbs and lives are lost due to laziness and stupidity.

Launched Grappling Hook

Inexpensive, disposible, hand-tossed grappling hook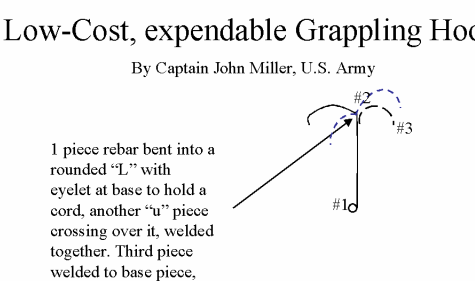 Mine Overshoes
Rabintex RPE 230 SAPPER PLATFORMS, designed for crossing minefields used by IDF and Norwegian Sappers (shown recently on CNN World Report in Afghanistan).
Soldier's weight is evenly distributed over large area of the platform, reducing his weight pressure to a level insufficient for mine activation.
In quantities of 10-100 sets, a set cost is $435 FOB Israel.
Each set includes a pair of platforms, in a protected carrier.
The offer is subject to Rabintex approval of the end user.
Rabintex Industries Ltd, Bnei-Brak, Israel
www.rabintex.com/code/rabintex.htm
E-mail: rabintex@rabintex.com
Tel: +972-3-5700196
Fax: +972-3-5792666
Rabintex
28 Halechi Street
51200 Israel
Scheibel Industries AN/PPS-12 web page
Wellco Mine-Protective Footwear
Mine-protective boots and overshoes
BODY ARMOR SET, INDIVIDUAL COUNTERMINE (BASIC)
Phase III of the U.S. Army's BASIC P3I Countermine Ensemble Program
Human-Powered Mine Roller (since Army Headquarters refuses to supply Airborne, Air Assault, Light Sappers M113A3 ESV tracked armored vehicles to push mine rollers, plows)
Remote Controlled ARMADILLO Mine Roller
The patented Armadillo(tm) Landmine Countermeasures System can survey minefields, clear anti-personnel mines and proof for Quality Assurance faster, safer, simpler than current methods.
Operating more cheaply and with fewer personnel, the Armadillo is ideally suited for demining where productivity and safety are critical, and logistical support is low.
TSI President Dan Wolf with the Armadillo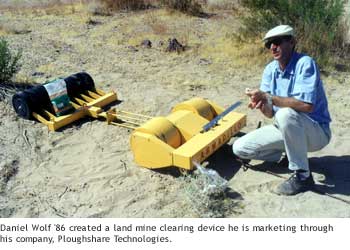 The Armadillo is versatile. It is designed to:
*Conduct rapid minefield surveys
*Enhance safety for follow-up detection operations
*Eliminate anti-personnel mines without disturbing anti-tank mines
*Conduct "blow-in-place" procedures most anywhere
The Armadillo works simply and effectively. It finds and destroys pressure-sensitive anti-personnel mines by pressing on them and detonating them. Meanwhile, it suffers only superficial damage (e.g., burnt paint). And it doesn't weigh enough to detonate most properly functioning anti-tank mines.
A single pass is enough to plot minefield perimeters (a Level II Minefield Survey). Repeated, crisscrossed traverses can accomplish most clearance (a Level III Minefield Survey). Follow-up hand operations with detectors or dogs can be done with much less risk to personnel.
The Armadillo is a small, remotely operated, all-terrain vehicle (dubbed The PathBreaker(tm) ATT) that pushes a bank of pounding steel disks. Thin, closely packed and independently suspended, the disks follow ground contours precisely (We've named the disk array The Rockweiler(tm), in honor of the late demining hero, "Rocky" Rockwell.).
The Armadillo comes in two models:
The Tractor Model is radio controlled, and its disks pound the ground to penetrate deeper in the ground. A vegetation-clearing attachment will be available
The Cable-Operated Version, which costs less, detonates by applying weight alone
Both models can be configured to suit terrains, soils and buyers' needs. Disks may be replaced with harrows and plows to unearth buried objects or to prepare soil for planting crops.
The Armadillo is rugged. Demining typically goes on in the world's lesser-developed regions. The Armadillo is built to operate in just such areas.
It can be used, maintained and repaired cheaply and easily in primitive and demanding conditions
Personnel can be trained easily to operate with minimal supervision and support For the first time ever, minefield supervisors can organize workers cost-effectively. They can safely and effectively assign low-cost local workers to conduct most demining, while reassigning scarce skilled personnel to more demanding tasks. The results: Budgets go further and more land returns to use
For more information, contact:
Ploughshare Technologies
1846 Granada Avenue
San Diego, CA 92102
Tel: (619) 231-1320
Fax: (530) 660-8054
Or email Terra Segura at:
TerraSegura@compuserve.com
Interim Vehicle Mounted Mine Detection
Countermine Capabilities Sets (Remote-controlled Mine flail, M113A3 ESV-mine rake, Panther remote-controlled M60 tank with mine rollers, MAMBA mine-resistant 4x4 vehicle)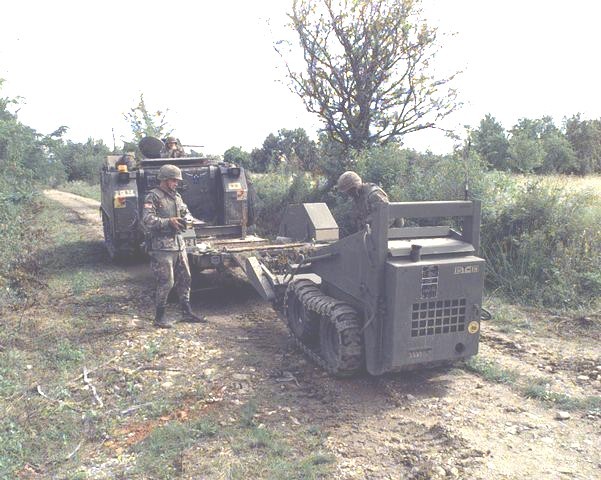 M113A3 Gavin ESV trailer-delivered, remote control operate tracked mine flail in action in Bosnia
Mine-Protected Clearance Vehicle, South African Casspir V-hulled 6x6 armored car
SIMS accurately and consistently interact with metal detection, radar and infrared detection sensors in a way representative of actual live mine target categories
Hand-held Stand-off Mine Detection System
Ground Standoff Mine Detection System (GSTAMIDS) Block 0 consists of a teleoperated mine detection South African V-hull shaped wheeled vehicle and a V-hull blast protected control wheeled vehicle.
Tracked trailer-mounted Explosive Standoff Minefield Clearer shoots explosive net over minefields
Anti-Personnel Obstacle Breaching System
British RAMBS2 Rifle Grenade Breaching System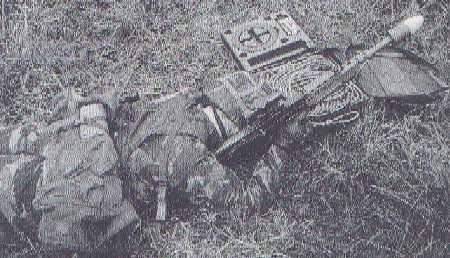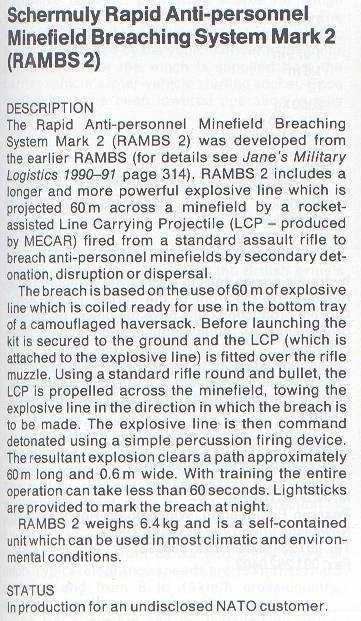 ---
Counter-ambush
---
*****FORCE PROTECTION*****
Hardening soft-skin wheeled vehicles
CVC, PASGT Kevlar helmet and vehicle camouflage
FROM SANDBAGS TO COMPUTERS: What's New in Field Fortifications and Protective Structures by Colonel Bruce K. Howard, Commander, U.S. Army Engineer Waterways Experiment Station, U.S. Army CALL
ISO Container "Battle Boxes" not vulnerable "tent cities"
Battle Boxes: Tactically Sound Troop Living Areas in addition to transportation means
Hesco Bastion Concertainers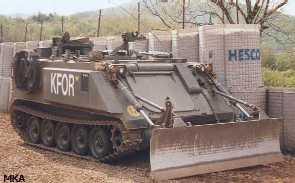 A British product called the Hesco Bastion Concertainer Revetment System is another expedient protective system that was recently evaluated and fielded. "Concertainer" is a geocomposite construction material that, when expanded from its shipping configuration, forms a wall section of linked, self-supporting cells. These cells can be filled with earth or rubble to provide ballistic and blast protection from a variety of direct- and indirect-fire munitions.
After expansion, the typical Concertainer wall section is about 4.5 feet high, 3.2 feet wide, and 33 feet long. The sections can be stacked two high and spliced together to form walls of various lengths. When empty, each section weighs 300 pounds. Two soldiers can erect and prepare the wall sections for filling with on-site materials. The Concertainer protective system provides better protection with far fewer assets than sandbags or other materials and can be used at fuel points, helipads, artillery/mortar positions, and vehicle barriers. The Hesco Bastion Concertainer Revetment System, which is less expensive than other expedient protective measures, has been exceptionally successful in Bosnia.
Units may order Concertainer through normal procurement procedures. National stock numbers vary depending on the length, width, height, and color of Concertainer needed.
| | | | | | | |
| --- | --- | --- | --- | --- | --- | --- |
| Part Number | NSN | Length (ft) | Height (ft) | Width (ft) | Color | Cost US $ |
| MIL 1B | 2590-99-835-7866 | 32.0 | 4.5 | 3.5 | Grey | 672.00 |
| MIL 2B | 2590-99-968-1764 | 4.0 | 2.0 | 2.0 | Grey | 48.00 |
| MIL 3B | 2590-99-001-9392 | 32.0 | 3.3 | 3.3 | Grey | 508.80 |
| MIL 4B | 2590-99-001-9393 | 32.0 | 3.3 | 5.0 | Grey | 763.20 |
| MIL 5B | 2590-99-001-9394 | 10.0 | 2.0 | 2.0 | Grey | 100.80 |
| MIL 6B | 2590-99-001-9305 | 20.0 | 2.0 | 2.0 | Grey | 193.60 |
| MIL 7B | 2590-99-169-0183 | 91.0 | 7.3 | 7.0 | Grey | 3,096.00 |
| MIL 8B | 2590-99-335-4902 | 32.0 | 4.5 | 4.0 | Grey | 687.00 |
| MIL 9B | 2590-99-563-5949 | 30.0 | 3.3 | 2.5 | Grey | 460.00 |
| MIL 10B | 2590-99-391-0852 | 100.0 | 7.0 | 5.0 | Grey | 3,256.00 |
| MIL 1G | 2590-99-001-9396 | 32.0 | 4.5 | 3.5 | Green | 720.00 |
| MIL 2G | 2590-99-001-9397 | 4.0 | 2.0 | 2.0 | Green | 51.20 |
| MIL 3G | 2590-99-001-9398 | 32.0 | 3.3 | 3.3 | Green | 545.60 |
| MIL 4G | 2590-99-001-9399 | 32.0 | 3.3 | 5.0 | Green | 819.00 |
| MIL 5G | 2590-99-001-9400 | 10.0 | 2.0 | 2.0 | Green | 107.20 |
| MIL 6G | 2590-99-001-9401 | 20.0 | 2.0 | 2.0 | Green | 208.00 |
| MIL 7G | 2590-99-126-3716 | 91.0 | 7.3 | 7.0 | Green | 3,312.00 |
| MIL 8G | 2590-99-517-3281 | 32.0 | 4.5 | 4.0 | Green | 735.00 |
| MIL 9G | 2590-99-052-0506 | 30.0 | 3.3 | 2.5 | Green | 492.00 |
| MIL 10G | 2590-99-770-0326 | 100.0 | 7.0 | 5.0 | Green | 3,484.00 |
HESCO
Location: West Yorkshire , UK Markets: Direct; also in North America through the Trading Force Ltd, Orleans, Ottawa, Canada
Product: Blast wall made of welded wire mesh baskets filled with material such as sand, rubble, soil, rocks, snow, etc. Can be stacked
Product name: Concertainer
Web site: http://www.hesco.group.com
Test data available: Testing by ERDC, DSWA, and USAF Wright Labs; also extensive testing in the United Kingdom (contact manufacturer)
POC: Al Grice (613) 526-3908 and fax (613) 733-3154 E-Mail:
POC: Gary Bergland (229) 630-3479 and fax (229) 247-3264
E-Mail:

Testing Data (for Concertainer): Structural Mechanics Division, Structures Laboratory, U.S. Army Engineer Waterways Experiment Station (WES), Vicksburg, MS, Telephone: (601) 634-2666 or Fax (601) 634-2309

Procurement Assistance: Defense Supply Service Center, Columbus, OH; Telephone: (614) 692-4003 or DSN 850-4003

Additional Information: U.S. Army Military Police School, Directorate of Combat Developments, Materials Division, Ft. McClellan, AL; Telephone: (205) 848-7576 or DSN 865-7576, Fax DSN 865-6209

USACE PageMaster- William.F.Seipel@usace.army.mil
Telephone - (402) 221-3063
U.S. Army Corps of Engineers
Protective Design Center
Omaha District, CENWO-ED-SH
Omaha, Nebraska 68102
---
*****COUNTER-MOBILITY*****
---
Mines

FM 23-23 M18 Claymore Anti-Personnel mine

Obstacles
---
*****ASSAULT ENGINEERING*****
M113A4 Squad Engineer Vehicle: let us carry what we need, shoot line charges, plow through obstacles/mines
Combat Engineer Vehicle: let us destroy/what is in our way
M9 ACE
SEE
Our steps to creating simulated Satchel demolitions charges for training
Breaching with Light Anti-Armor Weapons
Breaching with M47 Dragon Anti-tank Guided Missiles
E-MAIL US YOUR OBSERVATIONS!
---
JOIN THE ELITE ARMY SAPPERS YAHOO STUDY GROUP!
ARMY SAPPERS FORWARD! STUDY GROUP