UPDATED 27 April 2012

Darby All Terrain All-purpose Cart-Sleds (ATACS)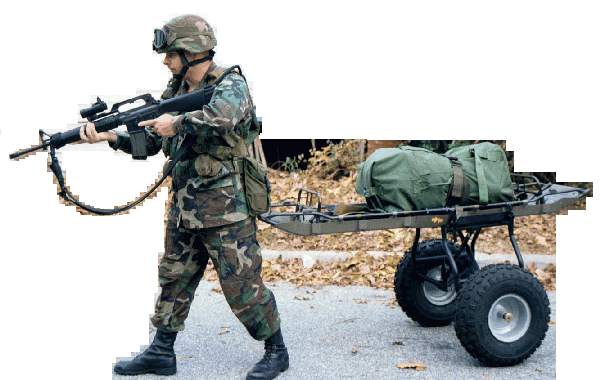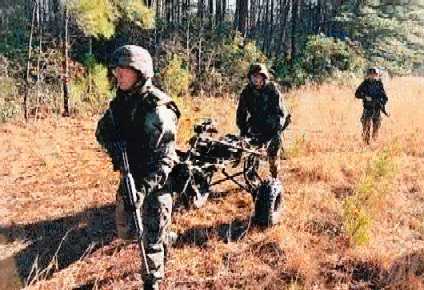 YES!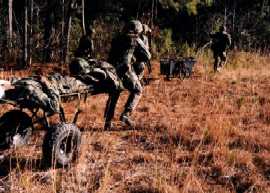 Carts on trial with U.S. Army Soldiers Systems Command, Natick, MA details here and the U.S. Army Infantry School, Fort Benning, GA
NO!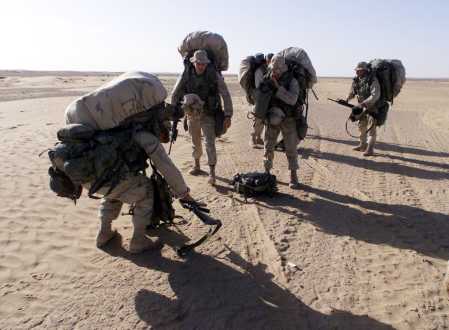 ---
The "Darby" All Terrain All-purpose Cart-Sled (ATACS) is a combination of the

UT 2000 stretcher system, used by dozens of allied armies made by Ferno MILITARY PRODUCTS;

NSN: 6530-01-398-3949


Part number: 42-000

Price $759

Ferno MILITARY PRODUCTS
70 Weil Way
Wilmington, Ohio 45177
Phone: (618) 651-9205
FAX: 9086

E-mail:

mharris@ferno.com

Military UT 2000 ATACS Manager:

Mr. Tom Fike
tfike@ferno.com (321) 308-2999
Melbourne, Fla

The Ferno UT 2000 is two cargo backpack frames that join to be a helicopter evacuation

Stokes litter, Sled, ground litter and with All-Terrain Wheels a one-man propelled ammunition, equipment, casualty evacuation cart via the Roleez Corp., low-ground pressure tire system. There is no dead weight in this system: if it cannot be rolled, it splits into cargo backpacks to carry heavy mission items.
We name the system after legendary infantry combat leader, Brigadier General William O. Darby, whose "Darby's Rangers" sped march across North Africa and Italy in WWII with superior firepower thanks to innovative use of carts.

William Orlando Darby was born 9 February 1911. He grew up at Ft. Smith Arkansas. Darby attended West Point and graduated in 1933 as a cadet company commander, he was commissioned a 2nd Lieutenant in the Field Artillery. He ranked 177 out of 346, he was assigned to Fort Bliss in the 1st Battalion, 82nd Field Artillery of the 1st Cavalry Division. The 82nd was the only horse mounted artillery unit remaining in the Army. On 1 October 1940, he was promoted to Captain after serving with varied artillery units and in many assignments.

Darby received early Amphibious Training Assignment which would help him in later years; in early 1941 he participated in amphibious training in Puerto Rico, and later in North Carolina. Orders were cut for Darby to ship to Pearl Harbor in November of 1941 but before he shipped over the Japanese attacked the Hawaiian islands. His orders were changed and he was assigned as aide to Major General Russell P. Hartle.

In January of 1942 Hartle, Darby and staff shipped out with the National Guard 34th Infantry Division bound for Northern Ireland. Darby requested a combat assignment but was turned down.

British Commandos were recognized as an essential first-strike unit and since Lord Louis Mountbatten was chief of Combined Allied Operations he called upon Colonel Lucian K. Truscott Jr., to form such a unit and in turn Darby was given the choice assignment.

The unit would be called: "Rangers"; in the spirit of Rogers Rangers whose operations were successful before and during the Revolutionary War.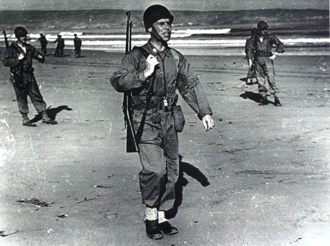 Darby's organization and leadership catapulted the Rangers toward the front where they distinguished themselves in combat from North Africa to Europe by extremely fast tempo operations and battlefield vigor.
Darby was killed by an artillery round on 30 April 1945. At 34, Darby died just a few days before VE Day.
The timing of Darby's death was tragically ironic.
The day before Darby was killed, Mussolini had been slain by Italian partisans in Milan and Generaloberst Heinrich Gottfried von Vietinghoff had agreed to surrender unconditionally all German forces in Italy effective at noon on 2 May. With further irony, on the day of Darby's death, his name appeared on a list of nominees for promotion to brigadier general being submitted to President Truman. On 2 May, Secretary of War Henry L. Stimson recommended to the President that, in view of Darby's outstanding combat record, his name remain on the list and that he be promoted posthumously. Truman agreed and on 15 May 1945, slightly more than three months after his thirty-fourth birthday, Darby was promoted to brigadier general."
He was the only Army officer to be posthumously promoted to star rank during the war.
(Source: We Led the Way, William O. Darby/William H. Baumer, and U.S. Army Personnel)
Modern means to deliver heavy firepower to the infantry...
1/187th Infantry, 101st Air Assault (AASLT) Division 1LT Robert Thompson on page 5 of the June-April '99 Infantry magazine proposes SKEDCOs be used to slide tripod-mounted, M2 .50 cal and MK-19 40mm Heavy Machine Guns (HMGs) from helicopters to provide superior firepower for Air Assault units.
http://192.153.150.25/catd/Infantry%20Magazine/Issues/1999%20JAN-APR%20Issue%201/Swap%20Shop.pdf (PDF File)
1LT Thompson states:
"The size and logistics involved with heavy weapons -- the M2 .50 HB machinegun and the MK-19 automatic grenade launcher -- often pose a problem for planners incorporating them into an air assault. And putting them into action quickly can bring decisive firepower that allows the assault element to get its foot-in-the-door and its organic weapons in the fight.
We developed one technique that packages the ammunition with the weapon and allows for rapid employment. We modified the SKEDCO litter, adding "fastex" clips like those used on assault packs in place of the buckles that secure casualties, and two CGU-1Bs [Tiedown Assembly, CGU-1B (5,000 lb. capacity) NSN 1670-00-725-1437 part # FDC1040M1] to the sides. With the modification, we now place the complete weapon on the SKEDCO upside down with tripod attached and ammunition configured as [depicted below]: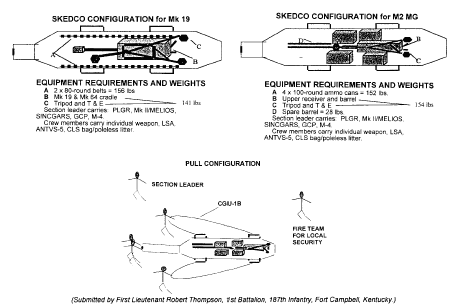 Although a four-man [Javelin] anti-tank section can employ the weapons, a six-man section should be tasked to do it. This provides the manpower, leadership, security, and replacements needed in case of casualties.
On a UH-60, the section exits from one side. The first two men grab the pull rope on their way out while the rest feed the package out the door. On the ground, the section moves to its designated support-by-fire positions, between 225 and 100 meters, and engages the targets the fire plan has designated."
We can deliver Light, Medium and/or Heavy Machine Guns the same way with the UT 2000 ATACs as snow sleds or better yet attach all-terrain wheels for more efficient transport for longer distances after dismounting from helicopters.
Like SKEDCO, the UT 2000 Darby ATACs has a NSN for ordering through the supply system or can be purchased direct for $759 each.
Key applications:
Javelin Medium "Fire & Forget" ATGMs, TOW Heavy ATGMs, Stinger MANPADS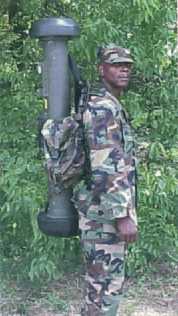 Javelin missile strapped to MOLLE rucksack frame on a Soldier's back. Where is his rucksack? How will he carry field existence items? (sleep gear, a poncho-tent, water, food) and ammunition for his weapon? The Javelin is a long and heavy (35 pounds) missile round difficult to CARRY, so why carry it when you can TOW it with an all-terrain, all-purpose cart? Even if you want to pack frame-carry Javelins, you can do this with the UT 2000 cart/sled because it "morphs" and adapts as the situation dictates. It can be either a pack frame, a cart or a sled for cargo carrying.

The new, revolutionary Javelin "fire & forget"

Anti-air and Ground Target Missile offers amazing top-attack kills of all known enemy tanks up to 2+ kilometer ranges but the system at 50 pounds needs a vehicle to transport multiple units of fire. The UT 2000 Darby ATACS can solve this problem, carrying two or more Javelin missile rounds (35 pounds each) and Command Launch Unit (CLU, 15 pounds) for the U.S. Army Infantry Platoon's Gunner and Assistant Gunners. Javelin replaces the previous maligned shoot-and-track-all the-way-to-the-target Dragon missile which had only direct-attack capabilities.

Airborne Operations

In Airborne units, the UT 2000 can be separated into two halves and parachute dropped with two Javelin missiles as an A-7A strap door bundle since Javelin missiles are too heavy to jump attached to individual Paratroopers. Refer to the 4-Javelin missile A-7A strap door bundle rigging procedures in FM 10-552 Rigging Dragon and Javelin Missiles.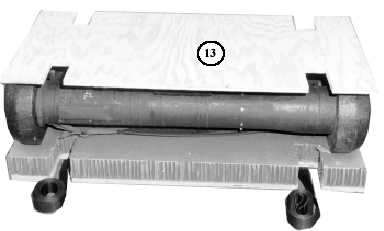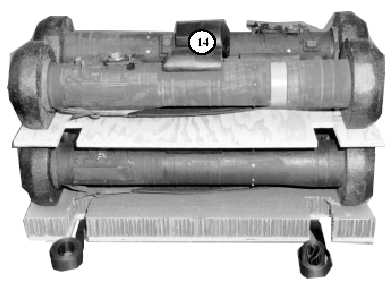 Instead of the two missiles on top of the first two (14), you place the disassembled UT 2000 Darby cart parts, wrapped in cellulose padding in their place (13). Two UT 2000s stacked with its wheels on top are just 36 inches long, 19 inches wide and 19 inches deep in size, weight is approximately 35 pounds. You finish rigging the door bundle as per FM 10-552. Depending on unit SOP, the outside of the bundles can be spray painted in high visibility colors for quick identification on the drop zone; Javelins RED, mortars BLUE, small-arms ammunition WHITE etc. etc.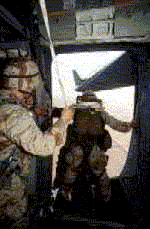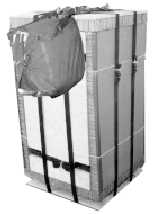 The Javelin A-7A strap door bundle is pushed out the side jump doors of USAF aircraft, followed by their Gunner/Assistant Gunners who would jump the CLU in one of their rucksacks, then recover the bundle on the drop zone, assemble the UT 2000 Darby cart and then tow their Javelin missiles into action. The Darby ATACS could tow the plywood, reserve cargo parachute, A-7A straps and shock-absorbing honeycomb back to the parachute turn-in point during training exercises so they can be re-used to rebundle the Darby ATACS and two Javelin Missile Simulation or empty Rounds so we train as we should fight--with door bundle delivery of Javelins.
Another long, heavy and hard to carry missile is the Stinger MANPADS Man-Portable Air Defense System which is transported by mules in Afghanistan. UT 2000 Darby cart-sleds could likewise transport Stinger missiles and launch units for U.S. light infantry and be airdropped in A-7A strap or A-21 cargo bag door bundles.
Air Assault Operations
UH-60 Blackhawk helicopter
The UT 2000 Darby without its wheels is placed on the floor with its wheel set assembled strapped on top. When the helicopter lands, the UT 2000 is pulled and slides off the floor onto the ground by the Soldiers whose Javelins and CLU are inside. They slide the UT 2000 Darby like a sled or SKEDCO litter to assume a good defensive protective position as per FM 90-4 Air Assault Operations for the helicopter to safely take-off. The Javelin team attaches the wheel set before further movement. If in snow, the wheels would not be taken and the UT 2000 Darby towed by foot, snow shoes or skis.
CH-47D Chinook helicopter
The UT 2000 with wheels can be held in the center floor and rolls-off when the helicopter lands towed by the Javelin team members by hand. Upon clearing the helicopter, security positions are taken. After the helicopter departs, the UT 2000 can be quick-release connected to a single Javelin Soldier for hands-free towing.
TOW Heavy Anti-Tank Guided Missiles (ATGMs)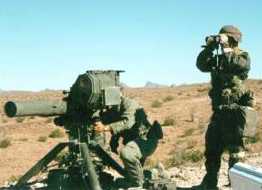 The U.S. Army was the first to use a practical anti-tank guided missile effectively in combat in Vietnam, destroying NVA tanks with Tube-launched, Optically-tracked, Wire-guided or "TOW" missiles fired from UH-1 Huey helicopters. The armed helicopter gunship perfected is also an Army first, though the French were the first to arm helicopters extemporaneously in Algeria. The Army soon discovered TOW ATGMs could be fired from almost any ground vehicle and from a tripod. Unlike the model airplane joystick-controlled Sagger which had mixed results in the 1973 Yom Kippur War, TOW is semi-automatic command line-of-sight (SACLOS) meaning all you do is keep the cross-hairs on your target and the missile flies itself to this aim point.
The dirty secret of OPFOR at NTC, Fort Irwin, California is that in a desert, mountainous environment, range is everything and the TOW dismounted on a tripod is king of the battlefield. The TOW ATGM with a 3.75 km range can reach out and destroy enemy tanks before they can get within main gun range thus OPFOR basically wins all the time. The recently fielded TOW ITAS has 24x power magnification, 10,000 meter observation range, a 2nd Generation FLIR with a picture as clear as the OH-58D Kiowa Warrior helicopter's Mast Mounted Sight and a laser range finder to accurately measure how far targets are away to fire or not fire. Someday when the Army's money priorities get corrected from wasting billions on vulnerable, too heavy-to-air-deploy rubber-tired armored cars and we will buy Follow-On-To Tow (FOTT) ATGMs with 5 km range that will self-guide all the way to the target eliminating the trailing guidance wires and Gunner's need to keep the cross-hairs on the target until the missiles flies itself to hit it. Think Javelin "Fire & forget" in a larger and longer-ranged TOW missile.
However, as the Israeli Army has learned breaking the 200 pound TOW launcher system into a 4 or 5 man load to put into position on key terrain for dismounted tripod firing is back-breaking and only feasible for short periods of time despite constant physical training for this task. Enter the Darby ATACs!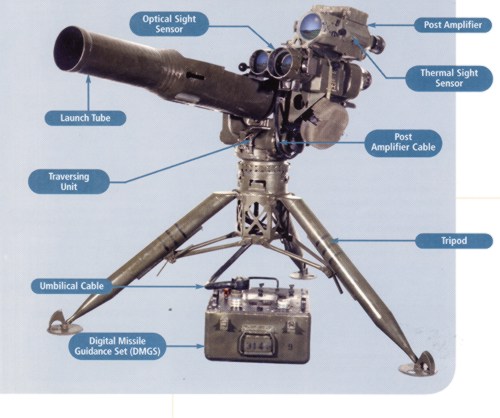 TOW 2A Missile:
Diameter: 5.87 inches (14.91 cm)
Length: 50.40 inches (128.02 cm)
TOW 2B Missile:
Diameter: 5.8 inches (14.9 centimeters)
Length: 48.0 inches (121.9 centimeters)
Warhead weight 12.4 kg Maximum effective range: 2.33 miles (3.75 kilometers)
Armor penetration: T-80 + / 800+ mm [>700 mm]
Time of flight to maximum effective range:
2A: 20 seconds
2B: 21 seconds
Weights:
Launcher w/TOW 2 Mods: 204.6 pounds (92.89 kilograms)
Missile Guidance Set: 52.8 pounds (23.97 kilograms)
TOW 2 Missile: 47.4 pounds (21.52 kilograms)
TOW 2A Missile: 49.9 pounds (22.65 kilograms)
TOW 2B Missile: 49.8 pounds (22.60 kilograms)

One Darby ATACS could carry the folded tripod, missile launch guidance set and sight while another two ATACSs could carry 2-4 TOW missiles. Troop rucksacks could be carried on the ATACSs so the TOW dismount team is unencumbered and can have weapons slung in a ready-to-fire manner.
7.62mm, 40mm and .50 caliber Medium and Heavy Machine Guns
Its possible to tow a large volume of ammunition and the weapons, tripods and T & E mechanisms by UT 2000 Darby, rendering more accurate firepower to win and sustain fights. This eases the Soldier's load carrying the 22-pound M240B 7.62mm Medium Machine Gun while providing more units-of-fire. The UT 2000 Darby opens possibilities for even heavy Mk-19 40mm Grenade Machine Guns and M2 .50 caliber Heavy Machine Guns to be employed without need motor vehicles if the terrain is restrictive or the motor vehicles are knocked out of action. Thus, Light, Airborne and Air Assault infantry can reach-out to 2 kilometers with automatic fires as well as precision Javelin missile 2.5 kilometer strikes and 3-7 kilometer mortar fires.
Airborne Operations
Medium Machine Guns, spare barrels, tripods, T&Es are jumped by individual Paratroopers as lowering-line loads. Extra ammunition would be carried in an Darby ATACS A-7A strap door bundle. Heavy Machine Guns could be dropped by bundle or inside heavy-dropped tracked vehicles like the M113A3 Gavin or M973 (BV-206) SUSV.
Air Assault Operations
UH-60 Blackhawk helicopter
The UT 2000 without its wheels is placed on the floor with its wheel set assembled strapped on top. When the helicopter lands, the UT 2000 is pulled and slides off the floor onto the ground by the Soldiers whose MG, tripod, T & E, spare barrels are inside. They slide the UT 2000 Darby like a sled or SKEDCO litter to assume a good defensive protective position as per FM 90-4 Air Assault Operations for the helicopter to safely take-off. The MG team attaches the wheel set before further movement. If in snow, the wheels would not be taken and the UT 2000 towed by foot, snow shoes or skis.
CH-47D Chinook helicopter
The UT 2000 Darby with wheels can be held in the center floor and rolls-off the rear ramp when the helicopter lands towed by the MG team members by hand. Upon clearing the helicopter, security positions are taken. After the helicopter departs, the UT 2000 Darby can be quick-release connected to a single MG team Soldier for hands-free towing.
M136 AT4 84mm rockets and Carl Gustav Ranger Anti-Armor Assault Weapon System
Another long, heavy and hard to carry items are the Carl Gustav recoilless rifle's rounds and the 14.8 pound disposable launcher, M136 AT4 which shoots the same 84mm rockets. UT 2000 carts could likewise transport a large supply of these rockets for U.S. light infantry to give them more urban and anti-armor punch. Rockets could even be used as a base-of-fire for close-range rifle squad fire & maneuver or to do stand-off raids against high-value targets like the British SAS did to Pebble Island during the Falklands war in 1982.
Airborne Operations
Carl Gustav and AT4 rockets are jumped usually by individual jumpers. Extra rounds and AT4s would be with the UT 2000 as a separate door bundle.
Air Assault Operations
UH-60 Blackhawk helicopter
The UT 2000 Darby without its wheels is placed on the floor with its wheel set assembled strapped on top. When the helicopter lands, the UT 2000 is pulled and slides off the floor onto the ground by the Soldiers whose Carl Gustav or AT4 rounds are inside. They slide the UT 2000 Darby like a sled or SKEDCO litter to assume a good defensive protective position as per FM 90-4 Air Assault Operations for the helicopter to safely take-off. The rocket team attaches the wheel set before further movement. If in snow, the wheels would not be taken and the UT 2000 Darby towed by foot, snow shoes or skis.
CH-47D Chinook helicopter
The UT 2000 Darby with wheels can be held in the center floor and rolls-off when the helicopter lands towed by the rocket team members by hand. Upon clearing the helicopter, security positions are taken. After the helicopter departs, the UT 2000 can be quick-release connected to a single Soldier for hands-free towing.
60mm, 81mm and 120mm Mortars
<!img src="www.adtdl.army.mil/cgi-bin/atdl.dll/fm/7-10/fige-2.gif">
UT 2000 Darby ATACSs can carry not only the mortar tubes, bipods, base plates but also a supply of ammunition so the mortar crew has immediate fire support capabilities. Mortar rounds carried inside each rifle squad member's rucksacks can be towed instead along with the mortar crews or a larger amount of ammunition can be taken into the fight to win it. Though 120mm heavy mortars are vehicle mounted in M113A3s (M1064A3s) in mechanized infantry battalions, towed versions (M121) are used by the 75th Ranger Regiment. Darby UT 2000s could tow the ammunition alongside the towed M121 120mm mortar to enable it to fire if the terrain or mission will not allow motor vehicles.
Airborne Operations
60mm mortars are jumped individually by the mortar crew. UT 2000 ATACSs could mobile-transport their ammunition initially from the drop zone. All mortars however can be parachute airdropped through the CDS system. 81mm and 120mm mortars are transported towed by HMMWV 4x4 trucks or inside ParaGator ATVs, HMMWVs or M1064A3 Gavin Armored Fighting Vehicles. Darby UT 2000s could be back-up mobility means for 81mm and 120mm mortars if their motor vehicle(s) has to go elsewhere or becomes unusable.
Air Assault Operations
UH-60 Blackhawk helicopter
The UT 2000 Darby ATACS without its wheels is placed on the floor with its wheel set assembled strapped on top. When the helicopter lands, the UT 2000 is pulled and slides off the floor onto the ground by the Soldiers whose mortar tube, bipod, baseplate(s), They slide the UT 2000 like a sled or SKEDCO litter off through the side doors to assume a good defensive protective position as per FM 90-4 Air Assault Operations for the helicopter to safely take-off. The mortar team attaches the wheel set before further movement. If in snow, the wheels would not be taken and the UT 2000 Darby towed by foot, snow shoes or skis.
CH-47D Chinook helicopter
The UT 2000 Darby with wheels can be held in the center floor and rolls-off the rear ramp when the helicopter lands towed by the mortar team members by hand. Upon clearing the helicopter, security positions are taken. After the helicopter departs, the UT 2000 can be quick-release connected to a single mortar team Soldier for hands-free towing.
Pointer UAVs and better mortar fire control
Light infantry has long struggled to transport 60mm, 81mm and 120mm mortars into battle. UT 2000 Darby carts can transport mortars and a large supply of ammunition so individual Soldiers do not have to carry a mortar bomb or two in their rucksacks, which bogs them down into 1 mph or less mobility.
Not only can mortar ammunition overloading be solved with UT 2000 cart transport, but a hand-launched Pointer Unmanned Aerial Vehicle (UAV) can be now transported to give mortars real-time video imagery with GPS target coordinates to improve mortar responsives and firepower.
The complete Pointer System is already quite small. In fact, the Ground Control Unit (GCU) already fits in the top ruck of a (MOLLE pack, so all they need to carry on the cart is two, man-portable Pelican cases 38 x 11 x 6 inches, each weighing 17 lbs.
www.uavforum.com/vehicles/production/pointer.htm
Background: AeroVironment's FQM-151A Pointer, a hand-launched UAV, first flew in 1986 and entered operations with the marines in June 1988. Its manufacturer focuses on environmentally friendly energy conversion projects and has built over 100 Pointers. Besides the marines, who deployed three Pointer systems in the 1991 Gulf War, its customers include the U.S. Army, Oregon National Guard, and U.S. Special Operations Command.
Characteristics:
Length: 6 ft
Wing Span: 8 ft
Gross Weight: 9.1 lbs
Payload Weight: 2.0 lbs
Fuel Capacity: 2.2 lbs
Fuel Type: NiCd or Li batteries
Engine Make: Astro 15 electric
Power, hp: 300 w
Structure: Kevlar
Guidance: Navigation Motorola GPS
Data Link(s): 4105-4115/72-7400 up
Data Rate (s): 1730-1820 dn

Performance:
Endurance, hrs 1 (NiCd)/2.2 (Li)
Radius, nm 1 (LOS)/3 (link)
Max Speed: 43 knots
Stall Speed: 16 knots
Altitude: 3,000 feet
Takeoff Means: Hand-launched
Navigation Modes: Preprogrammed (points)or autonomous/direct control
Landing Means Stall
Overhead Cover and Special Kits
Aircraft-delivered troops are often lacking in motor vehicle transport resulting in a lack of materials for overhead cover like the marines in Afghanistan were dangerously deficient in; though this can be overcome with Air-Mech-Strike force structure. This lack of transport can be offset by the UT 2000 Darby ATACS carrying vital supplies like Class IV barrier/fortification material. Air-delivered forces need to make up for their initial lack of protection by good overhead cover to protect from enemy airburst artillery and mortar fires. If the UT 2000 Darby ATACS is parachute dropped as a Javelin A-7A strap door bundle, there are 3 large pieces of plywood that can be used as overhead cover roofs for 3 x 2-man fighting positions. So Airborne operations using door bundles and UT 2000 Darby ATACS will deliver automatically a good amount of overhead cover roofing, and the ATACS can be used to shuttle other bundles of overhead cover materials quickly with minimal exhaustion.
UT 2000 ATACSs can be used to transport specially-made Soldier overhead cover kits to increase protective abilities from enemy fires. The Fighting Position Overhead Cover (FPOC) is an important tool to withstanding indirect and direct fires on the increasingly lethal battlefield. The UT 2000 in use worldwide by allied armies is an ideal mobility device for Light and Airborne forces.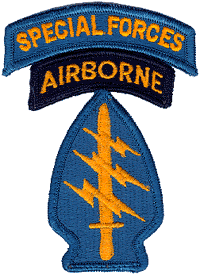 The Creation of the UT 2000 All-Terrain All-purpose Cart/Snow Sled
The 1st Tactical Studies Group (Airborne) realized the value of adding tires to the UT 2000 and got the companies together. 1st TSG (A) member, CPT Robert Albino, U.S. Army Special Forces originated the concept when he saw the UT 2000 at a 1992 Special Operations show at Fort Bragg, NC. and discussed its potential with 1st TSG (Airborne) Director, LT Mike Sparks. We convinced the maker of the UT 2000, Kuhlbrat & Bunz, to add a positionable set of Roleez wheels to their two backpacks to create an All-Terrain, All-purpose Cart/Sled. We then contacted U.S. Army's Natick Labs which later formed a Ground Mobility Program to study bikes, carts and other "off body load bearing devices". Since then, FERNO has acquired the UT 2000 ATAC and improved it with knobby-tread tires and made it Army-standard with its own National Stock Number (NSN).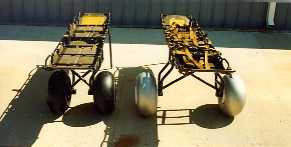 Note the UT 2000's Roleez-type wheels can be narrowed or widened according to the terrain...

THE PAST: NEW REVELATION!!! Missile-Carts already proven in combat: 1973 Arab-Israeli War all-terrain cart use

1st TSG (A) has just discovered THE most significant military use of carts was the Egyptian Army's assault across the Suz Canal during the 1973 Yom Kippur war! These carts enabled the world's first massed use of Anti-Tank Guided Missiles or Weapons and shoulder-fired MANPADS to create a "surveillance-strike system" to deter Israeli tanks & fighter-bombers.

"At the same time MI-8 Helicopters transported Egyptian Al Saaqa commandos behind Israeli lines to disturb the movement of reinforcement to the canal. In the first wave were 720 assault boats carrying 4,000 men, the

gradient of the sand rampart was difficult for Soldiers to climb with just their personal weapons and kits, so heavier weapons such as ATGW and AA missiles were carried in 4-wheel carts that were designed specifically for Operation BADR. Thousands of scooter wheels were purchased from Vespa and Lambretta of Italy and 2,240 carts went to war carrying 336 tons of "Sagger" ATGW and Strela shoulder-launched, anti-aircraft missiles deep into the Sinai to counter the Israeli Air Force and Armoured Corps. Tests demonstrated that the carts could be dragged up the sand berms relatively easily. The assault troops can be seen paddling across the canal to the rhythmic chant of "Allahu-Akbar" (God is Great). They are equipped with a mixture of 7.62mm AKM assault rifles and the Egyptian-manufactured 9mm Port Said submachine gun."

--Simon Dunstan, The Yom Kippur War 1973 (2): The Sinai, Illustrated by Kevin Lyles, page 44, Osprey Publishing, London, England

CIVIL WAR/WWI MEDEVAC CARTS: GOOD IDEA THAT CAN BE EVEN BETTER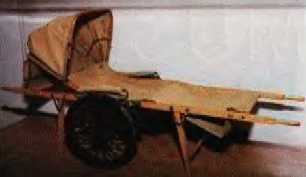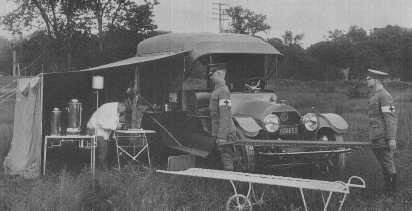 Military analyst and Vietnam OV-1 Mohawk combat veteran Ben Works writes about the how French Colonel Marbot realized he needed a CART to save his men during the war of 1812:
*One French light cavalry colonel kept his head throughout the disastrous retreat from Moscow and brought his whole regiment out in good order and in supply. The Army made the disastrous crossing of the Berezina river on Nov 26-28; Marbot's 23eme Chasseurs à Cheval crossed early while the majority of the army dallied and collapsed when the Russians attacked on the 28th. The French survivors struggled west as the cold (- 27 C/-17 F), ice and snow really set in. Marbot was wounded in the knee and the horses were weakening; the wounded needed transport. It was December 7th and Marbot, by improvising, was able to save his regiment and to form a steady rear-guard. Marbot writes:
"...I took a sledge and had one of my horses harnessed to it. Seeing this new vehicle gave me the idea of using this method to save my numerous sick, and as in Russia there is no dwelling so poor that it does not contain a sledge, I soon had a hundred of them, and each, pulled by a troop horse, saved two men. [The brigade commander and the other Improvisation Regiment liked the trick and adopted it too.]... All that remained of our brigade harnessed its horses and formed a caravan which marched in excellent order.
Doubtless think that in moving like this we [cavalry] were paralyzing our means of defense, but don't be deceived, because on ice we were much stronger with the sledges, which can go anywhere and whose shafts support the horses, than would have been the case had we remained in the saddle on horses which fell at every step.
The road was strewn with abandoned muskets, so our chasseurs took two each and also continues an ample supply of cartridges. Consequently, when the Cossacks ventured to approach, they were received with the liveliest musketry and drew off again promptly. Besides, our men could fight on foot if necessary. Then in the evening we formed a great square with the sledges and lit our fires in the center. Marshal Ney and General Maison often came and spent the night with us there in security, since the enemy pursued us with Cossacks only. No doubt this was the first time a rear-guard had been formed with sledges, but the frost made any other method impracticable and this one succeeded."
- Baron Jean de Marbot (1782-1854): Memoirs, 26th ed. 1891
* Marbot re-crossed the Niemen with 693 of his original 1,048 troops (66%) still with the colors; far and away the highest percent in the reorganized army of 1813. The Young Guard, for instance, had mustered 8,000 at Moscow and only 400 (5%) at Vilna on December 8th.
Translation by Capt. John W. Thomason Jr. USMC; "The Adventures Of General Marbot By Himself", Scribners, NY. 1935
There is a long history of military cart use. In the modern era the Civil War produced an incredible amount of casualties due to rifled fire---there were simply not enough stretcher bearers to move them.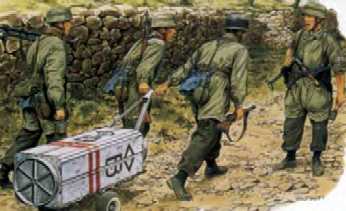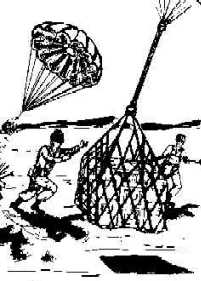 The Paratroopers of Germany, Britain and the U.S. used carts usually with narrow bicycle tires during WWII. The German Fallschirmjaegers had fat tires on their equipment containers dropped separately for towing. The German Airborne carts were especially helpful at the Battle for Crete The British and American Container Carts were collapsible but had to be assembled and loaded from bundle drops.
www.handcartz.smugmug.com/gallery/895456_53DPC#130702567_3GEh2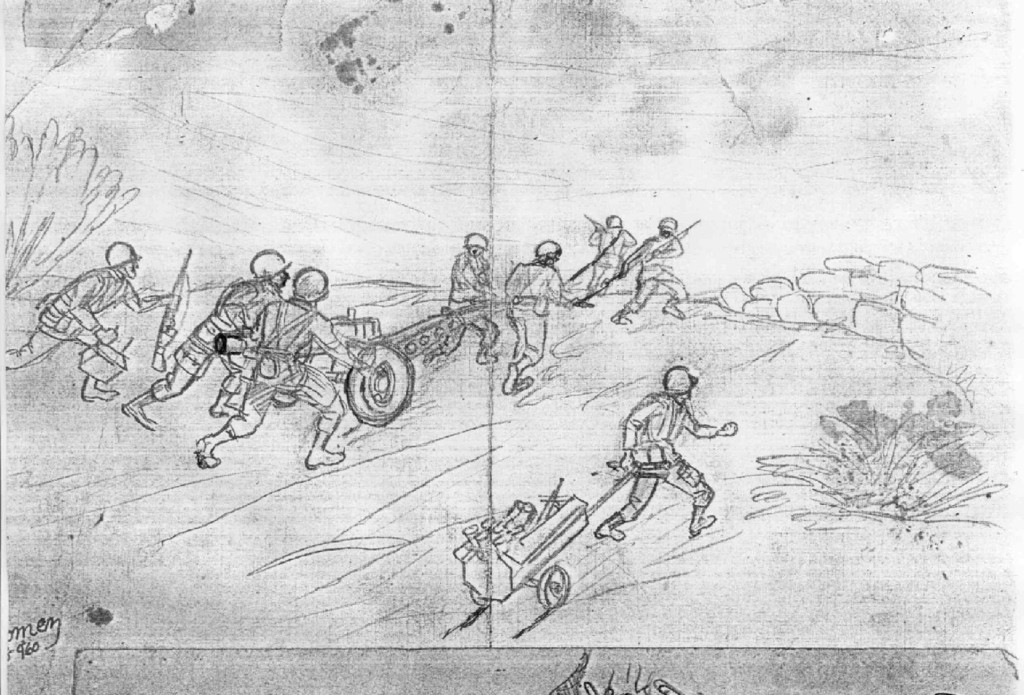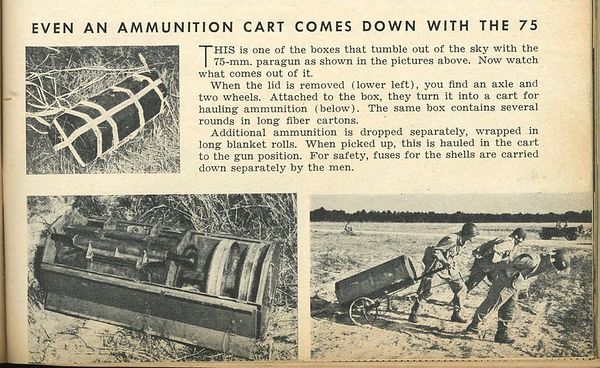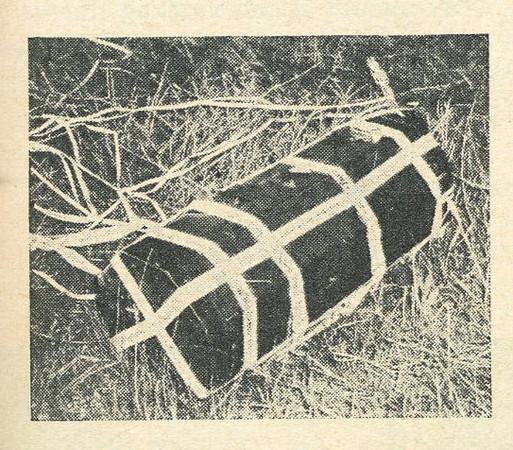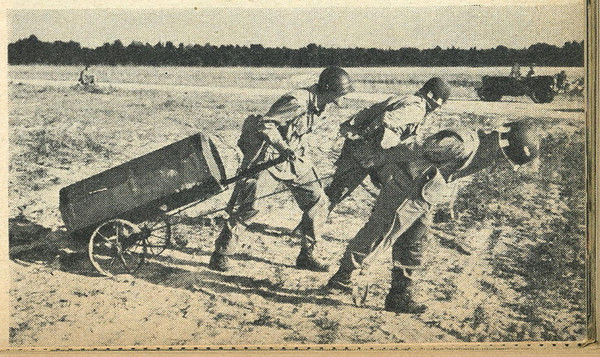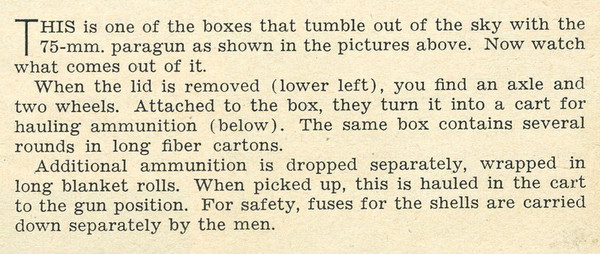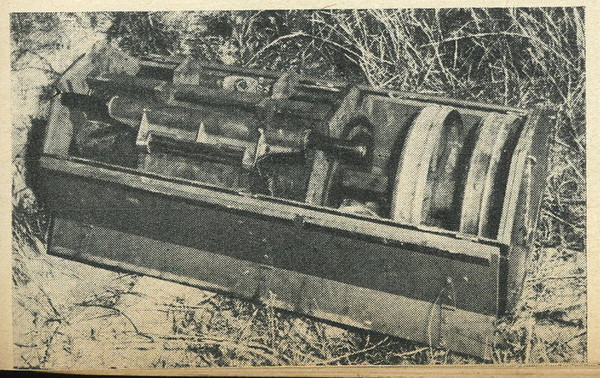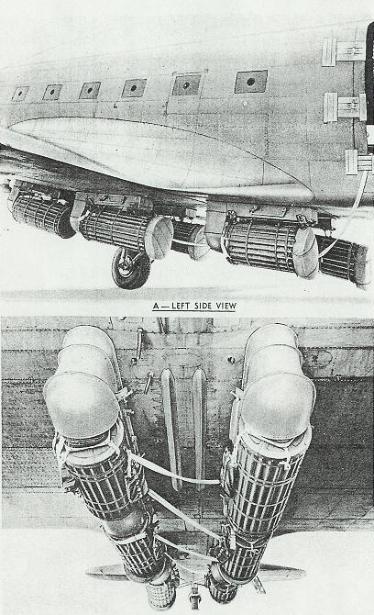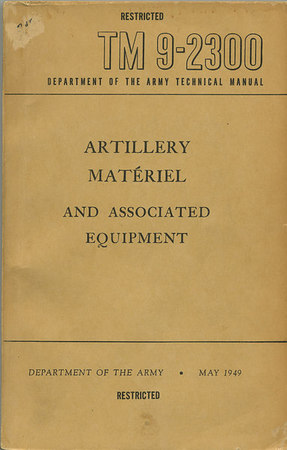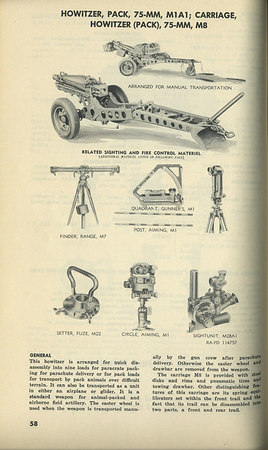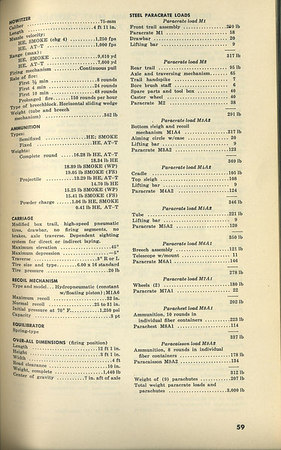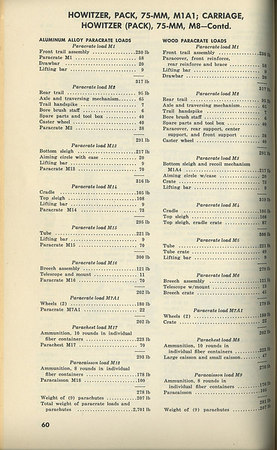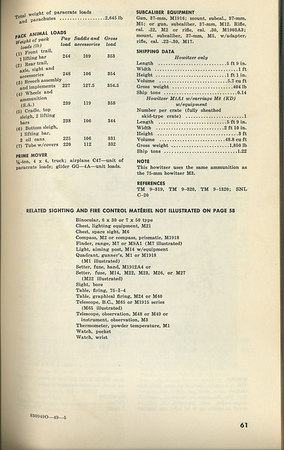 General Gavin and his comrades got the idea of equipment containers made into carts from studying the German Airborne victory on Crete in 1941 though not being too dependant on them, by having each Paratrooper jumping in his own equipment using lowering line loads.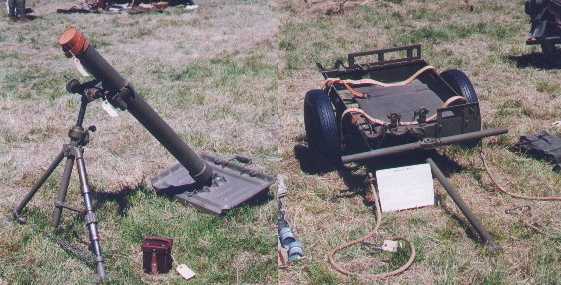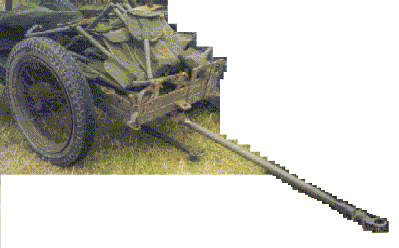 U.S. Army Airborne Divisions used an 81mm mortar and M6A1 Airborne handcart combination to haul the weapon and its ammunition in WWII. Notice the "T" bar for two men to "push" the cart forward or via two ropes. The narrow bicycle tires however did not make it roll over soft mud.
LTC Benjamin Vandervoot of the 82nd Airborne Division broke his ankle on the D-Day jump into Normandy but insisted on directing the battle towed in a M-6A1 ammunition cart. This was immortalized by John Wayne in the film; "The Longest Day" based on Cornelius Ryan's book by the same name; "If you can't give the enemy a break, send him to hell."
John Wayne in "The Longest Day'"
Anyone involved with US WW2 militaria knows the scene from the movie "The Longest Day" where John Wayne (playing LtCol Ben Vandervoort) commandeers a Handcart to ride him into battle with a broken ankle. While the cart looks OK from a distance, it is in fact a poor substitute for an original cart with aluminum body. The overall dimensions are too large and the wheels are completely wrong. Still from "The Longest Day", Darryl F. Zanuck (1962)

WATCH THE CLASSIC MOVIE, "The Longest Day" based on Cornelius Ryan's Book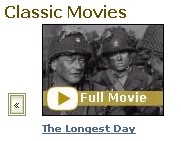 Click on the picture to view the 2-hour movie
Movie details: www.imdb.com/rg/video/browser/title/tt0056197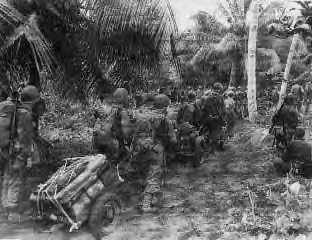 The American Cole M3A2 cart was cut in half to fit through the door of the C-47 to supply "Merrill's Marauders" in the China-Burma-India Theater.
The official U.S. Army Quartermaster Air-delivery web site says this about the carts they parachuted into our men in WWII
"Similarly, two-wheeled ammunition carts were found to be too bulky to load and too large to drop through the plane door. Mechanics of the unit simply sliced the wagons into manageable sections, fitted them with bolts and braces for re-assembly by the receiving troops, and parachuted the carts over the side."
The best practitioners of the cart were the Rangers in WWII. William O. Darby's men were able to "fly" around the battlefield at 7 mph on foot aided a great deal by their ammo carts. Darby's Rangers "speed marched" across the ETO at 4-7 mph! Brigadier General William O. Darby wrote in, We Lead the Way pages 130-131:
"If it hadn't been for our standard operating procedure of carrying extra mortar shells ashore in the assault boats, we might have lost our hold on the Sorrento Peninsula...
For the Sorrento Peninsula and its mountain fighting, there was an evident need for extra mortar ammunition, so each Ranger carried one round of 60mm ashore with him on the landing. The first men to leave the boats were unencumbered with heavy equipment. Each carried one extra bandolier of ammunition around his neck; as soon as he hit the beach he threw it off above the high watermark. The last four men out of the boat carried the cases of mortar and small-arms ammunition. When they passed the high watermark on the beach, they simply dropped their loads and kept going. The beach naturally looked like a junkyard when morning came, but the second wave's supply officer straightened it out...
Operating in high mountains that rose sharply as high as several thousand feet, the mortar battalion had to improvise or find means of carrying their ammunition. The Chemical Warfare Service had built a small cart exactly fitting the ramp on the LCI. These carts, loaded with ammunition, were pulled ashore down the ramps of the boats..."
The Cart above displayed at the 2008 Beltring War & Peace Show, is in fact a replica. It is perfect for re-enactments but collectors wanting to buy an original, should do their homework! Caveat Emptor!
Hand Cart M3A4 with M500 Cover and Tow Ropes as shown on the back cover of ORD9-SNL A-42, dated 1 June 1945
Best Military Cart References!
For more images and information about U.S. Army Hand Carts, visit Craig Johnson's excellent website at:
http://handcartz.smugmug.com/CARTS
www.theliberator.be/handcart.htm
One of the most popular small U.S. Army "vehicles" of WW2 is without doubt the M3A4 Cole Hand Cart.
Battlefield Mobility
"Rangers training in Scotland"; U.S. Army Signal Corps Photo
Rangers from the 1st Battalion embark on Landing Craft in Scotland on October 31st, 1942. The carts used are the early aluminum models easily recognizable by the cast round-holed wheels.
Company Roster of I Company-18th Infantry
The above cards were made up by the CO of I Company/18th Infantry Regiment of the 1st Division before an exercise or operation during WW2. The Company was divided over 6 teams (boats) and personnel of both I and M Companies are shown on the cards.
The cards show that each of the two platoons had 2 Hand Carts to transport their .30 cal (7.62mm x 82mm) Medium Machine Guns.
The carts used by this Infantry Company probably came from Battalion HQ, as according to Table of Organization and Equipment (T/O&E) 7-16 , dated 15 July 1943, the Headquarters and Headquarters Company of an Infantry Battalion in an Infantry Division was issued 10 x M3A4 carts to be used by the Battalion in landing operations when authorized by the Theater of Operations Commander.
A general misconception is that this was an Airborne item and only used by paratroops. In fact the Cart was a standard Ordnance item used by every branch of the U.S. Army to haul ammunition and equipment dispersing it from motor-driven vehicles throughout the force; a capability we lack today. Two carts could be transported in the back of the 2.5 Ton Trucks on the floor of the bed between the rows of seated troops or towed behind the truck to include small 4x4 jeeps or Bren gun universal tracked carriers.
Rapid Supply Distribution
"Picking up equipment bundles from the Drop Zone", U.S. Army Signal Corps Photo
A Jeep from the 101st Airborne Division towing a M3A4 Cart loaded with an A5 Equipment Container in Normandy, June 1944. The cart is equipped with the Firestone tractor tread tires and crudely marked 2C (2nd Platoon, C Company?) In the background tracked M29 Weasels are heading inland from Utah-Beach past an apparently undamaged British-made Horsa glider. The Horsa was favored by the USAAF for its larger payload...
U.S. Army Signal Corps Photo "The Big Red One in North Africa..."
A Jeep from the 1st Infantry Division, tows an early aluminum cart loaded with a DR-5 communication wire reel. The rivets holding the body straps together are clearly visible. The Jeep is an early 'script' Ford GPW with high mounted rear reflectors.
Human Power Concentration for Towing
"Rangers hauling a 81mm Mortar in North Africa", U.S. Army Signal Corps Photo
Rangers from the 1st Battalion haul their 81mm Medium Mortar and equipment through the streets of Arzew, Algeria, on November 16th, 1942. The cart is an early aluminum type; note the riveted body.... Two men use the provided tow ropes to pull, while the man in the back steers the cart. In the background is a Harley Davidson WLA motorcycle parked in front of Arzew's City Hall, which served as Bn Headquarters. The Bn CO, Lt. Col. Darby, frequently used the WLA motorcycle for duty trips in North Africa.
'"nto the heart of Germany...", U.S. Army Signal Corps Photo
Men of the 1st Infantry Division advance into Germany after crossing the Ruhr in February 1945. The M3A4 Utility Cart is loaded with .30 cal ammunition boxes and other gear, notably a Wire Reel DR-8 with Reel Equipment RL-39. The tow ropes are visible on top of the load. The GI on the right has been issued the M1944 Combat and Cargo Pack, while the Soldier on the extreme left has the M1943 Pack, based on the Jungle Pack. The men pulling the cart still have the M1941 jacket, even at this late stage of the war.
What is extremely interesting is that the WW2 can-do "Greatest Generation" has us beat today with some of their clever devices to make resupply faster through carts; consider that the Cole Cart could be simultaneously PULLED by two tow ropes by a pair of Soldiers while being PUSHED and steered by another Soldier in back of the cart using the tow bar with yoke. This means 1.5 hp was generated by the 3 men to move the load across the terrain.
"Band of Brothers' in Holland", U.S. Army Signal Corps Photo
Paratroopers from the 506th Parachute Infantry Regiment advance through the Dutch town of Veghel during Operation Market Garden in September 1944. Again two men are pulling the cart with tow ropes while a third trooper steers from the back. Note the British vehicles from XXXth Corps in the background.
The Tow Ropes are about 6' long and hook up to the loops provided on each corner of the box. The metal handles are partly covered in leather.
The M500 Cover for the M3A4 Hand Cart is a rectangular cover with grommets and a rope going all around the cover. Each corner is equipped with a clip to attach the cover to wire loops on the box. Canvas Covers were provided for the different carts (M500-M501-M502-M503) and all carts came with two Towing Ropes that could be attached to any corner of the body for additional towing.
The U.S. Army had several different types and models of Carts in inventory over the years preceding WW2 but during the war the most common model used in the ETO was the M3A4. Except for some very early M3A4 steel-bodied carts which had a plain box without re-inforcing at the top and no holes to attach brackets; the M3A4 Cart served as a basic cart which could be converted into other models by bolting additional parts through the holes in the body provided for this purpose.
Hand Carts M4A1 and M6A1 as illustrated in ORD9-SNL A-42, dated 1 June 1945. Note the 'bolt on' parts and brackets that hold the tripod or mortar parts. Both carts are equipped with aluminum wheels, easily identified by the round holes in the rims
The Model M4A1 was thus equipped with brackets for the transportation of the M1917A1 water cooled Machine Gun, while the M5A1 was equipped with brackets and straps to hold the .50 cal M2 HB Heavy Machine Gun and its M3 Tripod. The M6A1 was used to transport the 81mm Mortar. The John Wood Mfg. Company was the main supplier of these carts but other manufacturers include the Rock Island Arsenal, Trussbilt and Omaha Industries Inc. Early Carts were completely made in aluminum, but on later models a mix of steel and aluminum parts were used. Different types of tires were mounted, and they seem to have been supplied by the Firestone Tire Company and the Good-Year Tire Company.
Wheels
The Carts issued to the USMC, equipped with larger 18" 'motorcycle style' rims, were completely different from the Army's M3A4 series and not used by the U.S. Army during their European campaign. Its better to not have flimsy bicycle spokes that can break so Army carts had solid rims with holes to save weight or very strong thick spokes like the 1st TSG (A)'s Dahon Mountain Gold FATB with Aerospoke wheels.
Although in bad shape, the cart above is a rare example of an early M3A4 with plain box and no holes nor re-inforcing rib around the top of the body. The above cart was made by the Rock Island Arsenal and has Serial Number 8433. It was entered by a French owner in the 2007 Beltring War & Peace Show.
The Firestone Tire Company supplied the majority of the 4.00" x 12" tires in different patterns for the Carts, but Good-Year tires have been observed on different carts too.
Most common were the Tractor Tread "Speed King" and Straight Rib Implement types but the "Champion" tread usually fitted to Signal Corps RL-35 Reel Carts is sometimes encountered on M3A4 Hand Carts, especially on the earlier models equipped with aluminum wheels. The Good-Year tire mounted on 1945 made carts seem to have been mostly of a diamond pattern tread.
No doubt tires were mixed during maintenance or replaced with whatever type available when needed.
U.S. Army WW2 tires are generally marked "S3" or "MILITARY"....
Firestone Rib Implement and Tractor Tread Tires on John Wood M3A4 #17564 (left) and #20939(right)
Three most common types of tires for the M3A4 Hand Carts are shown:
Left: Rib Implement with "S3" marking
Center: Ground GripTractor Tread, marked "MILITARY'' and "SPEED KING"
Right: Champion, marked with both "S3", "MILITARY" and "SPEED KING"
The Good-Year made tire shown above is an oddity as it has the straight rib implement tread generally encountered on Firestone made models. It is marked 'Implement' and 'S-3' with an extra red dot over the "4-Ply" marking.
"Operation Torch"; U.S. Army Signal Corps Photo
GI's tow a cart loaded with gear along a North African road during Operation Torch, November 1942. The cart wheels are of the larger motorcycle style which would indicate an early (possible pre-war) Machine Gun cart. Note the American flag painted on the side of the Stuart Light Tank and worn as brassards by the men hauling the cart. The display of '"Old Glory" was prominent during this operation. The men are believed to be from the 1st Infantry Division.
"Glider Infantry embarking for Normandy"; U.S. Army Signal Corps Photo

Some units of the 327th Glider Infantry Regt, 101st Airborne Division were part of the Seaborne Force for the Normandy invasion. These glidermen are about to board their transport ships at Dartmouth/Brixham, England early June 1944. Note the heavily loaded M3A4 Hand Cart on the left.
"Embarking for Omaha Beach", U.S. Army Signal Corps Photo
While the markings on the helmets of the officers in the back clearly identify them as belonging to the National Guard 29th Infantry Division, the GIs pulling the M3A4 Hand Cart are from the 1st Infantry Division. This photo shows first wave assault troops from both divisions embarking for the Normandy invasion early June 1944 and is clear evidence that Hand Carts were not only issued to Airborne troops.
"Two Carts on Utah-Beach..."; U.S. Army Signal Corps Photo
Two fully loaded carts on Utah-Beach shortly after the invasion. Note the 6-Ton Athey Track-Laying Trailer and Dodge WC 56/57 Command Car in the background.
"Moving Inland..."; U.S. Army Signal Corps Photo
U.S. vehicles are moving inland from the landing beaches in France. A M3A4 Hand Cart with tractor tread tires is strapped upside down on the Bantam Jeep trailer. The Jeep is still equipped for deep water fording; the air intake tube is visible towards the right of the windshield. Note the highly visible white markings on the back of the trailer.
"Hedgerow Country..."; still from U.S. Army Signal Corps Film Reels
Men from the 90th Infantry Division pull a M3A4 Hand Cart loaded with ammunition through the Normandy countrysides in June 1944. The dirt road is bordered by typical hedgerows.
"Marlene having fun with a Hand Cart'"
During a USO Tour in March 1945, Marlene Dietrich spent some time at Mourmelon, France with the 101st and 17th Airborne Divisions. She was accompanied by actress Lynn Mayberry and these images show them using a M3A4 Hand Cart to move their personal clothing. Ms Mayberry is wearing an Arctic Field Jacket, while Marlene Dietrich sports an A2 Flying Jacket! A Sgt from the 17th AB Div seems to be having the time of his life.....
"Searching the Varsity Drop Zone for Supplies"; photo from the Ethell Collection
Two GIs from the 17th Airborne Division and some German POW's with an M3A4 Hand Cart search the field for supplies, while other Paratroopers make their way across the Drop Zone towards their assembly point after the jump over the Rhine on March 24th, 1945. A white parachute canopy hangs from the trees in the background....
Other Carts used by the U.S. Army in the ETO
Two other carts that were used during WW2 in the European Theater of Operations were the RL-35 Reel Cart, used to transport Communication Wire Reels and the M1A1 Chemical Mortar Cart, used by the Chemical Mortar Battalions to transport their heavy 4.2 Inch [107mm] Chemical Mortars.
While the M1A1 is practically impossible to find, dozens of Reel Carts found their way into collector's hands after the Dutch Armed Forces sold off their stock in the late 1990's
Scan from Signal Corps Equipment Technical Manual & Still from U.S. Army Signal Corps Film Reels
The image from the manual left shows the Signal Corps RL-35(A) Reel Cart loaded with 3 DR-4 Wire Reels and right is a rare image of its use during WW2, towed behind a Jeep on the road towards Cherbourg,A France in June 1944
Scan from TM 9-2300 Artillery Material and Associated Equipment & U.S. Army Signal Corps Photo
Due to its weight of over 300 Lbs, a Cart was needed to transport the 4.2 Inch Chemical Mortar and its ammunition. Troops of the 87th Chemical Mortar Bn fire their weapon from the dunes on Utah-Beach in support of the 4th Infantry Division on D-Day in Normandy. Note the 18" Motorcycle Wheels on the M1A1 Cart!
Perhaps the "finest hour" to date for carts was the daring Ranger rescue of American POWs in the Philippines. At Cabanatuan, Rangers infiltrated deep behind Japanese lines, wiped out the Battalion guarding the POWs, then towed them back to friendly lines using local carts. The entire story can be read here:
www.ranger.org/papers/chapter6.htm
FM 7-90 Tactical Employment of Mortars; Chapter 8 Special Considerations For The 60-mm Mortar Section states:
"8-16. LOAD-CARRYING DEVICES
The heavy loads of equipment and ammunition carried by the mortar section can quickly exhaust Soldiers moving over rugged terrain unless loads are distributed evenly and load-carrying equipment is properly used...."
"b. The use of field-expedient, load-carrying methods is encouraged and only limited by the imagination of the Soldiers and leaders involved...."
"For carrying mortar ammunition short distances, a standard Army litter can be used. A detail of two to four men can carry large amounts of mortar ammunition over rough terrain by lashing it to a litter and using universal slings to distribute the load (Figure 8-11). Using the sling frees the hands to carry weapons or negotiate obstacles. This method is useful in circumstances where an ammunition resupply vehicle can approach near the mortar section location, but large amounts of ammunition must still be carried the last few yards. Carrying the ammunition in one or two trips by using a litter reduces the time that the carrying party is exposed to enemy observation or fire. Medical personnel should not be used to transport ammunition since doing so violates their status as noncombatants.
The rapidly employable, lightweight litter referred to as the SKEDS litter can also be used to move mortar ammunition and equipment. One man can pull a fully loaded SKEDS litter out of a helicopter and over most types of terrain for short distances."
So if SKEDCO and litters are ok to transport mortars and ammunition, why not the Army-standard UT 2000 cart system at greater efficiency for longer distances if needed?????
flickr.com/photos/2kings/2617570242/
armybicyclecarl says:
This MO-05 (militaer ordinanz 1905) example is from 1979 . There were numerous chainwheel designs and two head badge decals over the 83-year production run at Condor of Switzerland. 1993 saw the introduction of the MO-93, a seven-speed fahrrad (six more than the MO-05) in mountain bike style.
Swiss Bicycle Trailer/Sled for M1905 or M1993 Bicycle (?)
http://cosprings.craigslist.org/spo/873904173.html
www.flickr.com/photos/2kings/2617570242/
armybicyclecarl says:
The anhanger, or trailer is used to transport a stretcher with four clamp points for the two poles. The trailer weighs 62 pounds of steel, wood and rubber. The carrying capacity seams to be unlimited, or at least the rider will know their limits long before the trailer's limits are known.
On the way home this day, I passed a VW waiting first at the red light. Just as I passed with the bicycle, the passenger door flung outwards just as the trailer's wheel was passing. The first sign of trouble was the loud crunch. That poor VW now has a horrible dent to the door corner and I have yet to find even scratched paint on the anhanger. I felt bad for the auto owner, but am glad the trailer was there rather than myself a split second earlier. The VW passenger sure was civil and apologized for the scare. We shook hands and departed.
This is an original Swiss bike trailer for the MO-05. The trailer is basically meant to carry a person on a stretcher. Those stretcher with four terminals can be securely fastened. The folding cart is not so much space. The wheels can be removed with a quick and simple operation. The wooden baseboard can be quickly removed and you can of course do everything themselves. He is very stable behind the bicycle.
WITH ALL-TERRAIN CART/SLED
He seems quite sturdy and that is true. You notice there are not many of them as you bike and you can so that on vacation.
The cart and the bicycle are a wonderful combination.
BIKE + CART/SLED INTERFACE
Here is the trailer attached to the hook that comes.
WITH STRETCHER TO MEDEVAC A CASUALTY
Kar stretcher and with the "towing"
CART/SLED ON ITS OWN (TOWED BY HAND) an option
CART/SLED DETAILS
A wheel as you get there from.
The retracted bracket.
In the folded position he does not take much space.
SNOW SLED
Solid and very solidly made. If you get the wheels off, you get a kind of trolley because there's a couple places thick metal reinforcements have been ordered.
WW2 Airborne Cart: 1:18 Scale Model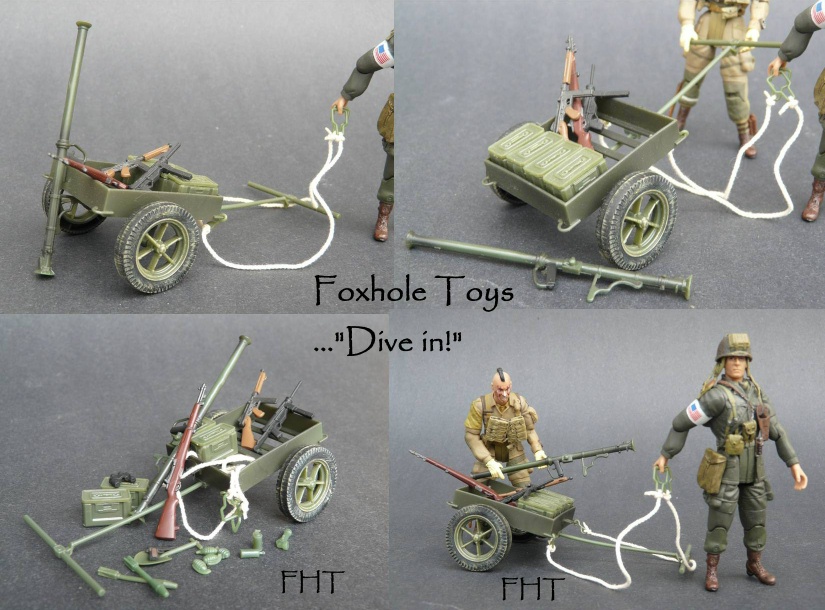 http://store.foxholetoys.com/1scbbielfoww13.html
---
<!img src="mike01.jpg" align="left"> THE PRESENT: INJURIES COMPOUNDED
Today, the primary means of Soldier evacuation is hand carries or dragging by their load-bearing equipment (LBE) which makes injuries worse or can even kill the wounded Soldier. Superb systems like the combat-proven SKEDCO that slides and protect Soldiers can get them out of the line of fire, but still require transfer to a more efficient rolling means of conveyance for long distances.
Using hand-carry stretchers requires at least 2 if not 4 men taken out of the fight to transport just one wounded man.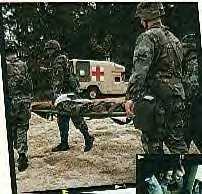 Constructing stretchers from local materials takes valuable time that is better spent getting the Soldier to life-saving medical care during the "Golden Hour" when trauma itself kills. Unfortunately, the use of carts is marred by the narrow tires used on old-technology carts that sunk into the ground and the inability to balance the load over the axles so the weight doesn't press down on the Soldier towing the cart. Today's Darby ATACSs solve this dilemma. In the late 1980s, Cpt Franz Gayl, a friend of the author's came up with a bicycle wheel cart to roll of the rear ramp of helicopters in order to carry Heavy Machine Guns allocated to marine infantry units with HMMWVs that are unable to fit inside even CH-53E Super Stallion helicopters. U.S. Army CH-47DChinooks can fit HMMWVs, so the need for an ATACS hasn't been as acute until now, with the evaporation of fire support available to light infantry units.

OPTIMAL LIGHT INFANTRY MEDEVAC/SUPPLY INTRA-COMPANY TRANSPORT SYSTEM

During the medical evacuation portion of Combat LifeSaver (CLS) training, the curriculum should be upgraded to include the amazing SKEDCO lightweight rescue system and the new all-terrain cart sled system both already incorporated into U.S. Army service. This way, each squad's CLS will be the Subject-Matter-Expert (SME) on these devices so they get used to the fullest.

HALF-SKEDCO in "M2000" CLS BAG in each Rifle Squad

A half-SKED "M2000" CLS bag with outer pouches to hold all the M3 bag contents would enable each CLS in every rifle squad a means to evac his casualty out of the line-of-fire (the Cosmo rescue line comes in here, too)....and after the firefight is over, slide him to the Platoon Casualty Collection Point (CCP)... The M3 bag is long overdue for a more organized replacement bag, why not incorporate a means to carry the lightweight half-SKED to insure a means at squad level exists to back-haul casualties and shuttle forward vital supplies using just one Soldier?

Darby UT 2000 All-Terrain All-purpose Cart Sled (ATACS) in every Rifle Platoon

From there, the platoon's UT 2000 ATACS cart shuttles the wounded Soldier back to the Company CCP for transfer into either a HMMMV ambulance, a UH-60Q Blackhawk helicopter by full-size stretcher or a full-size SKEDCO for a hovering tagline extraction if the helo cannot land.

The SKEDCO provides a lightweight evacuation means that a rifle squad Soldier can carry without burdening him from his primary mission: locating and closing with the enemy. The UT 2000 Darby ATACS for the first time in history solves all the previous problems carts have had and gives the platoon a long-haul conveyance to reach motor transport means. Another possible nick name could be "SHERPA":

S

oldier High-mobility Equipment & Resupply Platform All-terrain.

Another name is "Pack Rat" referring to the Darby ATACS's ability to carry rucksacks. Its now possible for units to local purchase the UT 2000 ATAC on their own using the information links provided at the top.

SO YOU HAVE NO MONEY????

At $759 each, your unit should be able to buy a UT 2000 Darby ATAC. Hold car washes and bake sales if necessary. It has a NSN so you should be able to order through the supply system. IF THERE IS A WILL THERE IS A WAY! The Joint Readiness Training Center (JRTC) highlights the problems of foot mobile units and casualty evacuation better than any other place short of combat. Don't let casualties pin down your unit. Use some mechanical advantage (wheels) and evac your casualties with the least amount of manpower while actually SPEEDING their transition to better medical healing care.

Quick estimate:

Mobile-load the Javelin ATGM

2 Javelins in a Platoon = 1 cart = $759
3 Platoons in a Company = 3 carts = $2, 277
3 Companies in a Battalion = 9 carts = $6, 831
3 Battalions in a Brigade = 27 carts = $20, 493
3 Brigades in a Division = 81 carts = $61, 479

Mobile-load the 60mm M224 mortar system

A complete M224 60mm mortar system costs $11,000, why not spend a mere $759 and insure its mobile and has enough ammo to fire effectively?

2 x 60mm mortars per Company = 2 x carts = $1,518
3 Companies in a Battalion = 6 carts = $4, 554
3 Battalions in a Brigade = 18 carts = $13, 662
3 Brigades in a Division = 54 carts = $40, 986

Tell you what.

E-mail us if your unit would like a UT 2000 cart/sled. We already have veterans raising money so we can DONATE the cart/sleds to U.S. Army units. You know how much a cart/sled costs ($759) and where to order one; if you are able get enough money to buy one, go ahead and donate it to your favorite or current military unit. We can "curse the darkness" about how bad things are in the U.S. military or we can DO SOMETHING to make things better. Let's make things better.

Let's go!

HOW TO USE THE UT 2000 Darby as a CART?

First, you want to position the wheels CENTERED under the load in the UT 2000 unlike the Soldiers pictured at the top of this page. You do not want to have to lift UP on the entire cart's load cart to tow it (heavy downward nose pressure) which will tire you quickly. Place some of your load so its only slightly front heavy, so the nose wants to come down (slight downward nose pressure). As you tow the cart, the majority of the load centers over the wheels with a slight downward pressure for you to control and steer where it goes.

Next, you want to tow the cart, hands-free so you can fire your weapon.

Using a 550 parachute cord, center the female clip of an ALICE waist belt buckle to the front UT 2000 frame.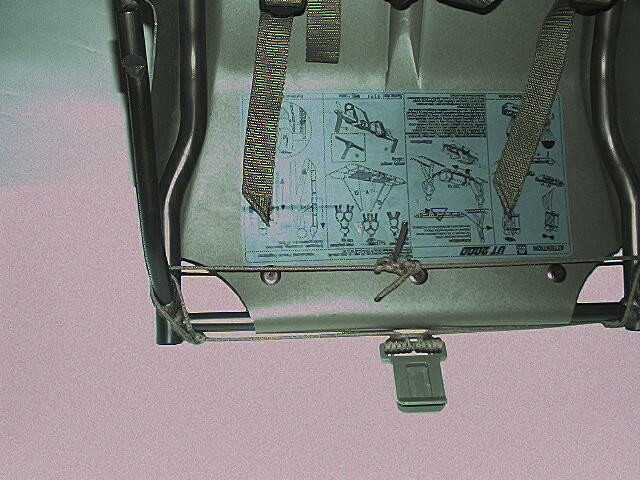 Next, take the male ALICE waist belt buckle and attach with 550 para cord to the center rear eyelet holes of your pistol belt attached to your Enhanced Tactical Load Bearing Vest (ETLBV). Buttpack is not attached in the picture for clarity, attach after the male ALICE waist belt buckle is secured.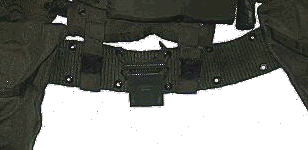 Connect the female and male buckles together to make a tight hinge point for you to tow the UT 2000 Darby ATACS like a trailer is towed by a ground vehicle. You can easily do this by reaching back while wearing the ETLV.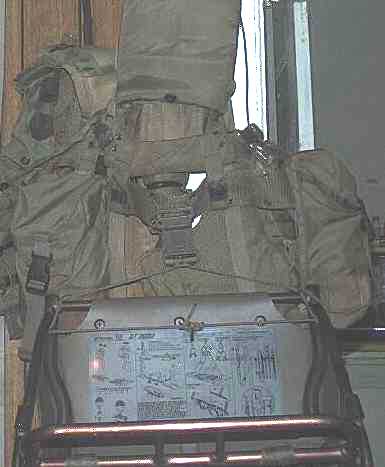 You can now tow the cart hands-free to operate your weapon, but can push up and down on the quick-release tab on the female buckle end to separate yourself from the Darby ATACS upon possible or actual enemy contact.
HOW TO USE THE UT 2000 Darby as a snow sled?
Do not attach the wheels. Insure you slide the UT 2000 Darby now as a sled forward with the lead half plastic overlapping the rear half's plastic to not suck up snow. Take a look underneath before towing and reverse front to back if needed.
Extend the quick release at the cart nose with a strap with another male and female end and connect to your rear equipment belt. Riggers can sew this for you. When towing a sled, the force of gravity holds back on the line, and the sled rests on the snow, so you need more slack between you and it. As you move forward via foot, snow shoes or skis, the strap pulls the sled along like an Akhio, but of course the UT 2000 Darby is much lighter.
PROTECTING PRESENT WHEELS AND FUTURE TRACKS
A can of car tire sealant should always be carried with the UT 2000 ATACS wheels to keep tires inflated in event of punctures. Small rubber tires of the UT 2000 Darby ATACS size that are airless like the solid foam rubber tires the 1st TSG (A) uses on its folding All-Terrain Bikes are available from Amerityre:
Amerityre
705 Yucca Street
Boulder City, Nevada, 89005
(800) 808-1268
FAX : (702) 294-3873
e-mail: info@amerityre.com
www: www.amerityre.com/Products/ProductsLG.htm
Wheeled vehicles under 10 tons can "float" over soft terrain to some degree but are never as good as tracks. Its conceivable once the UT 2000 Darby ATACS is fully understood, the U.S. Army could develop a simple rubber belt-track rolling over two soft bogie wheels to improve on the current air-filled tires. Then punctures would never be a problem because the UT 2000 Darby ATACS would be TRACKED. However, even if the current tires go flat, they can be removed and the UT 2000 ATACs sliden across the ground like a SKEDCO sled---in essence like a large single "track" except it doesn't move with the ground like tracks rolling over road wheels, which is the concept of track laying.
Answering the nay-sayers
Its likely there will be a few "nay-sayers" (If God had wanted man to have carts he would have given him wheels) prejudiced against using UT 2000 Darby all-terrain carts/sleds who long to maintain the "status quo" of mortar Soldiers overloaded, not having enough ammunition and weapons only good for area fires. Such a secret agenda that wants to keep heavy weights on Soldiers back because it gives them a reason to brag about their toughness fails to realize that moving mortars more efficiently by carts/sleds translates into MORE units-of-fire and greater weights moved faster. Transfer the energy and exertion used to hold weight up on your backs into force to move greater weights forward at faster speeds. Let the ground carry the load! In actuality, God wants us to use carts/sleds, because he gave us MINDS to employ common sense to use mechanical advantage to do tasks efficiently in the real world. When God was on the earth in the form of a man---Jesus was a carpenter. Think about it. Common sense implies winning the fight with the most effective means possible; it also means looking at the terrain/mission to decide on using the carts or not. Field experience will show that UT 2000 all-terrain carts/sleds can be used most of the time in most terrain/weather conditions and as skills improve, stealth will not be lost.
These are the same conclusions that U.S. Army Soldiers like William O. Darby in past wars came to; all we are doing is improving on the technique with lighter weight cart/sleds with wider tires for lower ground pressures.
Darby ATACS IN U.S. ARMY SERVICE TODAY!
A Light Infantry officer writes in:
"Our Company conducted operational test of ATACS cart.
Bottom Line: It's a hit.
We plan to get one per rifle platoon and one per 81mm Mortar Crew.
CPT X, another innovator in my Bn, volunteered to beta test it. It wasn't useful in the movement-to-contact phase at Ft Y (terrain too close for easy maneuver).
It was, however, very useful in the defense. CPT X and two other Soldiers emplaced an AT Minefield in record breaking time. They loaded up the cart with M21 mines and they raced thru the task. They also moved several rolls of concertina (and pickets) easily. They even evacuated Soldiers some 800 meters behind the Company BP to a casualty collection point with ease.
CPT X also noted several other potential advantages that have convinced our higher ups to dole out the cash. He's sold on lightening the Soldier's load and is sold on the cart.
The price tag was a little steep though."
AIRBORNE!
MORE FEEDBACK!
"Mike,
These carts/sleds are great! Whether or not I can convince my ROTC unit to pick one up now ,rest assured that in a few years my Javelin and mortar gunners will NOT have to carry their entire load on their backs and my CLS's will be able to sled their casualties out. Even if I have to save my beer money and buy one myself!"
Cadet XXXXXXXXXXXX
---
An Alaskan Paratrooper writes:

"Hello,
I just tripped over your web site about the Darby cart. I've been looking for a hunting cart and a civilian ahkio for some time and haven't really found the answer. This looks pretty good.

I can relate to your proposal because of my military experience.

I was a young Army Officers in the 6th of the 9th, and 4th of the 9th Infantry of the 171st Brigade in the Alaska Command from 1971-1975. I had an airborne company mortar platoon and battalion mortar platoon.

Our experiences with man-hauling mortars with an Ahkio were pretty frustrating. It was necessary to haul all our tent and living gear in addition to the 81 MM mortars and their gear. I don't ever recall having to man-haul ammunition as well as that was usually air lifted by helicopter.

On One exercise, we were doing a battalion airdrop and airborne jump over the Yukon River near Galena AK. We packed our ahkios as usual and palletized them for air drop. I believe we had 3 or 4 side-by-side on the first layer and the same, crosswise above on the second layer. There was crush cardboard in between the layers and on the pallet. All packaged up, they were dropped from C-130s.

I remember weighing the loaded ahkios before putting them on the pallets. They were over 400 lb each. We were required to drag each of them with 6 troops...in knee-deep unbroken crusty snow...on snowshoes.

We jumped onto the River before sunrise. It was at least 40 below zero, Fahrenheit. In the ensuing movement, needless to say, that it wasn't long that we were so far behind the other troops that we lost radio contact with them. I think it was about 11:00 pm before a 548 finally came back to pick us and our gear up.

Pulling ahkios with that much equipment was extremely exhausting. I think that for the most part, if a Finish ski trooper would have swooped out of the hills, he could have put us out of action by toppling us over into the snow with a mild shove.

81MM mortars and all the gear was too much for a light infantry unit, and some lightweight means of transporting the gear would have been a lifesaver. Man-hauling is only useful for short distances if at all and only with essential survival gear and weapons. I don't think tents and all the associated gear should be drawn by man-sled in a major troop movement."

OUR REPLY:

We agree!

The solution would be to mount 81mm and 120mm mortars on armored versions of the M973A1 SUSV tracked vehicles already in use by the 172nd Brigade in Alaska in conjunction with Darby ATACS towing smaller 60mm mortars for the initial Paratroops who jump in to secure the drop zone. Armored "M973A2s" (NATO name: "BV-206S") like their A1 brothers can be parachute dropped and helicopter transported inside CH-47Ds or externally. UH-60L Blackhawks can sling the M973A2 in two separate parts.

Airborne!

Mike