UPDATED 8 September 2010

COMPACT PROTECTIVE MASK CARRIER FOR HIGH PARATROOPER MOBILITY

By Mike Sparks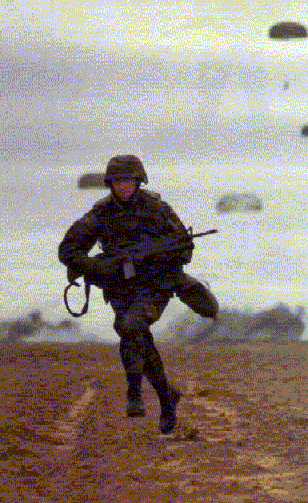 Paratroopers assembling into intact units after a mass combat jump cannot afford to be fumbling with their rucksacks trying to remove their field protective masks (FPMs), then undress their LBEs so they can strap the huge M40 FPM carrier on to their legs while on the drop zone under possible enemy fire. The current M40 FPM carrier was supposed to be an improvement over the old M17A1/A2 FPM carrier which had two half-snap buttons, notorious for popping open during jumps and had to be taped close. The new M40 carrier has a wide swath of velcro to keep the outstanding M40 FPM inside but is TWO TIMES LARGER THAN IT NEEDS TO BE! Despite their promises to a usmc corporal (the author) in 1985, the FPM carrier developers at U.S. Army Natick Labs created a huge monstrosity that is neither compact or designed to attach to the LBE belt.
The Germans in WW2 (!) realized not to ruin foot mobility by humongous gas mask carriers. Notice their "Combat Light" Soldier gear set-up with a SMALL gas mask carrier.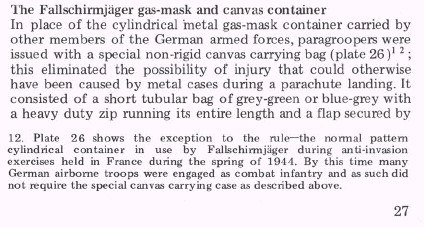 Years later as a marine officer, the problem still was not solved and we had to use 2-quart canteen covers to get a decent-sized FPM carrier. Read my 1990 article from Marine Corps Gazette below: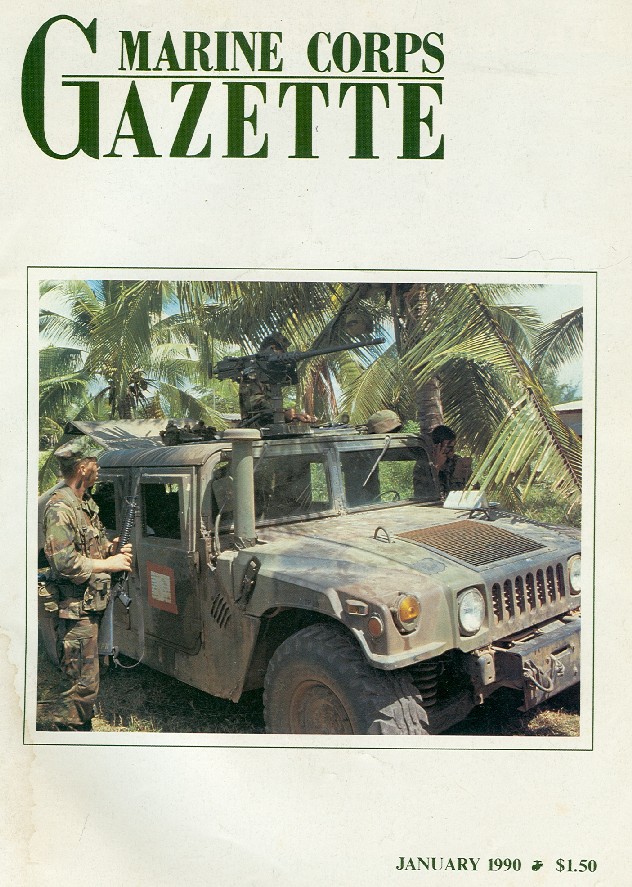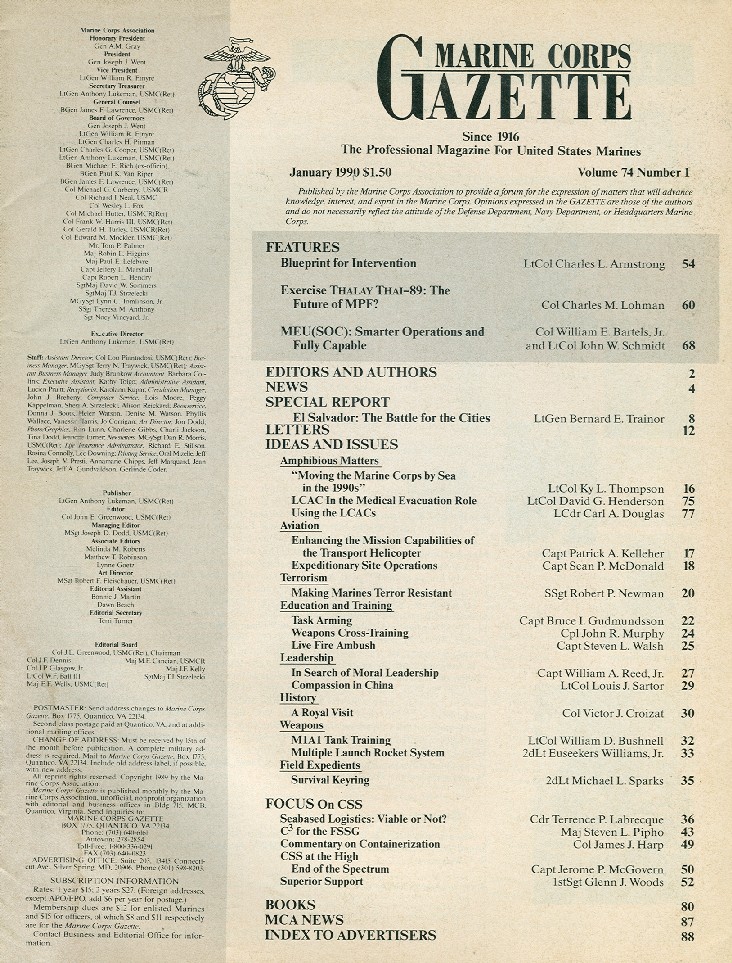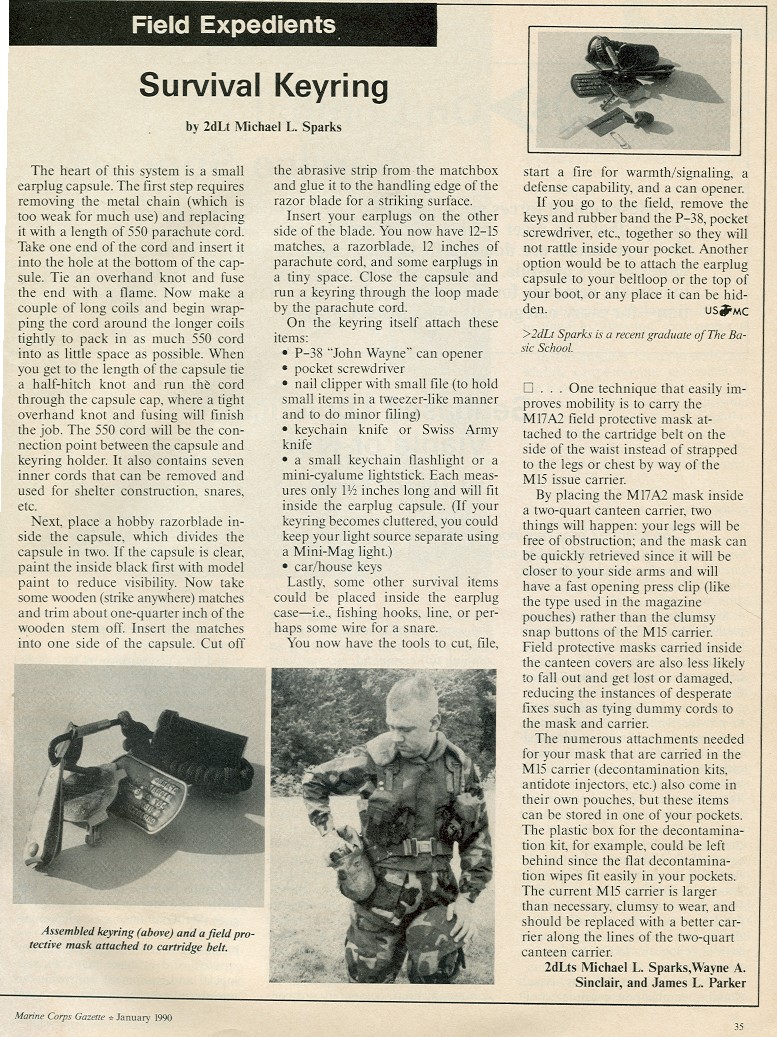 Probable cause is that the M40 carrier also has to carry the armor crewman's M42 mask with a long rubber hose, so the infantryman is left "carrying the bag"--literally. The M40 FPM carrier is so humongous, 82nd Airborne Division Airborne operations SOP has the thing attached under the rucksack when jumping; yet another entanglement complication (along with the kit bag under the leg straps) to an already cluttered and dangerous act of dozens of men exiting a darkened aircraft though a small door while in flight. That M40 FPMs have to be de-rigged from the rucksack while on the DZ is another serious time waster and complication that when magnified by entire Brigades means combat Paratroopers will be speeding towards their missions in hours/minutes instead of seconds; when the opportunity to collapse the enemy is greatest and Paratrooper vulnerability the most urgent.
Marching with the M40 FPM carrier is dreadful; try an Expert Infantryman's Badge (EIB) 12-mile forced march in 3 hours with it dangling on your legs using the strap arrangement supplied; you can attain marginal mobility only through sheer force of will and bruises and abrasions later. Paratroopers and all Soldiers-cannot afford to lose 1-2 mph in foot speed which is a matter of survival in combat-because they have a 5 pound weight dangling from their legs. To be the mobile infantry that can prevail on the modern battlefield at better than EIB-speeds (4-7 mph+) like WWII Darby's Rangers we need our legs unencumbered; the 10th Mountain Division in combat in Somalia rolled their FPM carrier straps up and used the two top straps to clip it directly to their LBE belt; Paratroopers from the 2nd Battalion of the The 505th Parachute Infantry Regiment instructed the author on this.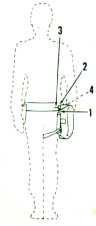 However, you need space on your LBE belt to fit the large M40 FPM carrier and it doesn't solve the FPM carrier being rigged to the rucksack for jumping. The current M40 FPM is a serious combat liability that the entire 82nd Airborne Division needs to solve as a matter of mission readiness; we cannot afford to lose a single Paratrooper of combat power on the next battlefield where nuclear, biological, chemical agent use is almost a certainty because he couldn't get his FPM on fast enough because its buried under his rucksack 15 feet away on the ground after being lowered 200 feet in the air on the hook, pile tape (velcro) lowering line.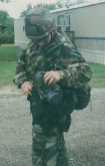 A small FPM pouch keeps the Pro Mask away from the legs for better mobility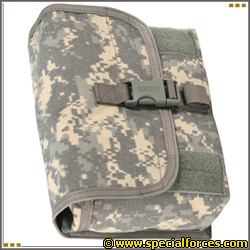 S.T.R.I.K.E. Gas mask rig compact elastic lined thigh rig
$45.00
THE NEED: A pouch that keeps the protective mask from bouncing around on the leg and from hanging up on walls and corners. If you are using the military issue M-17's pouch, then you also want to get away from the spaghetti of straps. THE SOLUTION: The Claw Rig gives a secure and comfortable platform for the mask pouch. We took it a step further by adding an elastic strap inside the pouch and a cinch strap. Not only does this hold the mask tighter, but after the mask is removed, the pouch collapses with the elastic. This prevents hang-ups while cornering and running the walls. The pouch is designed for the military issue M-17 mask, but is large enough to hold others, please call. Patent pending.
- Front loading, secured with Velcro(r).
- Ear flaps for positive control of contents.
- Large pocket behind pouch for pre-routed zip cuffs, etc.
- Optional speed adapter for attachment to a belt (see Belt Hanger Adapter.) Sold separately.
A new FPM carrier that is smaller, attaches to the waist onto the LBE belt and "jump-able" there through the side doors of U.S. Air Force transport aircraft is commercially available "off-the-shelf" and a part of the U.S. Army's 21st Century Land Warrior prototype. One simple solution is to use the G.I. 2 quart canteen cover to carry the M40 FPM on the belt, using a Camel-Bak(c) bladder for drink-on-the-move capability. The 82d Airborne Division doesn't need to wait for the next century for this improved carrier; its available $30 each retail from:
Safety Systems Corporation
190 C Easy Street
Carol Stream, Illinois 60188
(708) 653-1103 FAX: 6325. POC: Ms. Julee Adamo
...or direcly from the manufacturer;
Eagle Industries
400 Builtmore Dr. Suite 530
Fenton, Mo 63026
(314) 343-7547; poc: Mr. Dave Neptune
The 1st Tactical Studies Group (Airborne) is currently field/jump testing the FPM carrier which is called the SF10C3 Deluxe style for belt, shoulder or Special Air Service (SAS) leg carry using comfortable elastic re: Operation Tactical Mobility. While more comfortable than the M40 FPM carrier's non-stretching nylon straps, we still recommend LBE belt carry as the way to go in a shooting war since it frees the legs, protects the mask from impacts when low-crawling and streamlines the Paratrooper's silhouette for exiting jump doors and moving through vegetation. For those that want their FPMs attached directly to their BDUs this is possible though in a combat zone, LBE and FPM should be one unit and worn at all times-with weapon in hand or slung at the back. We suggest cutting a square piece of unused (unless you are 6'4" tall) foam sleeping mat and inserting it in between the M40 FPM and the carrier to pad for Parachute Landing Fall (PLF) impact.
<!IMG SRC="http://www.aloha.net/~rstiles/rgr004.jpg" ALT=Good prepare to land attitude here">
We suggest that velcro be added under the carrier top so in high risk areas, the flap can be opened quicker by having the Fastex(c) snaps undone; the latter would be closed for high-stress activities like parachuting, rappelling, fast roping, IMTing etc. to secure the FPM inside better than just velcro-only. A small outer pouch to hold the Decon kit already comes standard with the carrier. We can "get the ball rolling" by Paratroopers and local units taking initiative to order S10C3 FPM carriers directly and/or for local surplus stores to order dozens in Olive Drab. Even using a 2-quart canteen cover as an expedient LBE belt carrier for the M40 FPM is better than the current mobility and safety impediment carrier.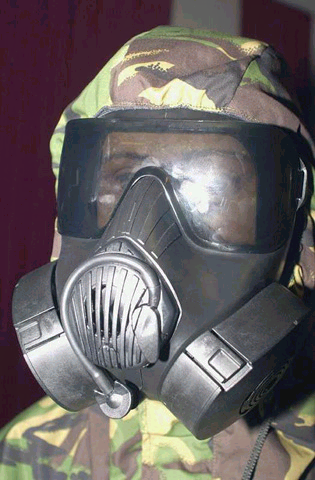 Now for a 1999 update. The U.S. Army is developing a new Joint Field Protective Mask with a single-piece, clear window for viewing/firing weapons caled the Joint Service General Purpose Mask System (JSGPMS). Go to the link provided here:
http://www.sbccom.apgea.army.mil/RDA/pmnbc/jsgpm/
and/or e-mail the program manager, Mr. Robert Decker:
Project Manager, NBC Defense Systems
ATTN: AMCPM-NNM-A/Mr. Richard W. Decker
Aberdeen Proving Ground, MD 21010-5423
(410) 436-8374 or DSN 584-8374.
...and insist that the new mask have a new CARRIER that is smaller than the M40 book-bag and attaches to the Soldier's LCE belt. This would be an excellent opportunity to get better Soldier mobility via a better mask carrier.
Airborne!
1st Tactical Studies Group (Airborne)

---
FEEDBACK!

"My name is Jim Cragg, owner of S.O.Tech / Special Operations Technologies. We are a small nylon tactical gear shop in Los Angeles specializing in military and law enforcement tac gear. I want to thank you for referencing my elastic lined gas mask thigh rig in your gear article on a better pro mask pouch. One of your readers forwarded the link today as he called today to order a rig after finding us on your site. S.O.Tech gear is featured on SpecialForces.com which is run by Special Forces Gear. I found many of your articles bringing up valid points which are reflected in alot of the custom gear requests / designs from troops in the field. As a mid sized shop, I am able to listen to such input and easily fit it into our product line (which is now at over 250 pieces). It is good to see a site where people are publishing gear tips and input for other troops to read and benefit."

Jim Cragg
S.O.Tech
specopstek@aol.com
www.specopstech.com


GLAD to help, Jim because YOU are doing America the "service' it needs to help her armed services--which is to provide a RESPONSIVE web gear/Soldier interface without the bureaucracy and excuses, you are CAN-DO, which is what our Army needs!

We salute YOU, Airborne!

1st TSG (A)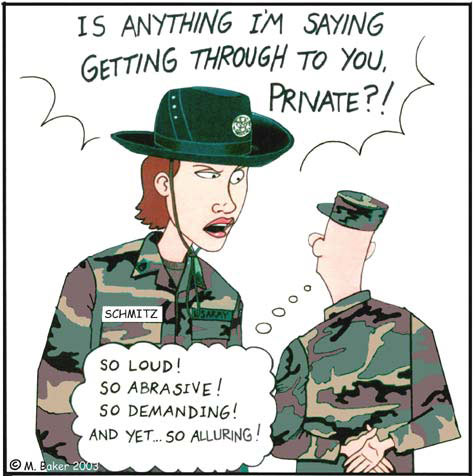 Want Pvt Murphy in your pocket?

Return to U.S. Army Airborne Equipment Shop outside of frame