UPDATED 12 September 2009


COMBAT PARACHUTE JUMP INTO PANAMA: THE SOLDIER'S LOAD AND SOLUTIONS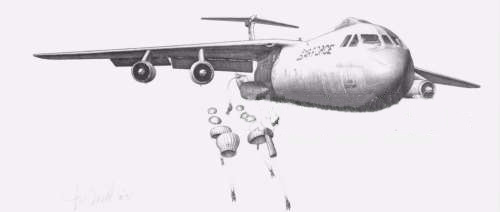 For a full-size copy of Jim Stovall's fabulous C-141B Starlifter print: www.eagleillustrations.com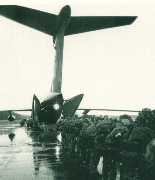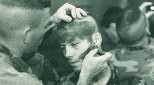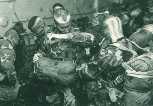 "Lighten the Soldier's load, and at the same time decrease the weight of his supporting guns and their ammunition-and we may in the sum total, provide, through research and careful development, an Airborne Army."
General Omar N. Bradley, in an address to the graduates of the Command and General Staff College, 1 July 1949, Fort Leavenworth, Kansas.
Panama 1230 hours, Torrijos International Airfield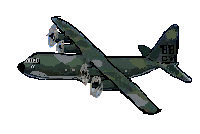 <!IMG SRC="jumpcartoon.gif" ALT="One Thousand..Two Thousand..Three Thousand..Four Thousand!....Check Canopy!">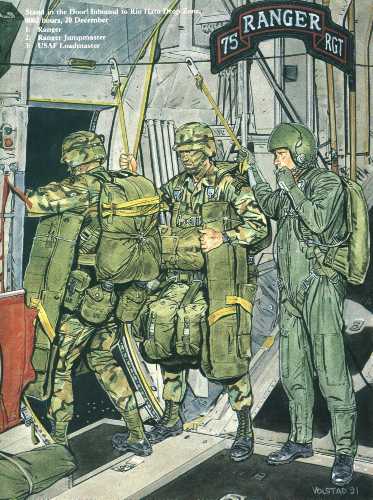 ...a flight of darkened MC-130 Combat Talons and C-130E Hercules STOL turboprop aircraft approach at 500 feet... standing in the door are sticks of U.S. Army Rangers stooped over rucksacks so heavy, it takes both hands to lift and drag them to the jump doors....The Rangers are so encumbered by equipment that they cannot even stand up straight. Approaching their dark target, the GREEN LIGHT COMES ON, through the open jump doors they see red and green tracer fire below. The Rangers strain out the jump doors, some without reserve parachutes: a towed jumper caught by this overload of equipment on the edge of the jump door could get dragged through the air---- if cut away falls to his death....if pulled in, he may be a bloody pulp as he bangs against the side of the aircraft if those still inside wait until everyone jumps; if pulled in early, he blocks the door so Rangers cannot join the battle below to help win it.

A C-130E Hercules pilot writes:

"I saw your web page as a link from the 75th Ranger Reg't page. I flew in Panama, dropping Rangers in Rio Hato, point of fact, we were a 17 ship formation of C-130Es, there were no MC-130s in the airdrop at Rio Hato. When we left from Ft Benning or Panama, the weather was crap and we were overloaded to the point had we lost one engine we would likely have become a smokin' hole. We weighed less than the maximum published wartime weight, but that weight is based on sea-level standard day (59 degrees F) takeoff. When it's cold, that's usually better unless you have to steal engine power to keep the ice off the wings."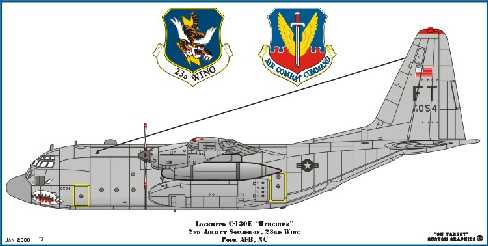 A few hours behind them are "All American" 82nd Airborne Paratroopers flying in C-141B Starlifter jets and inside their secret weapon: M551 Sheridan light tanks which will smother and overwhelm enemy resistance with armored shock action and wall-busting 152mm cannon fire...LGOPs infantry will fan out into the city streets of Panama and take down Noriega's goons...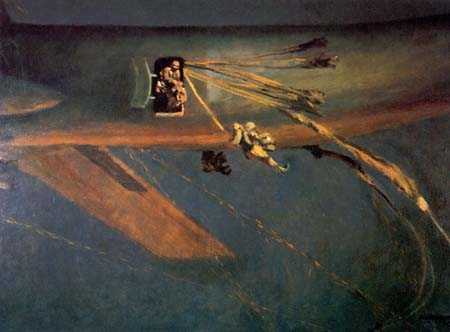 Artist's rendition of the door exits from C-141Bs of 82ndAirborne Paratroopers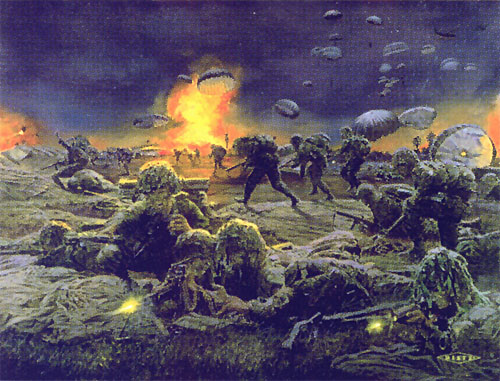 "The capture of key targets identified as Rio Hato and Torrijos/Tocumen airfields had to be executed simultaneously. The Ranger force would only have 45 minutes to parachute onto their respective airfields and secure them before follow-on forces from the 82nd Airborne Division would begin arriving to allow the Rangers to plan and execute their next missions. Conducting low-level parachute assaults, the Rangers exited their transports at 500 feet with full combat loads averaging 120 pounds. Fourteen of the fifteen C-130E transports over Rio Hato were struck by ground fire. Their total time of descent was less than 12 seconds...."
--"Energetically will I meet the enemies of my country" by Jim Dietz
Read more about the Panama triumph:
"To Fight with Intrepidity" by LTC John Lock--best Ranger History
Just Cause: The Real Story of America's High-Tech Invasion of Panama by Malcolm McConnell
Panama 1989-90 (Osprey Elite Series, No. 37) by Gordon Rottman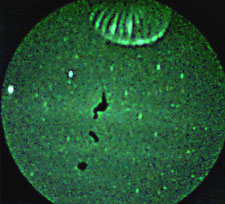 PFC. William Linn recalls that night as he stumbled to the door;
"We in-flight rigged, 80 men in the [MC-130] Combat Talon...pitch black, no red lights....There was no static-line control, we needed both arms just to move our rucks to the door....I jumped with so much force that my web belt buckle adjuster broke and was in two pieces, I lost my canteen and M9 bayonet when I snagged on the jump door.....I had an open web belt on the drop zone. On the ground, my ruck was so heavy I had to roll into it on the ground then roll up into my feet, it was all I could do to move forward. I took a snap link and used it to squeeze my LCE straps together at my chest but this cut into my breathing. The gear I jumped was as follows;"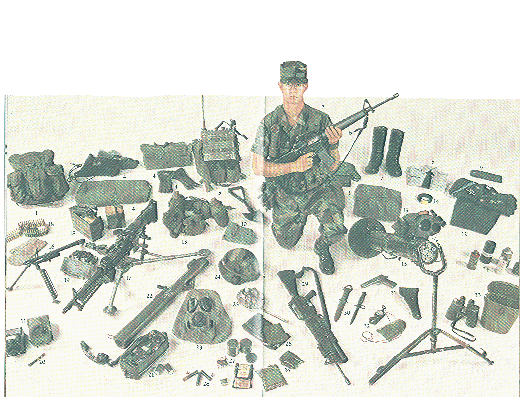 Personal Load
__________________
BDUs (worn)

Combat boots

7 quarts of water
Lightweight Gore-Tex top and bottom
MRE field-stripped(remove what you don't eat and packing cardboard)

Mission Load
____________

1 M16A2 Rifle in M1950 weapons case
1 M9 9mm pistol
M60 MMG Spare Barrel Bag with spare barrel, pintle, T & E
1 M122 tripod strapped across rucksack top
1100 rounds of 7.62mm (staffers took seats on plane so we had no ammo bearers for our Medium Machine Gun [MMG]Teams)
Pistol belt with LC-2 suspenders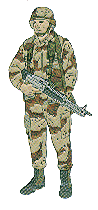 210 rounds of 5.56mm in 7 X 30 round magazines
50 rounds of 9mm
10 X M67 Fragmentation Hand Grenades
1 7X50 M22 Steiner binoculars
1 M9 wire-cutter bayonet (until it got ripped off at the jump door)
1 AN/PVS-4 NVD for M-60 MMG
1 AN/PVS-7 NVGs

1 E-tool


+ Helmet, and T-10B parachute main
_____________________________________________
175.52 TOTAL POUNDS!!!!!!
These problems don't just hurt in war, but in peacetime also:
The Army is going along with a usmc designed rucksack that is so big you cannot raise your head with it on to fire your weapon while in the prone. In fact, it is larger than the current large ALICE rucksack and will be filled with even more gear to overload and slow the Paratrooper down to nil mobility. Being longer and with a detachable daypack, this rucksack is making the same mistake as the Combat Pack Large Internal Frame that preceeded it; it will be too long to jump safely without dragging along the aircraft floor. A 1st TSG (A) staff member writes:
"I've got some comments on streamlining Paratroopers. In '90, the only unit in our Division with the new Lowe internal frame ruck, was XXX LRSD. On a jump, a young recon guy had a very bad exit, got all twisted, died. His whale of a ruck was packed to the rucks full extension, over 7,000ci's, which is huge by even the largest mountaineering packs. Being winter, and him being LRSD, his ruck weighed well over 100lbs. not to mention the rest of his gear. A combo of the weight, and the top of his ruck dragging on the ground, caused his death, as confirmed by ABN Committe investigators. Thankfully XXX XXXXX made sure the XXXX remained with ALICE Larges, when the other inf bn's got the new Lowes. I do believe LRSD stayed with the Lowes. During a JRTC rotation, I was scared of heat injury with the big temp difference, so I ended up using all my own purchased water blivets, jumping in 10qts of water. Feeling bad for my AG, and my new TM LDR on his cherry jump, I jumped their mortar rounds, and I managed to procure 400 extra rounds for my pig. Along with most of the gunners in my bn, I do not break down my [M60 Medium Machine Gun] "pig", to better fit in a 1950 (I prefer to land with weapon intact). We were jumped by XXXX pilots, just getting qualified to jump Paratroopers, so we had to stand at an actual 10 minutes. I slugged out, and could just not physically stand straight up with all this combined, so I made my way towards the door, stooped, and 1950 slightly dragging. I had the worst exist of my life, hit the aircraft, and woke up on the DZ, a little sore, but good to go."
It seems clear that weight like mortar rounds should be removed from the individual Paratrooper and placed together in a door bundle with an All-Terrain, All-Purpose Cart (ATAC) that would be slid out the jump door just before or after the stick using a piece of truck bed liner or SKEDCO plastic for directional sliding without getting stuck in the door. The U.S. Army should insist that new rucks be shorter and not just go along with what non-Airborne units might be conjuring up for equipment. The Soldier's load CAN be solved by living with LESS and SMALLER equipment, not be increasing our gear size and volume.
The Paratrooper/Ranger's loading problems are so severe, the USAF is considering reducing the number of jumpers a C-130 can carry from 64 to 58---a severe handicap for the U.S. Airborne power projection capability. In fact, the bean counters have already struck!
RAAUZYUW RHCUAAA7053 3341321-UUUU--RHCDAAA
ZNR UUUUU
R 011316Z DEC 98
FM HQ AMC SCOTT AFB IL//DO//
TO RUEASRA/CDRFORSCOM FT MCPHERSON GA//AFOP//
RUEAAIA/CDRTRADOC FT MONROE VA//CG//
RUERHNA/CDRXVIIIABNCORPS FT BRAGG NC//AFZA-GT-O//
RUERHNA/CDR82DABNDIV FT BRAGG NC//AFVC-CG//
RUEAFDC/CDRICORPS FT LEWIS WA//
RUERGAB/CDRUSAIC FT BENNING GA//ATZB-CG//
RUERHNB/CDRUSASOC FT BRAGG NC//AOOP//
RUERHNA/CDRXVIIIABNCORPS FT BRAGG NC//AFZA-GD-O//
RUCOBBA/COMSOCACOM
RUCOZBG/COMNAVSPECWARGRU TWO
RULYSCC/COMEODGRU ONE
RUEACMC/CMC WASHINGTON DC//APW//
RUCOSGG/COMNAVSPECWARTASKGRU SIXTHFLT
RUWDTBY/COMNAVSPECWARGRU ONE
RUERRUK/CDRUSASC FT RUCKER AL//CSSC-Z//
RHCPBBB/CDR20THSFG BIRMINGHAM AL//SOFEP//
RUWICAA/FIRST RECONBN CP PENDLETON CA
RUWICBL/FIRST FORECONCO CAMP PENDLETON CA
PAGE 02 RHCUAAA7053 UNCLAS
RUEADCR/CDR10THSFGA FT CARSON CO//AOSO-SFC-SC//
RUCKALC/CG MCLB ALBANY GA//838//
RUEOFAV/CDR3DBN75THRGRRGT FT BENNING GA//AOSO-RGR-3//
RUEOFAV/CDR75THRGRRGT FT BENNING GA//AOSO-RGR-SD//
RUERHFA/CDR1STBN75THRGRRGT HUNTER AAF GA//AOSO-RGR-1//
RUFGTCC/CDR10THSFGF0B1 VAIHINGEN GE//ASOF-SFC-SD//
RUHBANA/THIRD RECONBN CAMP BUTLER JA
RUAGTBU/CDR1STBN1STSFGA TORII STATION JA//ASOF-SFI//
RUAGAAA/CDRUSASFDK SEOUL KOR//EACJ-SF//
RUEAPFA/CDR5THSFGA FT CAMPBELL KY//ASAF-SFA-ADJ//
RUEOFAR/CDR160THSOAR FT CAMPBELL KY//AOAV-SI//
RUERHNB/CDR7THSFGA FT BRAGG NC//AFVS-SFB-SD//
RUERHNA/USA JFK SPWARCEN SCH FT BRAGG NC//ATSU-DID-LG-R//
RUEOFAA/CDRJSOC FT BRAGG NC//J4/CG//
RUCKMEE/SECOND FORECONCO CP LEJUENE NC
RUERHNA/CDRUSASFC FT BRAGG NC//AOSO-CG/AOSO-GD/AOSO-GC//
RUERHNB/CDRUSASOC FT BRAGG NC//AOOS/AOLO1STFODD/AOLOMA//
RULSMCA/CG MCCDC QUANTICO VA//WF11B//
RUERLEA/COMDTQMSCH FT LEE VA//ATSM-ABN-FS//
RUEAFDI/CDR1STSFGA FT LEWIS WA//AOSO-RGR-2//

PAGE 03 RHCUAAA7053 UNCLAS
RUEAFDL/CDR2DBN75THRGRRGT FT LEWIS WA//AOSO-RGR-2//
RUEAHQA/SA PENTAGON WASHINGTON DC//SAAA//
RUERRUK/CDRUSASC FT RUCKER AL//CSSC-S/CSSC-M//
RUEANYP/CDRYPG YUMA AZ//STEYP-MT-EP-A//
RUWDMCK/COMNAVAIRWARCENWPNDIV CHINA LAKE CA//481000D//
RUVMAAA/SM-ALC MCCLELLAN AFB CA//LIE/LHY//
RUEACMC/CMC WASHINGTON DC//LMA/SD//
RUENAAA/CNO WASHINGTON DC//OP-05/OP-31//
RULSSBI/PEO CLA WASHINGTON DC//325J//
RUEAHQA/HQ USAF WASHINGTON DC//XOOT/XOOS//
RHCDAAA/23STSQ HURLBURT FLD FL//DO/SE/LG//
RHCDAAA/720STG HURLBURT FLD FL//DOO//
ZUCJAAA/USCINCSOC MACDILL AFB FL//SOJ3-TT/SOJ3-S//
RUVRAFA/HQ AFRC ROBINS AFB GA//DOTT/DOTSL/LGM//
RUFDSRC/CDRARSOFE STUTTGART GE//AESOF-S4//
RUFGTCC/CDR7THSOSCTA VAIHINGEN GE//AESOF-DOL-TM//
RHAKAAA/320STSQ KADENA AB JA//DO/SE/LG//
RUERMMA/CDRUSAATC ABERDEEN PROVING GROUND MD//STEAC-DS//
RUERHNA/CDRXVIIIABNCORPS FT BRAGG NC//AFZA-GD-O//
RUERHNA/CDR82DABNDIV FT BRAGG NC//AFVCSC-SS-DPO//

PAGE 04 RHCUAAA7053 UNCLAS
RUEOFAA/24STSQ FT BRAGG NC//DO/SE/LG//
RUERHNA/DIRTEXCOM ABNSOTD FT BRAGG NC//CSTE-TAB/SSCOM-LAO//
RUEBBMA/21STSQ POPE AFB NC//DO/LG/SE//
RUERFCP/CDRUSARSO FT CLAYTON PM//SOCG/SOSF/SOLG//
RUDHTCD/CDRUSATCD FT BELVOIR VA//DOL-ASD//
RULYSHH/NAVSAFECEN NORFOLK VA//CODE122/CHIEFOFSTAFF//
RUKLDAR/CDRUSAMC ALEXANDRIA VA//AMCSF//
RUWMFLA/22STSQ MCCHORD AFB WA//DO/LG/SE//
RUFTVFA/321STS RAF MILDENHALL AB UK//DO/SE/LG//
RUERICK/CGSSCOM NATICK MA//AMSSC-I-SP//
RHDLZAN/NAVSPECWARUNIT TWO
RHFJPRM/EODMU TWO DET ROOSEVELT ROADS PR
RHFJPRZ/NAVSPECWARUNIT FOUR
RHWIPYK/EODMU ELEVEN
RULYSCC/SECOND FORECONCO
RULYSCC/SECOND SRIG
RULYSCC/SEAL TEAM FOUR
RHCUCMA/23CS POPE AFB NC
RULYSCC/THIRD RECONBN
RUHGMIO/EODMU FIVE DET THREE ONE
PAGE 05 RHCUAAA7053 UNCLAS
RUHGMIP/NAVSPECWARUNIT ONE
RUWDMCK/NAVAIRWARCENWPNDIV CHINA LAKE CA
RULYSCC/SEAL TEAM ONE
RULYSCC/SEAL TEAM THREE
RULYSCC/SEAL TEAM FIVE
RUWFAFX/EODMU THREE
RULYSCC/FIRST SRI GROUP
RUHBANB/CG FIRST MAW//G3//
RUCKFCO/CG SECOND MAW//G3//
RUWIBOB/CG THIRD MAW//G3//
RUCCNOQ/CG FOURTH MAW//G3//
RUWICBE/CG I MEF//G3/G4//
RUCKMEA/CG II MEF//G3/G4//
RUHBABA/CG III MEF//GE/G4//
RUCKFCL/MAG FOURTEEN//S3//
RUWDVDM/MAG ELEVEN//S3//
RULYSCC/MAG THREE SIX//S3//
RULYSCC/VMGR ONE FIVE TWO//S3//
RUCKFDL/VMGR TWO FIVE TWO//S3//
RUWIBOF/VMGR THREE FIVE TWO//S3//

PAGE 06 RHCUAAA7053 UNCLAS
RHFJABZ/VMGR FOUR FIVE TWO//S3//
RHFJACT/VMGR TWO THREE FOUR//S3//
RHFJACH/MACG FOUR EIGHT//S3//
RUWIBHL/MAWTS ONE YUMA AZ//TACAIR//
INFO RHCUAAA/HQ AMC SCOTT AFB IL//DOV/DOT/DOK/SEF/LGA//
RHDIAAA/HQ ACC LANGLEY AFB VA//DO/DOT/DOTV/DIS//
RUVRAFA/HQ AFRC ROBINS AFB GA//DO/DOTA//
RUEAUSA/NGB WASHINGTON DC//XO/XOOM//
RHWRAAA/HQ AETC RANDOLPH AFB TX//DO/DOT/DOF/DOV//
RUHVPAC/HQ PACAF HICKAM AFB HI//DO/DOT/DOTV//
RHFQAAA/HQ USAFE RAMSTEIN AB GE//DO/DOT/DOV//
RUVAFMC/HQ AFMC WRIGHT PATTERSON AFB OH//DOO/DOOT//
RHCUAAA/HQ AMC TACC SCOTT AFB IL//XOO/XOC//
RUHUTRA/15AF TRAVIS AFB CA//CC/DO/DOV/LG/RE//
RUEOLIA/21AF MCGUIRE AFB NJ//CC/DO/DOV/LG/RE//
RHFQAAA/24AOS RAMSTEIN AB GE//CC/DOV//
RUEBBMA/43OG POPE AFB NC//CC/OGV//
RUWTBWD/317AG DYESS AFB TX//CC/AGV//
RUWTFAA/463OG LITTLE ROCK AFB AR//CC/OGV//
RUWTFAA/314OG LITTLE ROCK AFB AR//CC/OGV//
PAGE 07 RHCUAAA7053 UNCLAS
RUWTFAA/USAF CADS LITTLE ROCK AFB AR//CC//
RUEOLIA/HQ AMWC FT DIX AIN NJ//CC/WCOX//
RUEOLIA/33FLTS FT DIX AIN NJ//CC//
RUCLBMA/HQ AFMC EGLIN AFB FL//DOV//
RUWTFBI/HQ AFSA KIRTLAND AFB NM//SEFB//
RHDJAAA/HQ AFFSA ANDREWS AFB MD//CC//
RHCDAAA/HQ AFSOC HULBURT FLD FL//DO/DOV//
RUCLBBA/9AF SHAW AFB SC//OV/A3//
RUWHDFB/10AF NAS FT WORTH TX//DO/DOT/DOV//
RUWMBKA/12AF DAVIS MOTHAN AFB AZ//OV/A3//
RHWRAAA/19AF RANDOLPH AFB TX//DO/DOV//
RUVRDCJ/22AF DOBBINS ARB GA//DO/DOV/DOTT//
RUERLEA/33FLTS FT LEE VA//OLC//
RUWMHGA/3OG ELMENDORF AFB AK//CC/OGV//
RUVRAAA/339FLTS ROBINS AFB GA//CC/DOV//
RUVMBDA/412OG EDWARDS AFB CA//CC/OGV//
RUVMBDA/418FLTS EDWARDS AFB CA//CC/DO//
RUWMEGA/24OG HOWARD AFB PM//CC/OGV//
RUWMEGA/AASOD HOWARD AFB PM//CC//
RHFQAAA/86OG RAMSTEIN AB GE//CC//
PAGE 08 RHCUAAA7053 UNCLAS
RUVRDCC/94OG DOBBINS ARB GA//CC/OGV//
RUEOLIO/109OG STRATTON ANGB NY//CC/OGV//
RUVRMBA/118OG NASHVILLE IAP TN//CC/OGV//
RUCLANK/123OG STANDIFORD FLD KY//CC/OGV//
RUHUBBA/124OG BOISE AIR TRML GOWEN FLD ID//CC/OGV//
RUVMSLA/127OG SELFRIDGE ANGB MI//CC/OGV//
RUVRBQA/130OG YEAGER APRT WV//CC/OGV//
RUEDRMA/133OG MINNEAPOLIS ST PAUL IAP MN//CC/OGV//
RUEBIEA/135OG MARTIN STATE ARPT MD//CC/OGV//
RUWHDHA/136OG HENSLEY FLD TX//CC/OGV//
RUVOBJA/137OG WILL ROGERS APRT OK//CC/OGV//
RUCUSJM/139OG ROSECRANS MEMORIAL APRT MO//CC/OGV/LG//
RUEOLIE/143OG QUONSET STATE ARPT RI//CC/OGV//
RUEOBBG/145OG CHARLOTTE DOUGLAS IAP NC//CC/OGV//
RUWMBII/146OG CHANNEL ISLAND ANGB CA//CC/OGV//
RUVMBIA/152OG RENO ANGB NV//CC/OGV//
RUHUBKA/153OG CHEYENNE APRT WY//CC/OGV//
RUHVAAA/154OG HICKAM AFB HI//CC/OGV//
RUVRBFA/165OG SAVANNAH IAP GA//CC/OGV//
RUVABOA/166OG NEW CASTLE COUNTY ARPT DE//CC/OGV//
PAGE 09 RHCUAAA7053 UNCLAS
RUVRBPA/167AW MARTINSBURG WV//OG/OGV//
RUVMBJA/176OG KULIS ANGB AK//CC/OGV//
RUVABKA/179OG MANSFIELD LAHM APRT OH//CC/OGV//
RUCUPEO/182OG GREATER PEORIA APRT IL//CC/OGV//
RUWTFAA/189OG LITTLE ROCK AFB AR//CC/OGV//
RUAHBCC/374OG YOKOTA AB JA//CC/OGV//
RUPEAAA/302OG PETERSON AFB CO//CC/OGV//
RUCLERA/403OG KEESLER AFB MS//CC/OGV//
RUEOGEA/440OG GENERAL MITCHELL IAP WI//CC/OGV//
RUWMHGA/611AOG ELMENDORF AFB AK//CC/OGV//
RHCPMXA/908OG MAXWELL AFB AL//CC/OGV//
RUEDGFA/910OG YOUNGSTOWN-WARREN ARS OH//CC/OGV//
RUEDPEA/911OG PITTSBURGH IAP PA//CC/OGV//
RUEBFLA/913OG WILLOW GROVE PA//CC/OGV//
RUEDGOA/914OG NIAGARA FALLS IAP NY//CC/OGV//
RUEDRMA/934OG MINNEAPOLIS ST PAUL IAP ARS MN//CC/OGV//
RUCUSJM/AATTC ROSECRANS MEMORIAL APRT MO//CC//
RUHUBMA/USAFWS NELLIS AFB NV//WSC//
RUVRAAA/WR-ALC ROBINS AFB GA//LF//
RUVOAAA/OL B AMC TINKER AFB OK//LGNB//

PAGE 10 RHCUAAA7053 UNCLAS
RUEOEEE/CJTF SWA//J1/J3/J4//
RUHVAAA/615AMSG HICKAM AFB HI//CC//
RUHUTRA/615AMOG TRAVIS AFB CA//CC//
RHFQALG/621AMSG RAMSTEIN AB GE//CC//
RUEOLIA/621AMOG MCGUIRE AFB NJ//CC//
RHFQAAA/623AMSS RAMSTEIN AB GE//CC//
RHDLPVN/625AMSS NS ROTA SP//CC//
RHFTAAA/626AMSS RHEIN MAIN AB GE//CC//
RUDOVFV/627AMSS RAF MILDENHALL UK//CC//
RUQNAMS/628AMSS INCIRLIK AB TU//CC//
RUVACEC/629AMSS LAJES FLD PO//CC//
RUAHAMS/630AMSS YOKOTA AB JA//CC//
RUADPDA/631AMSS OSAN AB KOR//CC//
RUWMHGS/632AMSS ELMENDORF AFB AK//CC//
RHAKAAA/633AMSS KADENA AB JA//CC//
RHHEAAA/634AMSS ANDERSEN AFB GU//CC//
RUHVAAA/635AMSS HICKAM AFB HI//CC//
RUWMEGA/640AMSS HOWARD AFB PM//CC//
RUEOBSA/1621AMSS DHAHRAN SA//CC//
RUHUBMA/OL B AMC NELLIS AFB NV//TACC//

PAGE 11 RHCUAAA7053 UNCLAS
RUHUBMA/DET2 AMOS NELLIS AFB NV//CC//
RUVMONT/DET4 2762LS ONTARIO CA//CC//
RUWTFAA/DET5 TRSS LITTLE ROCK AFB AR//CC//
RHCUAAA/HQ AMC SCOTT AFB IL//SCMN/SCMV//
RUHPCSF/NAVCSRF HONOLULU HI//N33//
RHCUAAA/375CPSS SCOTT AFB IL//SCOW//
RUEOEEC/4404WG PROVISIONAL//CC//
RUEOEEC/4410WG PROVISIONAL//CC//
RHHEAAA/36OSS ANDERSEN AFB GU//CC//
RUAHBCC/5AF YOKOTA AB JA//DO//

BT
UNCLAS
SUBJECT: MAXIMUM PARATROOPERS ON C-130 AIRCRAFT
1. WE HAVE RECENTLY NOTED SOME CONFUSION AND FRUSTRATION BETWEEN OUR AIRCREWS AND YOUR PLANNERS AND JUMPMASTERS CONCERNING THE MAXIMUM NUMBER OF PARATROOPERS THAT MAY BE LOADED ON C-130 AIRCRAFT. WE UNDERSTAND THE FRUSTRATION YOU MAY FEEL WHEN PLANNING A MISSION TO AIRDROP 62 PARATROOPERS, ONLY TO HAVE SOME TROOPS TURNED AWAY AT AIRCRAFT LOADING TIME. BECAUSE YOUR UNDERSTANDING OF OUR CONSTRAINTS
PAGE 12 RHCUAAA7053 UNCLAS
IS ESSENTIAL TO SUCCESSFUL JOINT OPERATIONS, WE OFFER THE FOLLOWING INFORMATION TO EXPLAIN WHY A REDUCTION IN PARATROOPERS IS NECESSARY AT TIMES.
2. THE GOVERNING REGULATION ON LOAD PLANNING C-130 AIRDROP MISSIONS, MULTI-COMMAND INSTRUCTION (MCI) 11-258, STATES THE MAXIMUM NUMBER OF PARATROOPERS THAT MAY BE LOADED ON C-130 AIRCRAFT, CONFIGURED IN A TACTICAL AIRDROP PARATROOP ONE (TAP 1) CONFIGURATION, IS 64 (62 JUMPERS, 2 SAFETIES). HOWEVER, SOME C-130 AIRCRAFT CANNOT BE LOADED WITH THIS MANY PERSONNEL BECAUSE THEY ARE NOSE HEAVY DUE TO THE INSTALLATION OF AIRCRAFT ARMOR, ALL WEATHER AERIAL DELIVERY SYSTEM(AWADS) EQUIPMENT, AND OTHER MODIFICATIONS.
3. AIRCRAFT FUEL CONFIGURATION AND PARATROOPER RIGGED WEIGHTS AFFECT THE AIRCRAFT CENTER OF GRAVITY (CG) AS WELL. WHEN FUEL IS CONSUMED,HE CG MOVES FORWARD. ADDITIONALLY, THE HIGHER THE PARATROOPER RIGGED WEIGHT, THE MORE THE AIRCRAFT CG WILL SHIFT FORWARD. IF THE CG MOVES OUTSIDE OF THE ALLOWABLE FLIGHT LIMITS, SAFE AND EFFECTIVE AIRPLANE PERFORMANCE CANNOT BE ASSURED. TO MAKE CERTAIN THE AIRCRAFT CG IS WITHIN SAFE ALLOWABLE LIMITS, THE LOADMASTER (AT TIMES) MUST REDUCE
PAGE 13 RHCUAAA7053 UNCLAS
THE NUMBER OF TROOPS LOADED IN THE FORWARD AREA OF THE CARGO COMPARTMENT.
4. THE FOLLOWING INFORMATION, USING AN AWADS C-130E AIRCRAFT (WITHOUT ARMOR INSTALLED), IS PROVIDED AS AN EXAMPLE TO SHOW THE NUMBER OF PARATROOPERS ALLOWED ONBOARD AN AIRCRAFT WITH VARIOUS FUEL CONFIGURATIONS AND VARIOUS PARATROOPER RIGGED WEIGHTS:
FUEL------------------JUMPER WEIGHT----------JUMPERS ALLOWED
15,000 TO 45,000 LBS---------220-----------62 PLUS 2 SAFETIES
15,000 TO 36,000 LBS---------300-----------58 PLUS 2 SAFETIES
15,000 TO 36,000 LBS---------350-----------56 PLUS 2 SAFETIES
45,000 LBS-------------------300-----------56 PLUS 2 SAFETIES
45,000 LBS-------------------350-----------54 PLUS 2 SAFETIES
5. THE ACTUAL NUMBER OF PARATROOPERS ACCEPTED ON AN AIRCRAFT MAY VARY FOR EACH AIRCRAFT AS DETERMINED BY THE AIRCRAFT CG LIMITATIONS. REST ASSURED OUR AIRCRAFT WILL BE CONFIGURED TO MAXIMIZE THE NUMBER OF PARATROOPERS WE CAN SAFELY PUT ABOARD THE AIRCRAFT.
PAGE 14 RHCUAAA7053 UNCLAS
6. TO ALLEVIATE ANY PROBLEMS, WE RECOMMEND CLOSE COORDINATION BETWEEN YOUR MISSION PLANNERS AND AIR FORCE PLANNERS (MANAGING THE UNIT PROVIDING YOUR AIRLIFT SUPPORT) TO CONFIRM THE MAXIMUM TROOPS WHICH CAN BE AIRDROPPED PER MISSION.
7. WE HOPE THIS MESSAGE PROVIDES YOU WITH INFORMATION TO ASSIST YOUR MISSION PLANNERS AND JUMPMASTERS. REQUEST YOU DISTRIBUTE THIS MESSAGE TO ALL APPROPRIATE AGENCIES TO AVOID ANY DELAYS OR MISUNDERSTANDINGS DURING MISSION EXECUTION.
8. THE HQ AMC/DOV POC IS CMS FINNEGAN, DSN 576-4009 OR EMAIL THOMAS.FINNEGAN@SCOTT.AF.MIL (ALL LOWER CASE).
Notice the USAF bean-counter didn't mention the more likely Paratrooper weight of 250 pounds!! His figures jump to a worse case 300 pounds to pad his figures to get what he wants! If you care about the force-projection capability of the U.S. military you ought to email CMS Finnegan on this (click link above).
A USAF loadmaster writes on the 54-58 in the C-130 non-sense:
It's just a technicality. It might be possible that someone could compute a weight balance that would show a C-130 out of limits in terms of CG, but all you would have to do is shift some weight to compensate.
It sounds to me like someone is being a prick. Sometimes people get carried away. Is the CG too far aft or too far forward? All they would have to do would be to place some ballast at the opposite end of the cargo compartment if it is a problem. But even if the CG were out of limits, with 1,000 pounds in a loaded airplane, it would only be slight, and would not affect how the airplane flies. CG considerations are primarily for adverse situations, unless they are extreme. Basically, an aft CG would make the airplane spin flat if it were get into one while an extremely forward CG might make it difficult to rotate the nose for takeoff.
I don't know when the armor was installed in the airplane you are using, but they installed it on C-130s in Vietnam. The armor would cause a more forward CG. I'm not familiar with AWADS equipment so I don't know where it is located. But it sounds to me like the CG is forward. If that is the case, all they have to do would be to put a few shot bags on the aft ramp to move it to the rear. Airplanes fly every day with ballast. An airplane should, of course, be loaded so that the CG is within published limits. But it's not going to crash if it is not 100% accurate.
If you're dealing with enlisted men in this discussion, somebody needs to bring in someone with more knowledge of the airplanes. Loadmasters are not that familiar with aerodynamics; they are trained to compute weight and balance, but that is it. Weight could be a problem, but you're only talking about 1,000 pounds! That's 15 minutes fuel."
While we can and should get a reduced volume T-21 parachute with reserve on the back, use M4 carbines that don't need M1950 weapons cases, and re-arrange the C-130 insides so seats can be placed at the wheel well bulges, most of the problems are caused by the Army TA-50 being taken aboard and is thus solvable at our own level. Now that the AF is wimping out on us to perhaps save a few bucks in fuel costs, its vital that we trim down Paratrooper loads to under 250 pounds per man to beat them at their own game. We also need a new parachute system which has the d-bags detach from the static-lines and stay with the canopy so only the AF Loadmasters need to remain inside to pull static-lines back in. This would allow the 2 Army Safeties to jump, 2 more "shooters" on the ground.
The Soldier's Load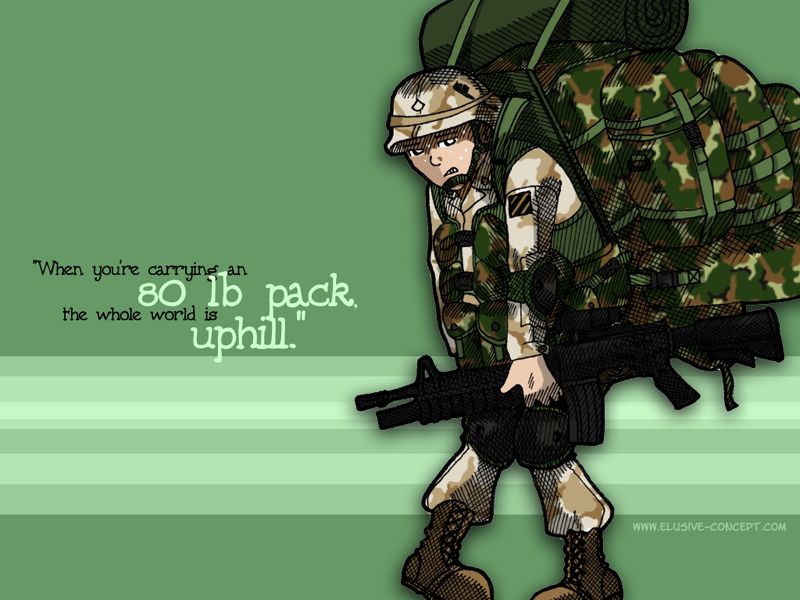 All studies of the maximum Soldier's load have concluded no more than 1/3 of an individual Soldier's body weight should be carried into battle. For a 160-pound Soldier this means no more than 50-60 pounds tops. The Rangers jumped 3 times this weight in Operation Just Cause, Panama. While its HOOAH! now to talk about it, it robs the Soldier of being able to IMT (individual movement techniques) and his ability to out-maneuver the enemy under fire. Modern Ranger founder, Colonel (later BG) William O. Darby who trimmed his Rangers loads down so they could speed-march at a phenomenal 6-7 mph (10 miles in 87 minutes) must be doing push-ups in his grave.
The consequenses of NOT being more mobile than the enemy are best expressed by former marine Bill Erhart:
"They were far more mobile than we were. It was their country, they knew where they were going, they didn't need guides to get them around, they didn't need interpreters.
When we went into the field we took 50 or 60, 70 pounds of gear. Your average Vietcong guerrilla might have carried, might have been carrying ten pounds worth of stuff. He'd carry a rifle and a few rounds of ammunition and a little plastic bag or a leaf filled with some rice, and that's all that man needed -- or woman.
There were a lot of female guerrillas. They were quick, they could get around, and if they did not want to engage you, they simply melted away -- they dis-appeared, you didn't see them."
CAPT. NGUYEN VAN NGHI
"Having fought against American troops many times, I came to the conclusion that they had a lot of bombs and shells -- that they were very powerful as far as war materials were concerned. But they did not fight very well at all. They moved very slowly and really were not that mobile."
Solutions to jump safer, and move faster on the battlefield
One of the official studies of all the Ranger injuries during Panama concludes:
"The authors conclude that methods of bracing to prevent injuries need to be considered, such as prophylactic ankle braces on high intensity nighttime parachute operations."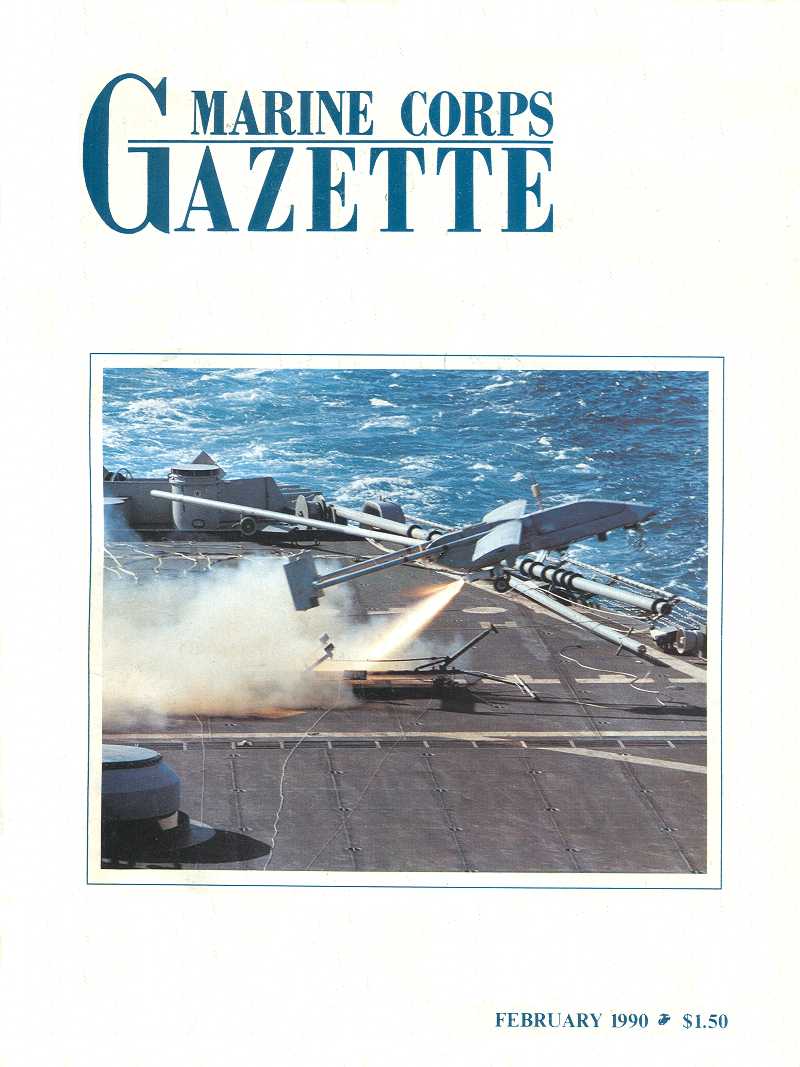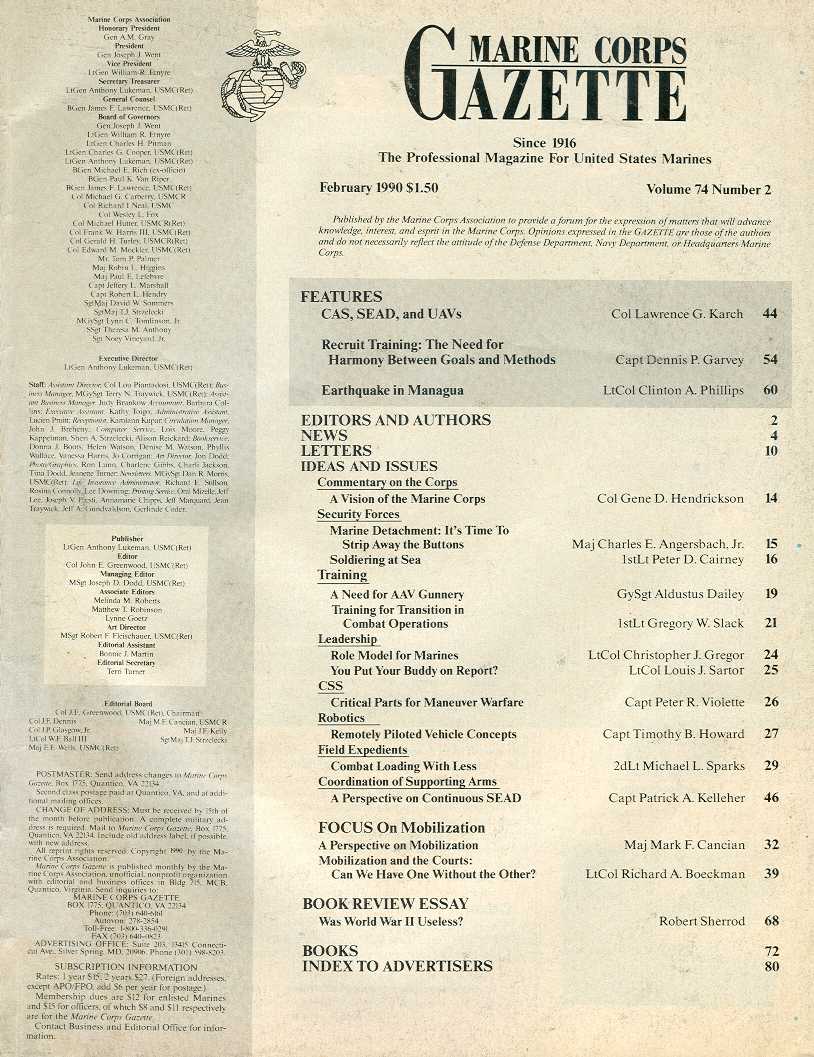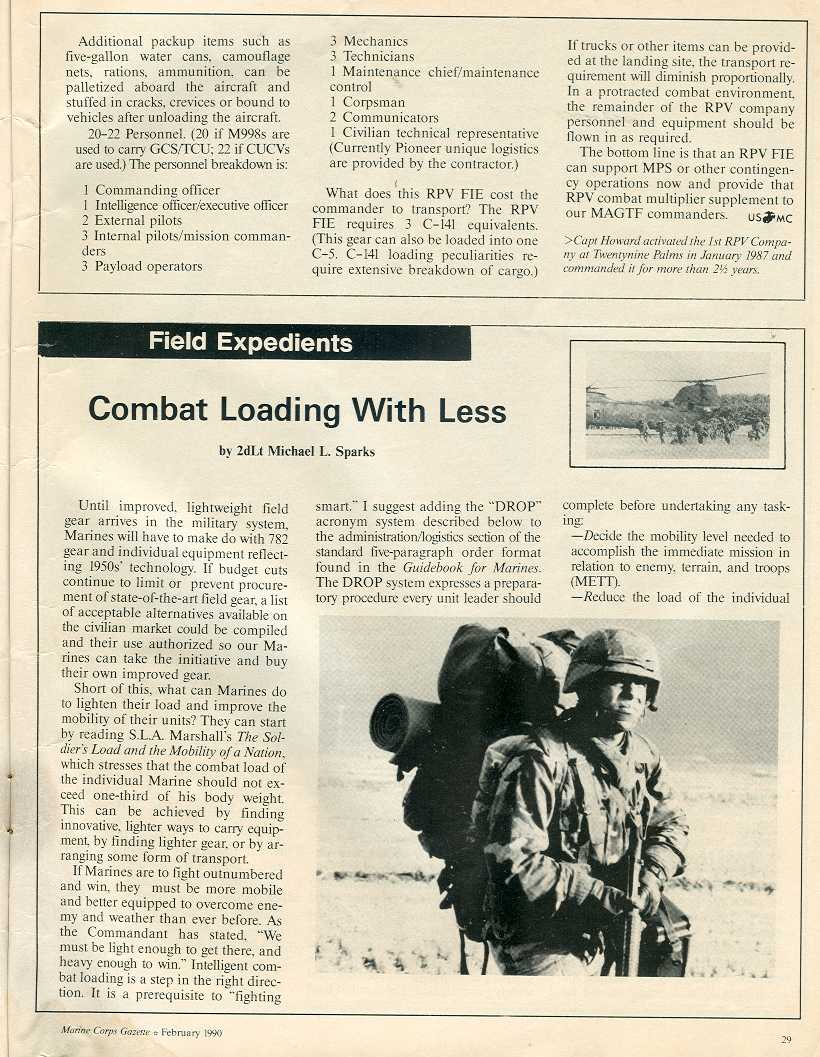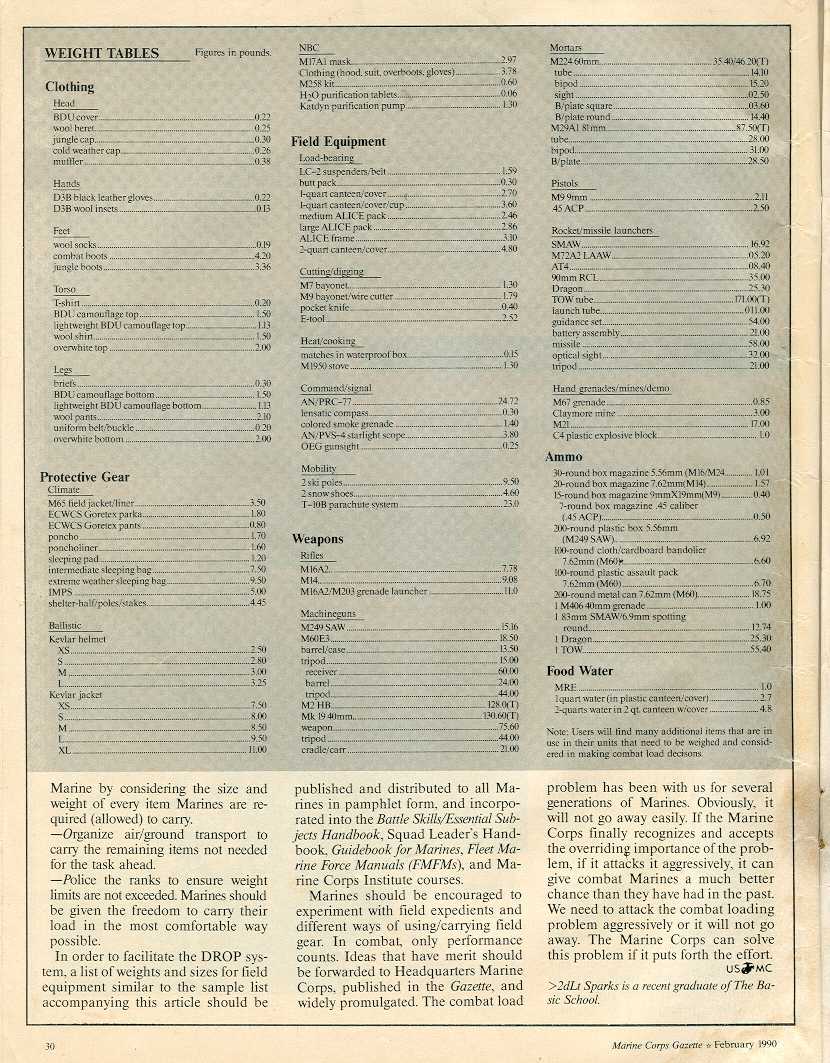 If you read back into past issues of Infantry magazine, you'll notice that every 2-3 years someone wails about the Soldier's load problem. We have a SOLUTION. It begins with the acronym DROP.
D ecide mobility level needed to accomplish the mission
R educe unnecessary equipment
O rganize other transportation means to move gear
P olice the ranks to insure these weight goals are met
OPORD.

DECIDE MOBILITY LEVEL:

Solder's Load Realistic March Speed Attainable
_________________________________________
0-30 pounds.............................5-7 mph
30-40 pounds...........................4 mph
40-50 pounds...........................3 mph
50-70 pounds...........................2 mph
70+..........................................1 mph or less (barely move)


Figure out duty assignments and indicate the load using Weight Tables to determine what you will allow to be carried for Squad-Team leaders, MMG team members, Grenadiers, Riflemen, RTOs. This will take some work.

After doing a tabulation of your Soldier's load using the DROP Weight Table Excel spread sheet (click here to open; just type in your quantities and it'll automatically tabulate) which automatically adds up your weights, or do it by hand using the raw work sheet below at using www.combatreform.org/weighttable.htm

Guess what? Thats why you are a combat leader in the U.S. Army. If you do not have time, make time. THIS IS IMPORTANT. The reason why the U.S. Army has low levels of Soldier mobility and an overloading problem is because we fail to see the connection between low Soldier mobility and battlefield losses in Vietnam, Panama and Somalia.

To improve U.S. Army speed over the battlefield so it can depart from motor vehicles out of range of enemy observation-sensors the APFT needs to have the 2 mile run replaced with a 6-mile speed march in BDUs, Boots, LBE, 30 pound rucksack and helmet. The 2 mile length is extended by a mile so Soldiers march down 3 miles and back for a total of 6. Goal is to do this in under an hour = 6 mph. With a tangible goal to shoot for, Soldiers and units can work hard to configure mission loads to meet this speed and condition bodies and feet. Push-ups and Leg-lifts (replaces harmful to the lower back sit-ups) are also done in BDUs & Boots with top jacket removed. The APFT needs to be a combat fitness test not a sports test. The Army PT uniform however snazzy can be worn during PT sessions but the BDUs should be worn at the end of the day for PT not the current listless morning routine. What matters is COMBAT physical fitness and capabilities not narcissism.

REDUCE UNNECESSARY EQUIPMENT
Who says we need to take rucksacks into the field? LTC Hackworth's Hard Core Battalions of the 9th Infantry Division in Vietnam didn't and were able to out guerrilla the guerrilla. The rucksack needs to be seen as a LOG PACK not a "mobile home". Take the new Lightweight Sleeping Bag with head opening/unzips to be a blanket in a buttpack (NSN 8405-01-H77-9567) or poncho liners with zippers added, a space blanket to reflect heat back as a ground sheet and use a poncho with cords attached to make a tent = all can fit into a buttpack. If sleeping bags must be carried, only one per every 2 Soldiers if 50% security is to be maintained. Have SERE (Survival, Evasion, Resistance, Escape) skills in your head so you can make shelter from natural materials. Laminate a card with basic SERE skills carried in your BDU pocket.

Jump the M4 5.56mm carbine exposed, without the M1950 case using the T-10C parachute waist band and some padding. Urge the decision makers to buy a T-21 parachute with reserve parachute integral to the back with the main to de-clutter the Paratrooper for cleaner exits without snagging at the door. A simplified, reduced volume T-21 parachute with pouch on the side to hold the M4 carbine can be stowed under the seats, then easily in-flight rigged even in pitch darkness; rucksack added, the Paratrooper is ready to jump. The same number of men that can be airlanded can now be airdropped since the weight of the parachutes is small: aircraft carrying personnel max out by volume before reaching weight limits. The T-21 should have split-saddle leg straps for long time periods of wear without blood circulation loss and discomfort. The inner packtray at the back should have a pouch to carry the folded kit bag for parachute recovery without having to be worn under the leg straps as desperate groin padding that only clutters the jumper and increase snagging risks.

If rucksacks must be jumped; use a streamlined water bladder with drinking tube worn as a sort of camel's hump at the back of the Paratrooper to carry extra water instead of a 2-quart canteen sticking out from the rucksack where it can snag on the jump door. Bring a cooler of water or sports drink in the plane inbound to the target area so Paratroopers are hydrated fully before the jump so they can carry less water which realistically will be inaccessible under fire in the drop zone as the current canteen is a pull-out, open the cap and pour into the mouth item. Each squad has a Reverse Osmosis Water Purifier (ROWPU) pump so water can be collected and securely purified so less has to be man-carried into battle.

Place the E-tool (1 per every 2 soldiers) in the buttpack not in its case sticking out from the rucksack. The current M40 Field Protective Mask carrier is abominable----at least 2 times as big as it needs to be---on the leg it is a serious drag on mobility. Use a 2 quart canteen cover to carry it on the LBE belt not rigged under the rucksack until we can field a belt-sized carrier. You don't want to carry water in the 2-quart canteen cover sticking out from your rucksack, anyway. Wear a Camel-Bak(c) bladder at your back to cool/pad your back and give you STREAMLINED drink-on-the-move capability.

The M60 [and soon M240B] MMG uses the M122 tripod that shouldn't be jumped exposed sticking out under the rucksack top flap where its 27 inch length has made exits out 36 inch wide C-130 Hercules jump doors difficult, and has snagged on parachute suspension lines, injuring Paratroopers seriously. A simple modification to the Spare Barrel Bag of two pockets at the end with 2 quick-release straps in the middle and one across joining the two pockets covers the tripod so it can be carried with the spare barrel, pintle, T & E. No metal edges portrude from under the rucksack and all of the MMG's parts including the new Flex-Mount can be carried by the Assistant Gunner hands-free so he can use his M4 carbine to defend himself. The modified MMG SBB has been accepted by the Army as a Soldier's Enhancement Program (SEP) item for 1998. Clink on the link provided for details if you want to make the modifications sooner.

ORGANIZE OTHER TRANSPORTATION MEANS
Do not give Soldiers 67 pounds of 7.62mm ammunition to carry! Use ammo bearers or All-Terrain All-Purpose Carts (ATACs). ATACs like the UT 2000 in use by dozens of free world armies is two backpack frames that can be joined to form a stokes litter that can carry a wounded Soldier or be winched aboard a hovering helicopter if no Landing Zone is available. With All-Terrain wheels, one Soldier can tow a wounded soldier or 200 pounds of ammunition/equipment using the over-sized tires for low-ground pressure instead of 2-4 Soldiers by stretcher hand-carry. A backpack-body type ATAC can be packaged in a door bundle with ammunition for recovery on the drop zone reducing the individual Paratrooper's loads for safer jumps. The ATAC "Pack Rat" has been approved as a future U.S. Army SEP item.

The door bundle itself can be improved by using a piece of truck bed liner plastic so the directional rids will help jumpmasters-safeties slide the bundle forward and out without slipping back against the trailing edge of the door when encountering the slipstream of air rushing by the jump door. The bundle goes out quickly at the beginning and end of the stick, so heavy loads like the 48 pound Javelin ATGM and MMG ammunition can be delivered to Paratroopers and Rangers. The U.S. Army Airborne/Special Operations Test Board at Fort Bragg, North Carolina has been examining the truck bed liner plastic aid for door bundles.

If we carry grenades they should be dual-purpose projected rifle grenades with extending fins or can be thrown as hand grenades to make every Paratrooper a grenadier not just a few with M203 40mm grenade launchers who in a firefight may not be in position to fire as experienced by the U.S. Navy SEALs pinned down at Punta Paitilla airport during Operation Just Cause.

The rucksack itself must be viewed as a LOG PACK to be collected up by the organization's motor transport and taken to supply dumps and filled with food (MREs), water, and ammunition and shuttled back to the troops as the mission progresses, not wed to his back like a turtle shell. In his book, We Were Soldiers Once and Young, General Hal Moore describes how an NCO, SGT, E-5 Savage took a rucksack filled with M16 rifle magazines into LZ X-Ray; when his unit was cut-off, this ammuntion saved them from being over-run. Soldiers must be made to realize the rucksack is not their personal "security blanket": they must learn to live from their fighting load's buttpack; which is possible most of the time in warmer weather down to about 40 degrees. The rucksack should be to move bulk ammunition, (MREs) food, water without breaking. Moving Soldier rucksacks is the responsibility of unit S-4 whenever possible.

Airdropped in Container Delivery System (CDS) bundles off the rear ramp are dozens of folding All/Extreme Terrain "Mountain" Bikes that Paratroopers can use to fan out from the drop zone at 10-25 mph to establish security-blocking positions, seal off the escape routes of rebel leaders leaving urban areas. Inherently stealthy, A/ETBs coupled with Paratroopers wearing infared defeating clothing can traverse any terrain via 6-10 inch wide over-sized tires. Wide rear racks can carry the rucksack if chosen to be carried.

POLICE THE RANKS
This is simple, take the unit's scale used to weigh-in Soldiers when taking the APFT and have the Soldier get on without his ruck, then add his LCE, then rucksack (if taken). Subtract from his personal body weight. If he's too heavy for his duty position, remove equipment to meet the mobility level needed to finish the mission. No exceptions.

2008 UPDATE: WHO SHOULD DECIDE WHAT SOLDIER GEAR WE USE? A COUNCIL OF COLONELS OR THE LTs, SGTs, PVTS WHO CARRY THE GEAR AND WHOSE LIVES ARE IN DANGER?

The 1st Tactical Studies Group (Airborne) since 1997 has online;

www.geocities.com/equipmentshop

offered and detailed through U.S. Army official channels; commercial, off-the-shelf and equipment modification solutions to almost every problem listed (and then some like ahumm, SOLVING THE SOLDIER'S LOAD) in the appalling recent U.S. Army Natick Afghanistan Report (which is viewable here). As we also forewarned, the u.s. marine designed "MOLLE" gear has been a COMPLETE and utter failure in Afghanistan service--even for the short time marines made a token ground appearance and fled back to their ships as the U.S. Army dodges the RPGs, mortars and AKM rounds to hunt down and kill the enemy terrorists.

The bottom line is, closed-minded and small-minded people (we know all about them, don't we?) are running the Congressionally-mandated and funded Army's Soldier Enhancement Program (SEP) which could have PREVENTED this sad state of affairs by some low-cost purchases.

Want to make a suggestion to SEP?

Make a Soldier Equipment Improvement suggestion to SEP

The Afghan power points show a number of gear problems that many of us have solved and proposed solutions through SEP and Natick channels mostly for naught. The Brits have a plastic ammo box for their M240-type medium machine guns. We could have upgraded the Kevlar helmet with a better chinstrap and suspension, offered the Nomex flyer's glove with a little insulation and in a black color, ALICE rucksacks could have synthetic frames and quick-release buckles, issued a chest binocular/NVG pouch and provided a toothbrush/shaving razor cartridge attachment point on the end of the MRE spoon years ago. However, the decision makers generally don't act on Soldier inputs. The Afghan gear report is likely going to "whitewash" systemic failures so this is why we are calling on a Soldier board to be formed and given the money, authority and time to make Soldier gear decisions to prevent recurring failures like experienced in Afghanistan.

Whoever is ruining SEP should be replaced by someone who listens and ACTs on suggestions for improvement by Soldiers instead of pooh-poohing (ignoring) them with words like "dislikes". If a piece of gear doesn't work, gets left behind or gets someone killed it isn't some trivial matter.

The enemy terrorists got away from our Anaconda cordon and search operation while we were bogged down with equipment, a lot of it bad, so this is not a small matter. Details:

www.geocities.com/usarmyafghangearproblems

www.geocities.com/equipmentshop/realmountaindivision.htm

Solution: Soldier TA-50 Board and Subject Matter Experts in every unit

OK.

I think you see we are furious, and rightfully so. Here is THE ultimate solution.

We've just learned that its a "Council of Colonels" that meets to decide gear for us grunts for the SEP program to "type classify" (tested to "perfection" to be declared Army kosher) when it should be the lower-ranking gear gurus who are actually humping (carrying) the machine guns, rockets and mortars from every Army command representing their specific climes/places/missons. This is why a lot of our gear sucks. Most Colonels we've run into are concerned more with form than function and are not technotactically oriented and candid. SGTs, LTs and CPTs should decide on our new gear.

The expertise of the natural "gear gurus" should be tapped and have them designated as a "Master TA-50 Specialist"---an additional skill identifier (ASI). These gear experts would go to Natick Labs and be school trained on the proper fit and wear of ALL Army equipment and have field living (survival skills) taught to them so they can advise Commanders that a hot weather desert boot is NOT a mountain boot and how to properly size Soldiers for body armor so a bullet doesn't sneak by and kill them. The Army's Master TA-50 Specialists would also train the Soldiers in their companies how to wear and maintain their TA-50 as well as be pro-active about getting better gear. The Army is strangely an organization that goes "camping" yet hasn't trained itself how to "camp". Lay on top the need for combat mobility 4-7 mph which requires smart loading and constantly improved equipment, its clear that a Soldier from every Company in the Army should go to "gear school" to become a Master TA-50 Expert. To fund this we should cancel the un-needed LAV-III/Stryker deathtrap armored car purchases and upgrade superior tracked M113A3 Gavins into IAVs for the IBCTs. Call them tracked IBCTs or "Gavin Brigades".

An Army bureaucrat informs us that Company Commanders can buy with unit funds whatever gear they need for their men from the GSA Catalog and CTA 5900 (not Army "type classified" but available for purchase: "good enough" using Army funds) but this is something that's not pro-actively done and known about. Have you ever heard about this? GSA catalog is on CDs Supply Sergeants have so it takes a bit of looking when it should be on the www for all Soldiers to see.

What we need is a Soldier's Board of lower ranking gear experts who will review new gear, get it on the GSA Catalog/CTA 5900 and then publish an annual focused list throughout the Army encouraging Commanders/units/individuals to buy these items. Apparently its ok for units to fund-raise to build up a unit fund or this purpose, too so not having the money is not an obstacle. This list of authorized field gear on GSA/CTA 5900 should be placed on the Army Knowledge Online (AKO) secure web site so any Soldier can see what the Soldier Board recommends they get ASAP.

Every year, every Major Army Division (Airborne, Air Assault, Light, Mechanized, Armored etc.) and separate unit (2nd ACR, 172nd Arctic Brigade, SF, Rangers) has ITS SOLDIERS select by vote a field gear representative who will travel to Fort Benning, Georgia to decide for the rest of the Army what off-the-shelf Soldier gear to buy and what gear to develop. Every unit has at least one "gear guru" right for this job; a pro-active Soldier who studied field gear and on his own tinkers and tests what works and does not. THE CHAIN OF COMMAND DOES NOT SELECT THE GEAR BOARD SOLDIERS. Some out-of-touch Army General does NOT select some political yes-man to be on the board to keep the troops ill-equiped and "in their place". Some DA civilian with a ponytail going through perpetual mid-life crisis does NOT decide what items are bought or developed, THE SOLDIERS DECIDE. No "Council of Colonels". Its the individual Soldier's lives that are at stake not some bureaucrat in a comfy office with one retirement already under his belt longing for the good 'ole days when the equipment they had sucked and everyone liked it. What the Soldier TA-50 Board decides AUTOMATICALLY become AUTHORIZED Soldier optional wear/use items without the current kill-joy, politically correct "uniform board" having one say in their decisions. They do a great job keeping everyone miserable and without esperit de corps during garrison hours; the field Soldier's attire should be guided by FUNCTION decided by the mud-Soldiers. Each year a list of acceptible alternatives will be decided on by the Board for Soldiers to buy/use on their own option. Each year the board will decide on commensurate with the SEP budget what items will be bought/issued to enhance Soldiers immediately. And each year the board will see what industry and Natick Labs have "cooking" and provide feedback.

SUMMARY/CONCLUSION
________________________________________________________________________

The Soldier's Load problem has been solved.

Will we execute these fixes? Its up to YOU, the Infantry Combat Leader to make it so.

AIRBORNE!, RANGERS LEAD THE WAY!

1LT William D. Linn II, a 1995 graduate of the U.S. Army Military Academy, he has a B.S. in history. Prior to commissioning, he served in 3/75th Ranger Regiment during Operation Just Cause, taking part in the night combat parachute assault at Torrijos International Airport. 1LT Linn currently serves as a rifle platoon leader in "B" Company 1-501st PIR, Ft. Richardson, AK. His awards/badges include; U.S. Airborne wings with star for combat jump, Ranger tab, CIB, Air Assault wings, Pathfinder torch and 3 foreign jump wings; England, Germany and Egypt.

1LT Michael L. Sparks, a 1988 graduate of Liberty University, has a B.S. in history education. He leads a non-profit think-tank, the 1st Tactical Studies Group (Airborne) originally based out of Fort Bragg, North Carolina that has field-tested and proven many of the equipments described above in the article, offering them for no charge to the U.S. Army. A prior service marine NCO and officer, he is a graduate of ITS, OCS, TBS, IOC, Israeli Airborne School, Combat Life Saver, and U.S. Airborne School. His articles on military excellence have been published in U.S. Army Infantry, Armor, Air Defense Artillery online Special Warfare, Logistician, the Rucksack, Armed Forces Journal International, National Guard, Marine Corps Gazette, U.S. Naval Institute Proceedings, Behind the Lines, SOF, Mountain Bike, Fort Bragg POST, Fort Benning Bayonet.

1st Tactical Studies Group (Airborne)

Home pages:
1st TSG (A) Home
---
Private Murphy's View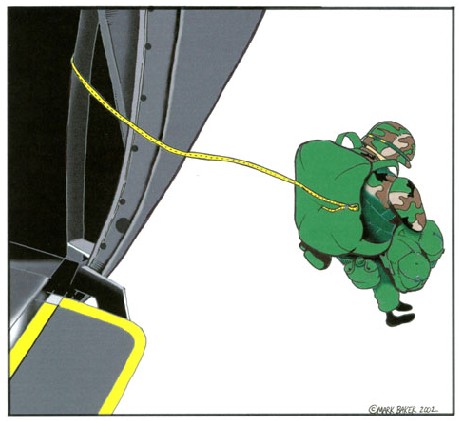 Want Pvt Murphy in your pocket?

Return to U.S. Army Airborne Equipment Shop
---