UPDATED 12 September 2009

AIRBORNE SCHOOL AAR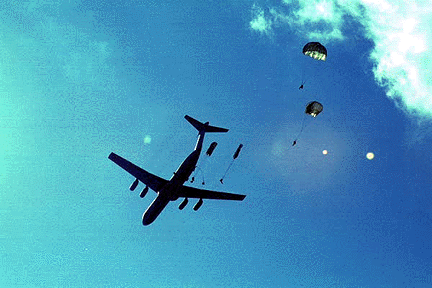 EDITOR'S NOTE: 1st Tactical Studies Group (Airborne) Director, Mike Sparks wrote the following AAR in 1997 while still hopeful that Airborne school cared in general about student-Soldiers at least SOMEWHAT. With the passing years we've come to the conclusion that "Airborne" to them is an I'm-better-than-you ego badge and they are the zero-sum game "gatekeepers" who want a bunch of people to fail, and if they die in failure this somehow adds "luster" to their "blood-on-the-risers" egotistical mentality. Total bullshit (BS) is what it is and the founder of the U.S. Airborne General Gavin if he were here today would not tolerate Airborne 3D maneuver warfare to degenerater into an ego club membership ritual.
What the Airborne is Really About...
www.youtube.com/watch?v=Z_k-NL_wwAA

www.youtube.com/watch?v=6aWaH-NflPo
Mike writes:
"I've written the following AAR to offer constructive help to make the Airborne course better. I recently graduated from "C" Company which utilized a new PT program but was actually Airborne qualified in another country before arriving. I had 8 jumps while attending Israeli jump school
www.youtube.com/watch?v=h3CX4yfb9sY
...and another 3 here in the U.S. to include C-130, C-212, UH-1H Huey jumps using the exact same T-10 and MC-1 type parachutes taught in the U.S. Airborne course. The vigorous "up and out" exit was taught to me by the IDF Paratroopers for the C-130, so I welcomed the opportunity to learn the relatively new U.S. walking exit for the C-130. While I wasn't terrified of jumping per say, my U.S. jump school experience wasn't as upbeat as it could have been due to a number of correctable factors.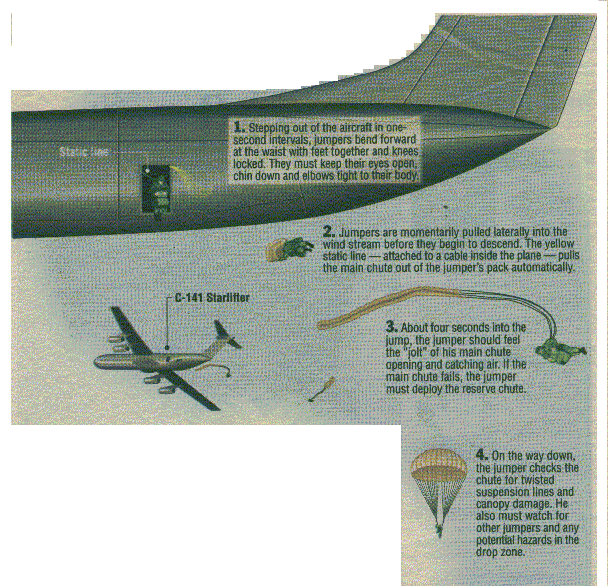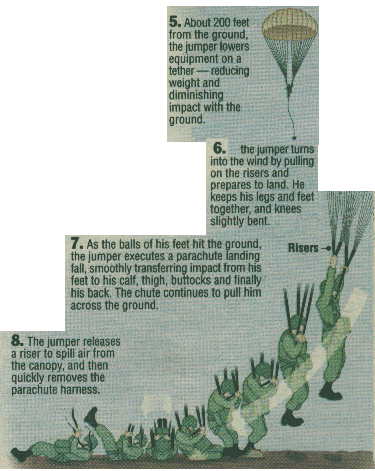 AARs
All Airborne school graduates should have a chance to fill-out a written AAR to turn in for the cadre to utilize in improving the course the day before out-processsing.
"Fear factor" = Created by Ignorance through Bad Techniques & Instruction
BAD JUMPING CONTINUES AFTER JUMP SCHOOL
www.youtube.com/watch?v=93G27U_HdZY
For 2 weeks our class was in mortal fear over jumping and miserable from muscle failure PT. Due to a lack of info on how the actual jump works, people were dreading every minute instead of welcoming it. Knowledge of what is going on based on confidence in the cadre's training and our equipment is far better than blind faith. A marine Gunnery Sergeant in my chalk did nothing on his first jump except throw himself out the jump door... he was so terrified. No canopy control, no riser slips, no Parachute Landing Fall (PLF). Many other students were the same way; it took all their courage just to throw themselves out the plane. This is a recipe for injuries. We can do better than this by giving them a glimpse of the actual jump using videotape footage and in general answering their concerns with detailed explanations using visual aids not just verbal descriptions. Students should not leave Airborne school with a bittersweet taste in their mouths. This harms the Airborne operation by making people view it as a "chore", which when you get to jump week you find it is not. It is a mistake to rely on the actual jumping to "sell" everything and change perceptions to the positive in the last week. The people that leave Airborne school are our most visible and vocal allies and should be unequivocally positive about their experiences. This is vital because there are powerful budgetary enemies to the Airborne despite the fact that the world we live in moves by air. America needs a strong Airborne because she is a strategic air power.
We should show an Airborne video on fill Friday to educate all students about the history, tradition and basic mechanics of the Airborne operation (How a parachute opens etc.). These videos are now on YOUTUBE so there's no fucking (that's right I use the F-word because murdering our Soldiers for BS initiation rite crap deserves the F-word) excuse for the Airborne Black Hat snobs not to show them to EVERY student to empower them with KNOWLEDGE. High school football teams show games film/videos and are more professional about what they do for sport then we do in the U.S. military for life/death defense of our nation. Shame on us.
Airborne Assault by Video Ordnance Firepower!
2008 EDITOR: here's jump footage from the Airborne/Special Operations Test Board of static line parachute jumps that could also be shown:
View from the Jump Door
www.youtube.com/watch?v=LihzUu30YtE
View of Paras exiting outside the C-130
www.youtube.com/watch?v=lYqRQzECMzU
View from the Perspective of the Individual Paratrooper
www.youtube.com/watch?v=_VUsHQuWgug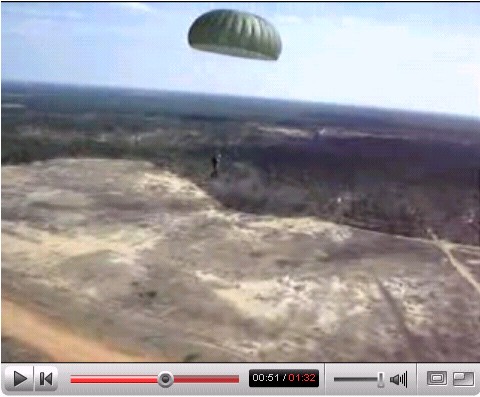 OTHER LINKS:
www.armyrotc.vt.edu/multimedia/airborne.mpg
---
The video clips above solve the problem of filming a jump from the ground up--the plane is often in the dark in bad light. Obviously the footage in some cases is from the Ft Bragg Airborne Special Operations Test Board from a chase plane, probably their T-34C Mentor. There is also excellent footage from above the side jump door with a mounted video camera.
---
This could be done in the company area or at McCarthy Hall at Lawson Army Air Field; students need to see the Airborne history/wall displays in ground week not just before they jump. They need to be inspired and motivated early. In fact, we should create outdoor bulletin boards at Mann and Eubank jump training fields with Airborne history for them to read during water breaks.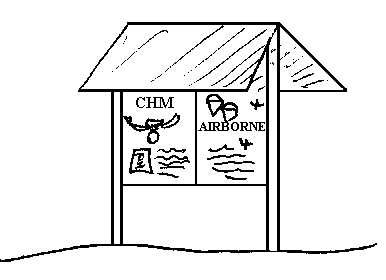 Or even just print out a description of how the T-10 static-line parachute jump works: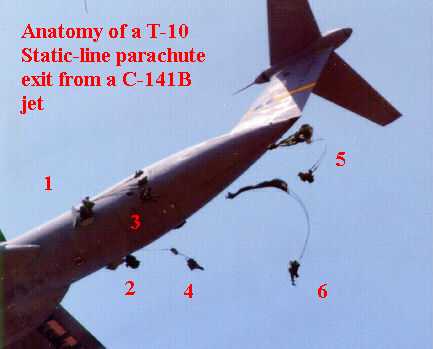 1. Left door jumper stepping off from C-141B jump platform. He is shielded by a large air deflector with "swiss cheese" type holes. Its critical that he be in a tight body position as he exits to create a "knife edge" for the air flow to not catch and spin him around. At this point he is unfettered by the jet blast. You can see the previous jumper's static-lines and deployment bags streaming out the door horizontal and high up on the door. The D-bag catches air and creates drag on the airplane, making it difficult to pull them in after a pass over the drop zone. Thus, the number of jumpers per anchor line cable is limited to less than the seating capacity of the plane. Worse yet, 2 x Army Jumpmaster acting as the "Safeties" DO NOT JUMP TO THE BATTLE BELOW and stay to help the USAF Loadmasters pull the static-lines and D-bags into the plane!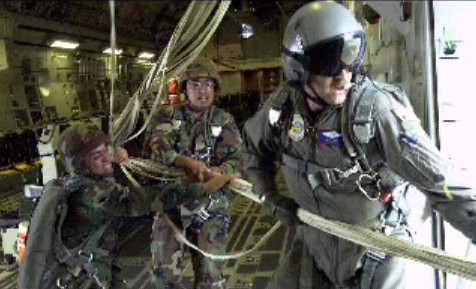 Some foreign parachutes have D-bags detach with the parachute or no D-bags at all, leaving only static lines trailing out the plane for max jumper capacity and faster exits from the drop zone by delivery aircraft. The sooner the jump doors are closed, the sooner the plane can throttle up to full speed to exit the area.
2. The right door jumper is already stepping out into space, his rucksack low on his legs catching air first followed by the rest of his body. He MUST be in a tight body position as he instantly drops from the aircraft's altitude the 15 soon to be 20 feet with the new Universal Static Line to pull his static line tight and have it open the 50-pound breakaway cotton cord holding his parachute pack tray closed. The door exit is key to a good opening canopy sequence---this is why we must remove the gear cluttering the Paratrooper's body so he can better gain this attitude in the air.
3. Jumper #3 is floating away more sideways than down, his packtray has just been opened and you can see his d-bag pulling out from his back as the suspension lines pay out. The canopy itself is still in the d-bag.
4. On the other side, Jumper #4 is farther along with his suspension lines about 1/3d of the way out
5 & 6. Once ALL the suspension lines and risers are off/out from the d-bag, the fun begins. You can see the two sets of risers on Jumper #5. Ties holding the canopy are broken, and the canopy starts coming out of the d-bag pulled by the weight of the Paratrooper. Once the canopy is fully elongated, the ties at the apex break from the d-bag; the canopy is held at the top for a brief split-second "yank" that creates the curved arc shape seen in the picture. The D-bag flops up and stays with the aircraft flying away at 150+ mph. The Paratrooper is about 40 feet below the aircraft, as he is thrown forward by the travel of the aircraft during the opening sequence. His canopy will now rapidly fill with air, which will catch and turn him sideways, and then "teacup" to an upright position. This taking place under 4 seconds time. The jumper reciting a 4 second count, if he doesn't see a full canopy over his head will deploy his reserve parachute as he has already lost 50-100 feet of altitude.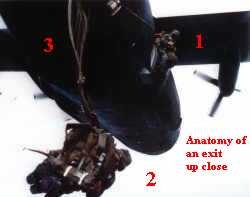 1. The first jumper from a C-130 doesn't have a large deflector like the C-141B or C-17 has. The "prop wash" will hit him hard, which is why in years past we used a vigorous up/out exit on the C-130...

2. What's humorous about this jumper is that he hasn't secured the bottom of his ALICE rucksack to a leg--it has been lifted by the airstream and flopped up into his face. He has a good tight body position, otherwise. this is exactly why we went to the Harness Single Point Release (HSPR) system to keep rucksacks tight to the body. However, a better solution would be to get rid of the chest mounted reserve and get the ruck off the legs.

3. His risers and suspension lines are all extended, they have not snagged on him or any of his equipment, his canopy is elongating. Soon, he will be pulled back from the plane by the open canopy, cut from the d-bag/static-line still connected to the plane. He is facing away from the plane and cannot see it---he is sideways from the airflow's power---a good exit---bad rucksack rigging.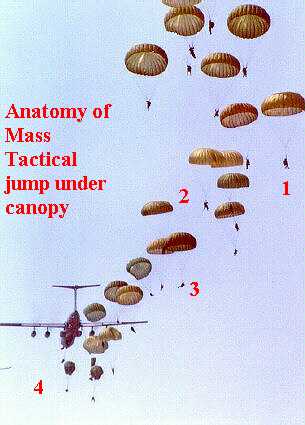 Why its important to have a clean, smooth exit:
1. Jumper with twisted lines, you can see him bicycling his legs to undo the twist.
2. Jumper with twisted lines
3. Jumper with severely twisted lines, could be in trouble, body seems sideways, as if some suspension lines got caught on his equipment. He does have a fully open canopy.
4. Notice the canopies opening under the aircraft at about 50-100 feet, yet upon opening they seem to rise a bit. Both sticks, left and right door converge at the tail into a single stream, which is why Jumpmasters are careful to stagger door exits to reduce risks of collisions. The two lowermost canopies are still filling up with air.
1. A beautiful shot looking up at a Paratrooper coming down! The edge of his canopy shows the white anti-inversion netting and the air billowing out each gore panel.
2. At the top opening or apex, air escapes to prevent the canopy from oscillating from trapped air having no place to go. While the "C" and "D" model's nylon fabric is transluscent, its not letting any air through, lowering the descent rate of the Paratrooper. Older "B" model parachutes are not made of zero-porosity fabric and descend at a faster rate.
3. The skilled Paratrooper has his feet/knees together ready to PLF (Parachute Landing Fall), perhaps his knees even a little too bent, resulting in a feet/butt landing.
4. He has "cheated" a little here by releasing his M1950 weapons case holding his M16 5.56mm rifle sliding it onto his Field Pack, Large Internal Frame rucksack dangling on the Hook, Pile Tape Lowering Line (HPT LL). The M1950 case is padded enough to stay by his side during the PLF and neither damage the weapon or the Paratrooper so he can get it and return fire on the enemey ASAP. With the advent of the shorter M4 5.56mm Carbine, the Paratrooper can jump with it slung over his shoulder with tape/padding added, making the M1950 weapons case completely un-necessary for the rifleman. The more we can streamline the Paratrooper, the better his exits will be at the jump door, resulting in good landings and combat power on the ground for the U.S. Airborne.
You may say "they should already be motivated when they come to jump school" etc. but the fact is many are new to the Army and haven't had the time to go to the library and read a book on the Airborne like a military history fan like myself might. We should recommend they go to the PX and buy some books on the Airborne as they attend the course but a short visit to McCarthy Hall can do wonders. This could also be coupled with a tour of the inside of a C-130H Hercules and C-141B Starlifter aircraft. Tapes like the "Weapons at War" (Assault from the Sky) or "Firepower" series (Airborne assault) on The Discovery Channel or History Channel could fill such a role in less than a hour.
What happened to the little blue books that used to be handed out to Airborne school students? SH 57-5. The SH 57-5s were full of Airborne history and jumping information. The blue book should be updated to include ALL U.S. Army Airborne jumps---Los Banos, Grenada, Panama, Desert Shield/Storm, Haiti, Somalia, Bosnia, Kosovo--all operations where the U.S. Airborne has lead the way for the entire U.S. militay. and handed out on fill Friday for Soldiers to read and memorize.
Muscle-failure PT program
Working entire body instead of focusing on legs only is good; stronger Soldiers better able to pull riser slips, better able to absorb PLFs, less leg injuries during training. However, there was not enough recovery time so Soldiers were winded, had sore muscles and were unable to sound off marching/running chants. There should be lighter PT between heavy PT days. We need to decide between Airborne school as an ordeal or a HOOAH motivational event. Cannot be both at the same time. You can only sound off when running at less than about 75% of your max performance rate, if you are at 95-100% you will be winded and it is unrealistic to accuse Soldiers of "not being motivated" for not sounding off loud. Suggest breaking Soldiers down into running ability groups for PT based on the first day's APFT; those that can run sub-13 minute 2 mile runs, 15 minutes, with 18 minutes the slowest group etc. This would prevent longer legged Soldiers from having to shorten their strides and increasing the pounding they take by extra steps. U.S. Army Air Assault School is reported to use ability groups for its runs.
On light PT days runs should be slowed down and the emphasis placed on motivational chants to build teamwork and group spirit. Students that know good motivational chants should be given a chance to call cadence during runs. A sample HOOAH cadence is enclosed.
One day's light PT should be a road march back to the Company area from Fryer DZ after watching a class ahead jump. This would give students a chance to see an actual jump, and act as a practice for their own night march back to the airfield/company area.
Water cans to fill up canteens carried in the left hand during a stop would be carried in the support truck. This would exercise the legs and stretch them for a relative rest from the day before's muscle failure session.
A new POI needs to be prepared and sent to all units, and recruiters sending Soldiers to Airborne school with a suggested PT program to get Soldiers better prepared to attend the Airborne course with the new PT program. The POI should state that the Army Gray PT uniform, spit-shined jump boots and Class "A" uniform are not required for course attendance. This should include historical material about the Airborne to enhance the student's appreciation of the Airborne operation. 34 Foot Jump Tower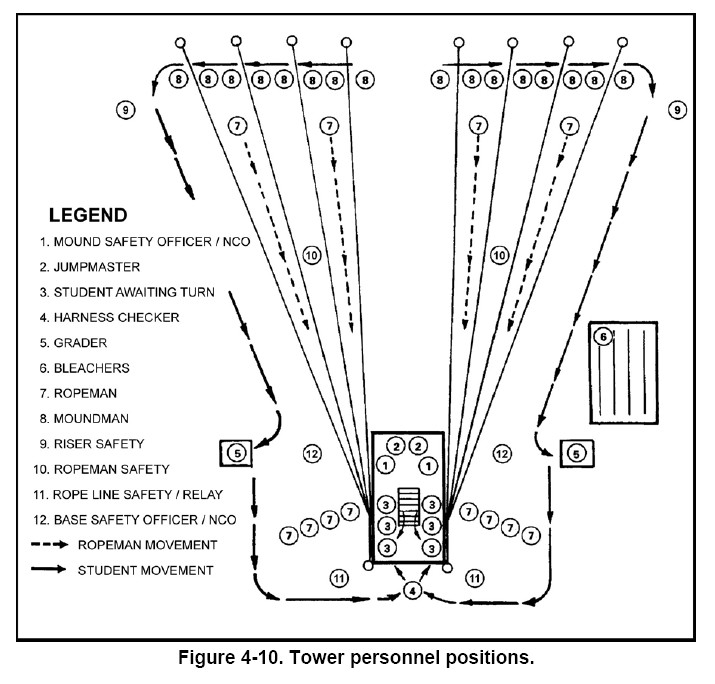 A Paratrooper at the Fort Bragg, North Carolina Airborne Refresher facility DIED when he fell the measley 34 feet into the hard pavement below. This is total BS. During the "Best Ranger" competition high school/college/amateur track high jump pads are placed at the base of obstacles to save lives and prevent injuries in event a Soldier falls. Such pads should be below ALL the 34 foot jump towers in the Army and its too fucking bad if it cuts into the "Blood on the Risers" fear factor BS.
Best Ranger Pads at Base of Obstacles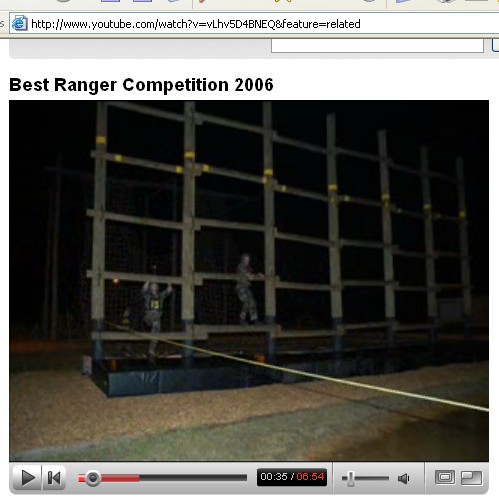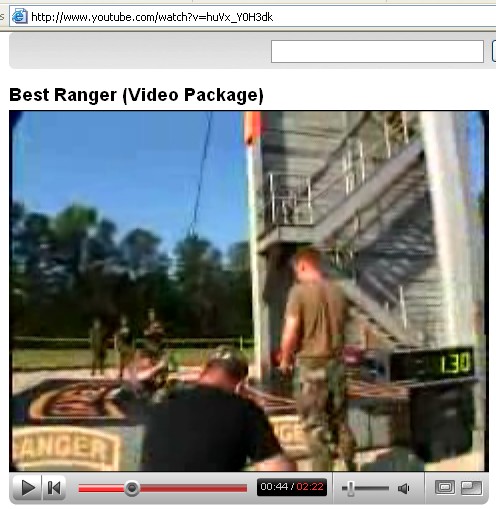 Medical Support/injuries
During ground/tower week, there was no ambulance and 91B (68W) medic on site to render trained first aid. There was no stretcher to move a broken ankle/leg injured Soldier. Trying to walk on injured limb is a sure-fire way to make a bad injury even worse. Waiting for an ambulance/stretcher from TMC 4 is inadequate. A M3 Combat Life Saver bag without key contents (see enclosed list of SOP M3 bag) in the hands of a student going through training at the same time is inadequate.
The majority of injuries that take place are bruises and sprains that are best treated with RICE (Rest, Ice, Compression and Elevation). Yet there is no ice machine or ice on the scene at the ground week training sites. Ice should be collected and placed in a cooler and taken to the ground/tower week training area by a designated medic in an ambulance, or at the very least the students can do it themselves. Icing a bruise/sprain immediately after injury is common sports medicine technique that can mean the difference between a Soldier recovering quickly and finishing Airborne school or going to sick call, missing training and being dropped/recycled from jump school. Students need to be able to ice injuries after hours in their barracks to heal quickly for the next day's training. An ice machine near the Company CQ/break room could make this possible.
Accountability
A complete roster with student roster #s, room assignments, chalk positions etc, should be widely distributed so every student platoon sergeant, squad leader can know exactly who is who and where they are. In our class, only CQ had the comprehensive list. Often a "Black Hat" would call out for a roster number and no one would recognize that that person was "Jones" or "Smith" etc. and what platoon/squad they are in. Shouting out that person's roster number over and over again isn't going to speed in finding him if he's on a detail somewhere else or has dropped from the course etc.
Suspended Harness Training
The procedure for water landings failed to include that the Paratrooper will most likely be wearing a folded kit bag under his leg straps. Enough unserviceable-to-carry-a parachute-condition Kit bags should be collected and placed in the shed with the harnesses so the training can be more realistic. The kit bag needs to be pushed away after activating the quick-ejector snaps of the leg straps upon water contact.
The actual time of a parachute jump from 1250 feet start to finish, should be timed (I counted about 45-60 seconds) and incorporated into Suspended Harness training. Begin with exiting the aircraft and the 4-second count. Tell the students they have a jumper on their right and have them slip away. Tell them they are off to the left of the drop zone and slip towards it. Tell them they are at 100 feet and drifting to the right and prepare to land by pulling a two-riser slip. Tell them the ground has hit them so they assume a PLF posture. Do this all in sequence within a 45-60 second time interval to rehearse the actual jump. With the kit bag under the legs straps, the pain will be significantly reduced so the extra time spent in the harness will not be dreaded.
Another reality not stressed enough is that when you pull a two riser slip to either the left and right under an actual canopy, your entire body twists and faces to that side. This doesn't usually take place under the stiff suspended harness trainer unless the coach turns the student to simulate this effect. This should be done so students will know that the likely result of a left two riser slip to counter a rightward drift will likely result in a RIGHT REAR PLF. One of the black hats remarked that over 90% of all PLFs with the T-10C are a rearward type; this is because left/right riser slips rotate your body so rear PLFs are inevitable.
Malfunctions
Many students complained that they couldn't understand what the different malfunctions were and felt the class was too quick. They suggested that flip-charts or large drawings should be used as visual aids to assist in their understanding.
What does the MC-1-1C Canopy look like?
On graduation day, some cadre or "strap-hangers" jumped MC-1-1C steerable round canopies. Some of the students saw the HT-C opening and thought the canopies had ripped open and shouted for the jumpers to pull their reserves. This was embarrassing. During one of the classes, a large drawing of the MC-1-1C's HT-C opening should be shown along with a detailed drawing of the T-10C's construction. Drawings could be obtained from FM 57-220 Advanced Airborne Techniques for these flip charts/drawings.
Another aspect not explained in class was how the newer "C" model T-10 and MC-1-1s differ from "B" models by having no-porosity fabric which results in slower descent rates and softer landings. The MC-1-1C and T-10C have a slower descent rate than the 22+ feet per second rate quoted to us in class. Jumpers need to know that if they jump "B" model canopies they will descent significantly faster, though "C" model canopies are more likely to have a rip or panel blown during a high speed exit.
Time management
Too much time is wasted running to and back from lunch. While this gives a welcome relief from the yelling/screaming of the Black hats, it breaks up the concentration of the students. For Tower week, I suggest that hot or box lunches be trucked out so more quality time can be spent in the harness rehearsing the jump and qualifying people on the Swing Landing Trainer.
Helmets
If you tighten the Kevlar helmet chinstraps too tight the "pull-the-dot" snap may pop loose upon canopy opening. Soldiers should be warned about this. The new foam impact pads (NSN 8465-01-420-4920 Civilian part# DRWG 8-2-1101 $.078 each, Best Foam Fabricators Inc. 9633 S. Cottage Grove Ave. Chicago, Il 60628) were not in our helmets. The details for this are enclosed. They should be obtained and placed inside all helmets to prevent head injuries from the helmet insides.
Students should make an extra roster tape and place it inside their helmets to attach to their outside if a tape falls off during training.
Jump aircraft
Students should have a chance to walk inside and through a C-130H and C-141B before actually jumping to see what they look like inside and most importantly get a visual familiarization with the jump doors. Ideally, a pair of portable platforms should be built to place next to the jump doors so entire chalks can practice exiting with static-lines from the actual aircraft. 4-6 wooden platforms sized for the C-130H and C-141B would be all that was needed.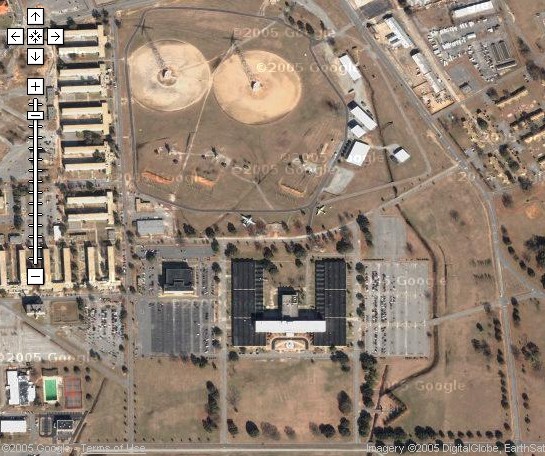 Here's a view of Building 4 and Eubanks field from space
Or Ft. Benning should use some its "best post in the Army" $$$ money to obtain an actual C-130 aircraft as a working static trainer onto Eubanks Field by the Airborne walk for realistic jump door training with full parachutes/rucks--a dress rehearsal.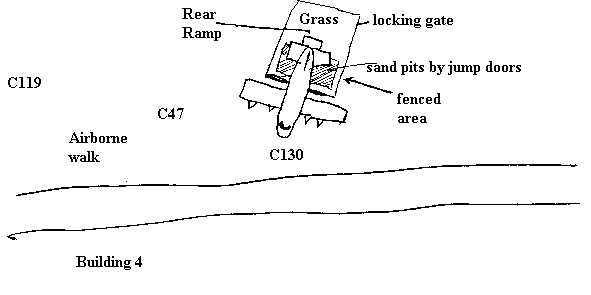 [2005 EDITOR: here's a picture from space of the Pope AFB "air park" showing a C-130 on static display. There's no excuse why not having a C-130 at Eubanks field as a REALISTIC mock door trainer like other countries do (Israeli, Korea etc.). The more students UNDERSTAND what its like the more proficient they will jump and be SAFER.]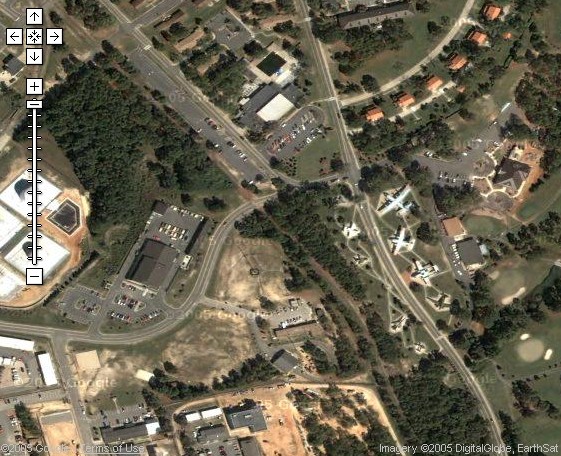 The C-141B's thrusting down and speeding up should be explained to students beforehand so they know what to expect and thus are not as likely to be afraid and/or get motion sickness.
Exits
Many students ahead of me when they passed off their static-lines and pivoted, exited at a 90 degree angle perpindicular to the prop wash/jet blast thus getting spun around instead of sliding into the moving air by a feet first 40-45 degree angle. This results in twists that must be kicked out, robbing the jumper of time to steer away from other jumpers to avoid collisions, move closer to the soft plowed dirt for a softer landing. Two lines should be painted/taped onto the jump platform to guide jumpers better. Many were not stepping out with the best foot to get into the slipstream. I suggest a mark on the jump platform where the foot that steps forward to pass off the static line to the safety must be placed so then the proper lead foot can be vigorously thrust out to exit.
Aircraft tracking over the DZ
It should be explained to students that the aircraft may fly north on a track to the west or east of the DZ to allow the wind drift to blow them back onto the soft plowed area of the DZ. On a couple of my jumps I was let out on the wrong side of the DZ and was unable to slip back onto the DZ. At the very least being aware of the aircraft's tracking can give the student Paratrooper a chance with his limited time under canopy to steer towards a softer landing.
M1950 cases
The yellow hook/pile tape leg straps no longer used should be removed. The 2 X 4 pieces of wood stayed in the case all the time and students received no hands-on training in the actual case operation. For the night combat equipment jump, there is plenty of time for "rubber duck" M16 rifles to be placed in the M1950 cases for practical experience. 250-300 rubber duck rifles could be shared by all the jump companies as they rotate through jump week.

A piece of luminous tape should be sewn on the end of one of the upper tie-down tapes to aid in finding it to untie it during the night jump. Even a piece of white masking tape on the end would help.

Night jump
The whole point of an Airborne operation is to get to the battlefield in fighting order. To emphasize this point there should be a transition from jumping to combat which doesn't now occur in jump school. This can be easily fixed by a tactical march back to Lawson Army Air Field or the company area instead of busing back and shaking out parachutes. Faces/hands would be camouflaged before boarding the aircraft. Upon landing, the student Paratrooper should remove his rubber duck M16 rifle from its M1950 case and don his rucksack. First, he stuffs his HSPR leg straps into two of his rucksack outer pockets. The lowering line is stuffed into the center pocket. The D-ring attaching straps are placed in the BDU front trouser pocket. . Clip/tie the weapons case to the right side of the rucksack instead of resting it on top of the kit bag. Student Paratroopers double-time off the drop zone in a tactical manner-with rifle in their hand, kit bag in the other. At the collection point, they turn in both of their parachutes/kit bag. Students from another company in ground/tower week shake-out parachutes for the soon to be graduating class.

After parachute turn-in, students are handed out their canteens for a quick break before a tactical road march back to Lawson Army Air Field/or the Company area. Road guard vests/coned flashlights are also passed out from the chalk leader's kit bags. The Airborne class should tactical road march back to mainside Fort Benning with full canteen in left BDU cargo pocket, ankle braces and M1950 case attached to the rucksack on their back, rubber duck M16 rifle in their hands, facing outward. Buses could take the students back to the company area from the airfield upon arrival or they could march all the way back to the Company area. Finishing the tactical road march could be a requirement to graduate or a point of excellence. Injured jumpers that cannot march but can hold a weapon should ride in the top cargo hatch with their M16 rubber ducks facing outward from a M113 Gavin tracked armored fighting vehicle leading the newly minted Paratroopers back to Fort Benning. The rearmost Gavin should tow a water buffalo to refill everyone's canteens at march halts.

Graduation jump
The jump before graduation on Fryer Field was outstanding and should be SOP instead of when the class has an earlier jump canceled by weather etc. It actually shows the audience what their loved ones have done and is more spectacular. The viewing stands or a second set of stands should be moved closer to the drop zone so the audience can better view the jumps.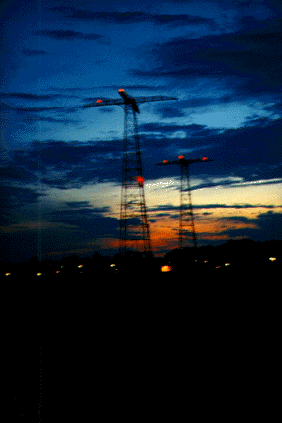 Summary/Conclusion
There were a lot of positive things that took place while I was at jump school. No one was seriously hurt, and after the first two weeks almost all of the approximately 230 students graduated. I think the cadre of "C" Company really care and are very professional and reasonable. I consider myself fortunate to have been in a forward-thinking Airborne school Company which is on the right track for the future. But this was awhile ago, its clear that Soldiers have to not be robots and to WASH THEIR CANTEENS AND HELMETS, insist they are taught how to adjust and wear them. Why wait for a "Black Hat" to explain the parachute jump? Order the videotape from Amazon.com. Go to the Army FM 57-220 web page and read the jump manual. Work to become a Subject Matter Expert. Be pro-active even if jump school may not be. Being a Paratrooper means to be self-reliant, so do it!
FEEDBACK!
itsg@hotmail.com
A former U.S. Army officer writes:
ON OUR AIRBORNE AAR WEB PAGE
"I finally opened your Airborne AAR.
Clap, clap clap! I found myself going, "yep, yep, uh huh, I agree, good point....."
HYDRATION NOT STRESSED
"Ah, my Airborne experiences in '96...sigh....when I recycled because I fell out due to heat stroke the Friday before Jump Week in '96, as did more than TWO THIRDS of the class....
Arrrgggggg!!
The "black hats" in Charlie Co. did do an optimal job pressing hydration.

In fact, the company commander was later reprimanded for losing more students in a single class than any other cdr. in the history of the school.

But all that did not make me feel any better -- I was ready to tear the $#@!^*&^$# IV out of my arm in the hospital and go back, but the docs wouldn't let me.

I recycled through ABN school the following fall, but by then-- I had just graduated from the National War College (Class of '97)".

DIRTY CANTEENS = SICKNESS

"The Friday I got there (as you recall, class starts Friday, then you get to sit around all weekend and look at the walls in the VOQ until training "really" begins on Monday), I was issued a canteen.

I had brought my own, as advised, but it was back at the "Q".

So I filled the one I had from the buffalo while we sat around in the courtyard and baked all day, and drank from it. When I got to the last bit, I noticed something weird. I turned the canteen upside down and out dripped a long green line of slime.

That weekend, I became ill (well surprise!).

So I was down about eight quarts when I hit the track for the first run on Monday, and despite my best efforts, never caught up. I was on the verge of sneaking off to a civilian hospital to get an IV some evening (I didn't have a rig-up with me, or I would have just given myself a couple) when I hit the ground.

My real failure, I now understand, was that I did not report to sick call when I knew I was in trouble. I didn't want to "look weak." But I failed the MISSION -- I didn't "do whatever is it takes to complete the job," which would have included swallowing my pride and going to sick call one morning.

It was a very, very valuable and painful lesson".

HELMETS

"I had to laugh out loud at the helmet comment, because it reminded me -- I literally almost broke my nose during the 30-foot tower jump on ground week D-1. I have long hair (I know, I know) and headgear can be a pain to fit. I couldn't get my helmet band adjusted right (It was beyond disgustingly dirty, BTW--I finally got smart and went and bought a new one), and I kept having JUST THE PROBLEM YOU DESCRIBE with the snap popping -- causing the helmet to drop forward and hit my nose, of course.

Jump one, "GODDAMIT THAT HURTS!"

Jump two (repeat above)

Jump three, my Black Hat finally calls me over, drops me for 10, and my head and re-adjusts the freakin' strap so it stays on. Then he showed me how to do it [Editor: Why didn't he show EVERYONE on Day 1?].

I felt like the World's Biggest Moron.

But problem solved.

"FEAR FACTOR" OR TRAINING?

"But the real point you make here is very critical: jump school is not fun until jump week. It hurts and it's mostly just PT and Kabuki demos that make everyone giggle -- I think you could condense Ground week and Tower week into about four days of good solid training, total.

Ranger School hurts a lot more, but that's different; it's a different purpose.

Jump school should not (for a conditioned person) hurt -- it's JUST TRAINING. We need to make up our minds: are we trying to test Soldiers' will and grit and weed out the "weakest links"?

Or are we teaching good Soldiers a skill?

If we are teaching a skill, let's focus on THAT and save the pain & suffering for a different forum. This half-this and half-that approach is stupid and a waste of time".

OUR REPLY: AMEN!

A Paratrooper from the max-harassment package 1970s writes:

"I read your report and was very impressed. It sounds that your knowledge and experience could help me. In 1973 I went through 'jump school' at Ft. Benning. Had a rough first landing for a few reasons - 'Depth perception' especially on my first jump, caused me to believe I was further from landing than I actually was. I realized I was approaching ground very fast and I stiffened up and made a really sloping landing, sending pain through and up my spine like an accordion. The 'Blackhat' saw me limping and called me all kinds of filthy names which included a 'female cat', stupid leg, etc. and made incredible fun of me in front of others. I told him my back was hurting and he asked me if I wanted to quit like a wimp. He said that's what wimps do. I told him emphatically, 'No Sergeant' -His reply was to 'drop and give me 20.' I carried on the next day with fairly intense lower back and butt pain and had awakend with a stiff neck. I finished my mission and am still glad to this day that I did. However; I have had spinal problems for all these years and I mainly used heating pads and rest. Never went to military sick call for this. He had a real impact on me. Progressed so bad I now have a screw in my neck and titanium rods in my lower back. I am now 52 and preparing to seek some sort of disability and I have a letter from xxxxxxxxx in xxxxxxx stating that it is most likely that the jumps caused axial loading leading to progressive multi-disc malfunction. I meet all parts of my claim but was wondering if those who 'suck it up' and don't run to sick call are left to fend for themselves for trying to 'be all you can be.' I have never been in a car wreck, fallen off of a ladder or any other non-military trauma to my spine - would the jumps be considered a verifiable stressor in my case. I understand this is not your line of service yet you seem very knowledgeable about the Ft. Benning training. I would appreciate any feedback -

The 'blackhats' in the '70's - well you tried to not make eye contact Unless they were in your face or teaching a group class. I continued until I Earned my wings and made my family very proud. I love the airborne community and their team spirit, just wish my back wasn't ruined. Preparing to lose my Job soon. Still love the airborne tradition and am proud to be a part of it. Just wish "Blackhat" had been more reasonable. He tried his best to get me to Guit after my back became injured. He made me more determined to finish, but at an extreme price. Thank you for your time and consideration into this matter."

Sgt. XXXXXX - 101st. Airborne 1970's

1st TSG (A) REPLY:

We need a back pad into the pack tray of the new ATPS parachute. If we tried to lobby for it through Fort Benning and the "Blood on the Risers" crowd they'd do their old "you-are-a-pussy-for-wanting-this" cha-cha-cha.

2. "In 1973 I went through "jump school" at Ft.Benning".

OBSERVATION: This means you used parachutes with a POROUS material; air leaked through = faster descent rate. Today's T-10Ds use NO POROSITY fabric so descent rate is slower (still too fast). This bolsters your case.

3. "Had a rough first landing for a few reasons - 'Depth perception' especially on my first jump, caused me to believe I was further from landing than I actually was. I realized I was approaching ground very fast and I stiffened up and made a really sloping landing, sending pain through and up my spine like an accordion. The 'Blackhat' saw me limping and called me all kinds of filthy names which included a 'female cat', stupid leg, etc and made incredible fun of me in front of others. I told him my back was hurting and he asked me if I wanted to quit like a wimp. He said that's what wimps do. I told him emphatically, 'No Seargeant' -His reply was to 'drop and give me 20'. I carried on the next day with fairly intense lower back and butt pain and had awakend with a stiff neck. I finished my mission and am still glad to this day that I did. However; I have had spinal problems for all these years and I mainly used heating pads and rest. Never went to military sick call for this."

OBSERVATION: There is no ice machines at jump school. More total BS. If we were on active duty we'd buy the goddam machines ourselves. We believe in taking care of the troops. The Jump school mentality is of narcissistic egomaniac assholes who think they are 'weeding out' those who 'can't cut it'. All they are doing is setting up people to fail so they can feel good at someone else's expense and in some cases, kill some people. These assholes give the Airborne a bad name who think all it is is an "I-am-better-than-you" badge.

4. "He had a real impact on me Progressed so bad I now have a screw in my neck and titanium rods in my lower back. I am now 52 and preparing to seek some sort of disability and I have a letter from xxxxxxx stating that it is most likely that the jumps caused axial loading leading to progressive multi disc malfunction. I meet all parts of my claim but was wondering if those who 'suck it up' and don't run to sick call are left to fend for themselves for trying to 'be all you can be.' I have never been in a car wreck, fallen off of a ladder or any other non-military trauma to my spine - would the jumps be considered a verifiable stressor in my case. I understand this is not you line of service yet you seem very knowledgeable about the Ft. Benning training. I would appreciate any feedback -"

OBSERVATION: the VA is run by assholes who think its their money when its not. They are out to deny veteran's what's due them. These assholes give military service a bad reputation that you will be fucked over in the end. They are going to say, "Where is your proof you were injured in a jump? Did you go to sick call and "DOCUMENT" it?" These are assholes who couldn't say they took a dump in a toilet unless they created some paper with writing on it. The rest of us use the "paper" and be done with it.

5. "the 'blackhats' in the 70's - well you tried to not make eye contact unless they were in your face or teaching a group class. I continued until I earned my wings and made my family very proud. I love the airborne community and their team spirit, just wish my back wasn't ruined. Preparing to lose my job soon. Still love the airborne tradition and am proud to be a part of it. Just wish 'Blackhat' had been more reasonable. He tried his best to get me to guit after my back became injured. He made me more determined to finish, but at an extreme price."

OBSERVATION: WHERE IS THE LEARNING IN THIS? YOU ARE AS A STUDENT WANTING TO GRADUATE TOO FUCKING TERRIFIED TO ASK QUESTIONS. Result? More jump injuries from a lack of training. If they want to see who is "really tough" just fucking hand out parachutes, go to the goddam plane and toss people out. When some of us went through American jump school in the 90s we were not terrified of the Black Hats circa 1970s like you were. However, there was always an irritation that you asked a question and they only shouted back canned answers. They did not put much thought into their replies hence the current left/right two riser slip lower body rotation phenomena is not understood resulting in rear PLFs when they are teaching you to do left/right PLFs. Or the lack of actual rip-cord pulls to develop muscle memory that civilian skydive schools teach that killed a young female Soldier at Benning recently.

Airborne!

AIRBORNE!

1st Tactical Studies Group (Airborne)
Email: itsg@hotmail.com
---
Private Murphy's View